What Is Metabolic Syndrome | Syndrome X and What Causes It?
There are many names for metabolic syndrome. You may have heard some of them before. Some people call it "resistance syndrome" or "syndrome X" (which sounds super-scary). These terms simply define the characteristics.

For example, obesity, high blood pressure, high blood sugar, and high triglycerides in the blood are all characteristics of metabolic syndrome.

Causes of Metabolic Syndrome

The main causes of metabolic syndrome are being overweight and being sedentary. Often being overweight is associated with a poor diet full of processed food, high in saturated fats, and other unhealthy ingredients.

on being sedentary to that, and you have a recipe for metabolic syndrome. For some people, the cause is a third reason, which is insulin resistance.

It simply means their body doesn't process sugars in their food properly.

Symptoms of Metabolic Syndrome

Symptoms include large waist circumference, high blood pressure, high blood sugar, high bad cholesterol levels and low good cholesterol levels.

The combination of disorders is considered a syndrome because they all essentially affect the same digestive and circulatory system.

Because of this, everyone will have different symptoms depending on how long they've had the condition. You may have no symptoms yet and still be at risk.

Risk Factors

If you smoke, are overweight, and sedentary, you're at high risk of developing metabolic syndrome and the co-conditions associated with it such as diabetes, heart disease, and stroke. Also, you become more suspectable as you age.

If you want to reduce your risk factors, you'll need to change your lifestyle. Don't worry; it's not really all your fault.

You likely learned how you eat from your family and due to the sedentary lifestyle we live today, it's too much fat and sugar for your body to process.

Treatments of Metabolic Syndrome

Usually, treatment involves medication and/or lifestyle changes. You'll have to decide with your doctor whether you'll use medications or not, but you will have to undergo lifestyle changes regardless of whether you medicate or not.

The key to getting better is to eat right and move more. It's not as hard as it might seem to do that.

Eating right consists of eating enough nutrient-rich foods that are low in saturated fats and avoiding processed food.

Exercising means you need to move at moderate intensity at least 150 minutes a week.

If you are concerned about your own prognosis, make an appointment with your doctor to get a full physical. Tell your doctor about your concerns and symptoms.

They can help you find support groups and identify lifestyle changes that can make a huge difference in your recovery efforts and your future health.


Seven Questions about Metabolic Syndrome
Metabolic syndrome, or syndrome X, is a metabolic disorder that can cause hypertension, insulin resistance, obesity, and more dangerous conditions like heart attack and stroke.
It's characterized by having too much belly fat, high blood pressure, high blood sugar, and poor good cholesterol (HDL) levels.
If you believe you may have this syndrome you may have some questions to ask your doctor or health care professional.
1. Who Needs to Be Worried about Metabolic Syndrome?
Pretty much everyone does, but especially anyone who is already overweight. About 60 percent of people with metabolic syndrome are obese.
Only five percent who have the condition are normal weight.
Therefore, if you have any of the other symptoms but aren't overweight, you should still be concerned about having this condition and preventing it.
2. What Kind of Tests Do They Do to Test for Metabolic Syndrome?
Your doctor will conduct a variety of tests. They'll take your history and take some blood.
They will probably also do a test to determine if your waist circumference is too large, as well as some other tests.
It's not going to be anything hard to get done or painful to complete.
3. Can I Have Metabolic Syndrome and Be Normal Weight?
As mentioned briefly in 1, the answer is yes. About five percent of the people who have metabolic syndrome are a normal weight yet still seem to have complications. Often, it can still be traced to diet.
Some people just tend to process what they eat better in terms of the calories and not pack on weight even if they are not eating healthily.
Other times it's determined that it's simply hereditary for you to have certain conditions.
4. What Are My Risk Factors?
Everyone may have different risk factors. Your doctor will look to your family history, your diet, how much you exercise and your overall lifestyle.
Taking into consideration your race, sex, lifestyle, and family history will help determine exactly what your risk factors are so that you can mitigate them with diet, exercise, and possibly medication.
5. Will I Need Medication?/

Everyone is different. If you have high cholesterol, high blood pressure, and high blood sugar, chances are your doctor is going to want to give you some form of medication.

It's okay to ask if you can try diet and exercise first.

However, most of the time starting meds and a new lifestyle at the same time is preferred. You can reduce your meds as you get healthier, so don't be too worried about needing them initially.

6. Can I Use Diet and Exercise to Treat My Condition?

It depends. If you are overweight, chances are you can improve your diet and it will show up fast. If you're not overweight, it might not work as fast.

Of course, being honest about how you eat will also help. If you do eat a highly processed and high-fat diet and are of normal weight but have other symptoms of metabolic syndrome, your diet can help.

Give eating more veggies, legumes, and whole grains a try to find out how it works. If you're overweight, you are going to see a reduction in illness with just 10 percent weight loss.

7. How Do I Know My Goal Weight?

Work with your doctor and other health care professionals to figure out what your ideal weight is and then work on small goals.

Knowing a goal weight, and exactly how you'll work toward meeting that goal, is going to help you. You can also use classic BMI tables that insurance companies use.

They use health data to come up with those numbers but do remember that there are other factors outside of just the number on the scale.

Metabolic syndrome affects nearly 50 million Americans, and 60 percent of these are obese.

With the right knowledge and understanding of this condition, most people can be treated successfully with diet and exercise - thus avoiding the most dangerous conditions that result from the syndrome such as heart attack and stroke.

Learn more about your health online when you read the rest of our information here about: Syndrome X / Metabolic Syndrome

Warren Tattersall has been a full time nutritional consultant for over a decade and works with people all over the world to help them improve their health, increase their personal energy levels and to use supplements to assist with diet related health issues.

Just send him a note on the form here - Contact Us - to request a personal no obligation one-on-one consultation with Warren

New order website for Australian customers:

For all the subscribers that don't want to talk to anyone, just want to buy their products direct, I'm creating these websites that process orders for you once you register with them.


The Australia GoHerbalifeSite is the first one completed, other countries will come along soon...
Australian customers: Click this link or tap on the banner below to check it out and get registered to place your orders... and remember your 15% discount code: HLIntro15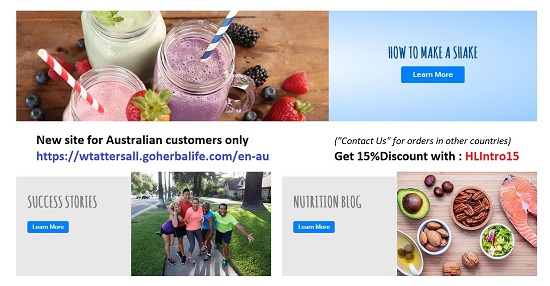 Did you find this post fun, informative and useful? If so, please share it with others!

If you have a comment, question or suggestion, please leave a comment below!