Inherited Metabolic Syndrome | Syndrome X
Sometimes you can end up with metabolic syndrome through no fault of your own due to the genetics you inherited from your family. Occasionally, you inherit things by learning an unhealthy behavior too - especially those that are diet related.

For example, if your family lived off fast food due to working all the time, you may inherit metabolic syndrome due to those poor eating habits.

Either way, you've inherited it from your family in one way or another. The good news is that even if you've inherited the syndrome, you can still do things to make your life better.

Some metabolic conditions are totally inherited and not the fault of anyone. These conditions need to be treated by a health care professional and not by diet only.

It's always best to talk to your doctor before trying any treatment.

Amino Acid Metabolism Disorders

Normally your digestive system breaks down food into its basic parts: sugars, fats, and acids.

When something goes wrong with the body's ability to break down amino acids into its building blocks, it can lead to serious and even life-threatening health problems.

A problem with amino acid metabolism is something called phenylketonuria (PKU) in which phenylalanine builds up in the body.

Untreated phenylketonuria can cause seizures, tremors, stunted growth, hyperactivity, and more.

Carbohydrate Metabolism Disorders

If you cannot metabolize the sugars in your body from carbohydrates, the sugars will accumulate in the body and can cause a variety of disorders like fructose intolerance, issues storing glycogen, and other problems that are very serious in nature.

Treatment includes medication, supplements, and special diets.

Fatty Acid Metabolism Disorders

Several conditions can arise from a fatty acid metabolism disorder, which is an inherited condition where the number of enzymes needed to break down fat in the body is too low and cannot work properly.

This issue will usually show up in infancy or young childhood. It can lead to life-threatening illnesses such as an enlarged heart or liver and anemia.

Purine and Pyrimidine Metabolism Disorders

Purine and pyrimidine play an active role in forming the building blocks for DNA and RNA, plus energy provision and more.

When you have a defect in this area, you may end up with conditions like gout, immune deficiency, deafness, seizures, and even acute renal failure.

If a child has Down syndrome, sickle cell anemia or other conditions, they may also have a purine and pyrimidine metabolism disorder.

Inherited conditions like this need to be diagnosed by a trained medical professional. Usually, this happens at birth for these particular conditions.

If what you have instead is common or garden variety metabolic syndrome, you can treat it mostly with diet. For this reason, it's imperative that you seek medical diagnosis so that you can do the right thing.


Treatment Options Including Medication
Essentially, there are two options for the treatment of metabolic syndrome. It really boils down to a combination of medication and lifestyle changes.
The fact is, most of the treatment is totally up to the patient.
If the patient doesn't make the lifestyle changes, necessary medication isn't going to be enough to prevent complications in most cases.
Let's look at the two types of treatment you can get for your metabolic syndrome.
Medication
Depending on the co-conditions you have, your doctor may want to prescribe medication to you for these conditions.
Some issues are more important to tackle via meds than others, and your doctor is the best person to help you make that choice.
You can always cut down or eliminate medication once your lifestyle changes take effect.
* High Blood Pressure
– There are numerous drugs that your doctor can choose from to treat your high blood pressure.
What type they choose will depend on the type of high blood pressure you have and what your doctor thinks the issue is, plus any other conditions you have and any meds you already take.
They may choose diuretics, beta blockers, angiotensin II receptor blockers, ace inhibitors, or a combination of all the above.
* High Cholesterol
– Reducing your bad cholesterol and improving your good cholesterol with medication means taking one of five different types of meds: statins, niacin, fibrates, bile acid resin drugs, and PCSK9 inhibitors.
Again, it will largely depend on your own history plus your doctor's experience and preferences.
* Diabetes
– The type of diabetes you have will determine if you need meds or not, and if it's a "try the med or diet first" approach.
Some choices for diabetes are insulin, metformin, sulfonylureas, meglitinides, thiazolidinediones, DPP-4 inhibitors, GLP-1 receptor agonists, and SGLT2 inhibitors.
* Blood Clot Prevention
– Blood clots can technically cause strokes and heart attack, so if you're in danger of them your doctor may prescribe an aspirin regimen or some other blood thinning agent.
Whether you really need these drugs or not depends on your situation and all the factors.
You can, however, sometimes use lifestyle changes to reverse your condition, depending on how bad it is and your willingness to change.
Lifestyle Changes
You and your doctor may prefer to get you to change your lifestyle. You have to be willing to do this, but you do have a lot of control over your health.
The main lifestyle changes will be about eating right, losing weight, and moving more.
* Eat Healthily
– Eating a diet high in nutrients while low in fat and processed food is an important way to combat metabolic syndrome and reverse any of the complications caused by it.
If you're unsure of what to do, ask your doctor for a referral to a dietician who is knowledgeable about metabolic syndrome.
* Lose Weight
– If you're overweight, you have a bigger chance of developing metabolic syndrome.
In fact, 60 percent of people who are obese have metabolic syndrome. Losing weight will cut your chances exponentially.
* Exercise
– Moving more is going to help your cardiovascular system, and it will help you keep your blood sugar lower.
You don't even have to do that much. Moving at a moderate pace for just 150 minutes a week will make all the difference.
* Quit Smoking
– Does anything really have to be said about not smoking?
Smoking is one of the most dangerous things you can do to your health. If you want to get healthier, you must quit.
Incorporating lifestyle changes will help combat metabolic syndrome.
However, you must be committed to taking it seriously.
One reason most doctors simply choose to medicate people is that patients are not compliant with requests to lose weight or change their lifestyle.
Learn more about your health online when you read the rest of our information here about:
Syndrome X / Metabolic Syndrome
Warren Tattersall has been a full time nutritional consultant for over a decade and works with people all over the world to help them improve their health, increase their personal energy levels and to use supplements to assist with diet related health issues.
Just send him a note on the form here -
Contact Us
- to request a personal no obligation one-on-one consultation with Warren
New order website for Australian customers:
For all the subscribers that don't want to talk to anyone, just want to buy their products direct, I'm creating these websites that process orders for you once you register with them.
The
Australia GoHerbalifeSite
is the first one completed, other countries will come along soon...
Australian customers:
Click this link
or tap on the banner below to check it out and get registered to place your orders... and remember your 15% discount code:
HLIntro15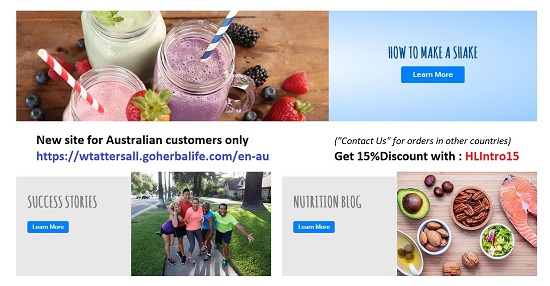 Did you find this post fun, informative and useful? If so, please share it with others!
If you have a comment, question or suggestion, please leave a comment below!