Why You Should Join a Weight Loss Forum
Losing weight can seem impossible. The problem with losing weight is that it is often a lonely journey. A lot of people struggles with the fact that they are alone in it. It can get more difficult as time goes on. Because achieving weight loss is so difficult, it can seem impossible.

However, there are ways to make it less difficult. One of them is joining a weight loss forum. Below we will discuss why joining a weight loss forum is beneficial.

1. Motivation.

By joining a weight loss forum, you will immerse yourself in a community that is all trying to achieve the same goal. You will be surprised at how far motivation can get you in your weight loss journey.

When everything seems impossible, someone giving you the proper motivation can help you break through new goals. That is why joining a weight loss forum can have such a remarkable impact on your actual weight loss efforts.

You will have people there to inspire you when you need inspiration the most.

2. Tips and Education.

Obviously, you are going to be entering a forum full of people that are trying to achieve the same goal. For this reason, you will constantly be immersed in new tips and ideas to help achieve that goal.

In fact, many of the community might be attending nutritionist classes and/or a special trainer. For this reason, they will be able to share the best advice that these health care practitioners and trainers are giving. This means that you may be able to receive expert tips without paying for it.

Not to mention, a lot of the times these forums have their own success stories. This means that you may be able to follow step by step a success story of someone that was in your exact situation. Perhaps they are still on the forum and giving advice to those seeking the same type of help.

3. Cost.

A lot of the times these types of forums are free. You can get a ton of value and knowledge from a forum that is free!

It is remarkable amount of information that is readily and freely available to just about anyone.

The reason that these forums can do this is because they charge their advertisers money for advertising on the forum.

That way, you do not have to pay for being apart of the actual forum itself. This is a huge benefit in itself because losing weight can already be expensive enough!

4. Accountability.

By posting your process and progress on a forum for weight loss, you will be holding yourself accountable. No one likes to be embarrassed in public or not achieve their goals in public.

For this reason, you will have the factor of accountability pushing you to new heights and achieving new goals.

This can be an extremely powerful thing to consider. We have seen it work on television shows such as "The Biggest Loser.

Learn more about your health online when you read the rest of our information here about: diet plans guide and also download the free health report available there!

Warren Tattersall has been a full time nutritional consultant for over a decade and works with people all over the world to help them improve their health, increase their personal energy levels and to use supplements to assist with diet related health issues.

Just send him a note on the form here - Contact Us - to request a personal no obligation one-on-one consultation with Warren

New order website for Australian customers:
For all the subscribers that don't want to talk to anyone, just want to buy their products direct, I'm creating these websites that process orders for you once you register with them.
The
Australia GoHerbalifeSite
is the first one completed, other countries will come along soon...
Australian customers:
Click this link
or tap on the banner below to check it out and get registered to place your orders... and remember your 15% discount code:
HLIntro15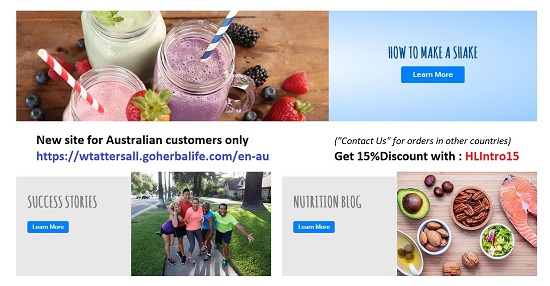 Did you find this post fun, informative and useful? If so, please share it with others!
If you have a comment, question or suggestion, please leave a comment below!
"
Are you fed up with being overweight and want to get serious and drop those pounds and keep them off? Our Free
Weight Loss
Report Reveals the fundamentals of losing weight the natural way
If you would like to learn more about healthy ways to lose weight, and about the natural supplements that I recommend and use myself, just drop me a line here and you'll get a free consultation with Warren Tattersall...
CONTACT ME
- no obligation, we'll just have a chat about your weight and health goals and the best ways you can achieve them while improving your overall health.