What Is Bulletproof Coffee for Keto Dieters?
If you're on the keto diet, you may have heard of bulletproof coffee. It's known as the wonder beverage of keto dieters.

Those who consume this drink use it as a way to stimulate fat loss and give them a burst of energy.

It's not like any regular coffee that you may have ever had.

That's because it packs a much higher nutritional and beneficial punch than regular coffee does. Bulletproof coffee uses a mixture of ingredients.

These ingredients consist of the coffee, a specific coconut oil and unsalted butter.

To be correctly labeled as bulletproof that's approved for the keto diet, the butter would have to be both unsalted and made from cows with a grass diet.

The coconut oil used in the coffee would have to be MCT. This stands for medium chain triglyceride and is used to lower cholesterol levels.

Bulletproof coffee is often used because of the benefits it gives to those who are following the keto diet.

To properly use it and get the most benefits, you would have to drink it as your first meal of the day and not have any food along with it.

Right after consuming the coffee drink, you would then follow your regular exercise routine.

Doing this is said to give you a boost of energy and the ingredients keep hunger at bay.

The coffee does this because of the specific mixture of the ingredients which is namely the caffeine surge you get from the coffee grounds and the high fat that's found in butter.

It contains fatty acids, which are known to promote fat loss. One of these acids is conjugated linoleic acid.

You won't end up with an energy crash after working out because, thanks to the butter and coconut oil, the coffee has plenty of calories.

If you wonder whether or not bulletproof coffee could help you on the keto diet, the answer is yes. Coffee helps you lose weight. It also keeps your energy up while you're losing weight.

This is especially helpful to people who aren't used to eating low carb.

Not only does the coffee help you lose weight and maintain energy, it can also keep your hunger level lower, and raise your metabolism.

Plus, the butter contains Omega 3 fatty acids, which fight inflammation and can help build muscle.

You can use it for fuel rather than eating a higher carb breakfast meal.

It can be used when you want to boost ketones and get more from your keto diet.


What Is the Keto Flu and How Do You Avoid It?
The keto diet is an amazing diet that can help you lose weight fast and keep it off for the long-term. However, there is something associated with the initial phase of this diet that strikes some users.
It's called the keto flu. This side effect can make you feel like you have the flu.
It's brought on by your body's adjustment period when you switch from eating a lot of carbs to not consuming as many.
As your body begins to burn fat, it's a big change from getting the majority of energy from carbs.
The symptoms of the keto flu can vary, but there are several common ones. You might experience nausea or upset stomach.
Some people go through brain fog and feel like they have trouble making sense of things or can't focus. You may go through bouts of diarrhea or have constipation.
This flu can cause muscle pain as well as mood changes such as anger or irritability.
While it can feel like the symptoms will never end, they will, once your body has had time to adjust in a couple of days.
Even knowing that eating healthy is better for your body and how much the keto diet can help you, no one wants to go through the keto flu.
It's best to avoid this side effect and you can, if you practice a few precautions. The withdrawal of your regular eating habits suddenly switched to eating keto is the cause of the keto flu.
Some people develop keto flu because they're not drinking enough fluids and it throws off their electrolytes.
You have to be sure that you're drinking enough water. If you get dehydrated, it can cause the keto flu.
You have to make sure that you have the right minerals in your diet to ward off the side effects of the flu.
One of the reasons that some people get dehydrated and end up with the keto flu is because the lower carb amount cuts out too much of their salt intake.
To remedy this, make sure you're sipping on a nice bone broth such as chicken broth. This will make you feel much better, and the broth is soothing if you begin suffering from any physical ailments.
Also, check your calories to make sure that you haven't accidentally dropped the amount you're eating too low. If you have, increasing the calorie count a bit will help treat the symptoms of the keto flu.
Learn more about your health online when you read the rest of our information here about:
diet plans guide
and also download the free health report available there!
Warren Tattersall has been a full time nutritional consultant for over a decade and works with people all over the world to help them improve their health, increase their personal energy levels and to use supplements to assist with diet related health issues.
Just send him a note on the form here -
Contact Us
- to request a personal no obligation one-on-one consultation with Warren
New order website for Australian customers:
For all the subscribers that don't want to talk to anyone, just want to buy their products direct, I'm creating these websites that process orders for you once you register with them.
The
Australia GoHerbalifeSite
is the first one completed, other countries will come along soon...
Australian customers:
Click this link
or tap on the banner below to check it out and get registered to place your orders... and remember your 15% discount code:
HLIntro15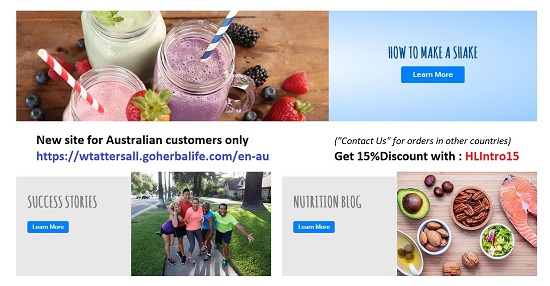 Did you find this post fun, informative and useful? If so, please share it with others!
If you have a comment, question or suggestion, please leave a comment below!