Weight Loss - Are You A "Fad" Diet Junkie?
Many of know that we are overweight and need to do something about it, but what does come as a shock is when you get on the scales and that nasty little indicator tells you that not only are you overweight but you are obese.

But you are not alone, did you know that over 100 million Americans try to lose weight in any given year and that 95 percent of them will fail and gain back whatever they lost within a matter of years?

What's even more depressing is that some people spend the whole of their lives jumping from one diet program to another.

The problem is that many of these so called "fad" diets or supposed weight loss drugs can cause you to gain even more weight in addition to destroying your good health.

Whilst many people are obsessed with weight loss to improve their appearance, this should not be the predominant reason. Being obese is an indicator of poor health and a big contributor to heart disease, digestive issues, and diabetes to name just a few.

Obesity has been shown to contribute to nearly half a million deaths a year worldwide. In summary, you are seriously jeopardizing your health jumping from one diet to another and not following through on a proper nutrition and exercise plan. So how do you deal with the problem?

Set Yourself Realistic Weight Loss Goals:

No matter how many diet plans or programs or "miracle pills" you see promising instant and rewarding weight loss, they are not realistic.

There is no miracle food, to instantly dissolve your weight, and those that promise eating one particular food or taking a pill to resolve your obesity problem and just leading you down the path to disappointment and poor health.

You need to set yourself realistic weight loss goals that you can stick to and that don't leave you feeling weak and wanting more.

The fundamentals of good nutrition are that a person must eat a well balanced diet with a variety of foods.

It is stating the obvious to say that you need to cut out junk foods, fast food takeaways and sugary drinks, but you might be surprised how many people follow a diet yet still include all of these things into the daily food intake.

It is important to incorporate some exercise into your routine, and increase that until you are comfortable with the level. If you have been living a sedentary life, don't go like a bull at a gate.

In fact it is better to have a talk with your own medical practitioner before starting any weight loss and exercise program.

Start off with something simple like a daily walk or some other activity that you enjoy. You might be pleasantly surprised how quickly it can become a routine to look forward to.

Slow and Steady Wins The Race:

You will find that by following a nutritious diet that incorporates the right food groups and including an exercise routine on a regular basis that you follow and stick too, the weight will start to come off, and stay off.

You will start to see increases in your energy levels and an overall feeling of better health.

Are you fed up with being overweight and want to get serious and drop those pounds and keep them off? Our Free Weight Loss Report Reveals the fundamentals of losing weight the natural way .

If you would like to learn more about healthy ways to lose weight, and about the natural supplements that I recommend and use myself, just drop me a line here and you'll get a free consultation with Warren Tattersall... CONTACT ME - no obligation, we'll just have a chat about your weight and health goals and the best ways you can achieve them while improving your overall health.

Weight Loss Diets on a Tight Budget

The struggle to lose weight is difficult at any time, but when money is tight, the obstacles seem insurmountable. Every diet appears to not only require money, but often quite a lot of it.

What can you do when there isn't much room in your budget for fancy food or special appliances to prepare it?

Healthy eating doesn't have to cost a fortune. It's true that you may not be able to afford to buy all organic produce or pre-packaged nutrition bars, but if you shop carefully and choose wisely, eating healthy to lose weight is often possible without spending any more than you usually do.

Start by cutting out unnecessary food expenses, if there are any. No more $5 coffees, convenience foods, pre-packaged foods, or fast food stops. No more candy bars, chips, or soda pop. Everything needs to be made from scratch, from real ingredients.

Don't freak out! There are short cuts for those who aren't the greatest cooks or have a busy schedule. Once-a-Month-Cooking and crock pot cooking can save a ton of time.

For ingredients, concentrate on the produce aisle. If you buy conventional, fresh fruits and vegetables can be surprisingly cheap. Compare a ten pound bag of potatoes to one little box of Hamburger Helper—they're often the same price, but the potatoes produce far more food.

You can put together a very cheap meal from potatoes, carrots, an onion, and a little butter or oil, and some spices.

You can also buy grains and legumes, such as brown rice, quinoa, lentils, and chili beans. They are very healthy, cheap, versatile, and filling.

These take extra prep time though, so cook a giant pot of each item up, let cool, divide into marked freezer bags, and lay the bags flattened and stacked in the freezer.

Going vegetarian can definitely save a lot of money if you avoid packaged foods and gourmet ingredients.

But even if vegetarianism isn't for you, you can save a lot of money by cutting back on your meat consumption just a little. Go meatless one day a week. Or instead of serving big filets of meat, try cutting it into bite-sized pieces and serving it in a yummy rice, veggies, and sauce mixture.

If you have the time, growing and canning your own food can save a lot of money. Or you can buy items in bulk, such as pick-your-own blueberries when they are in season, and freeze them in freezer bags for later use.

Salads can be time-consuming to make if you like a lot of veggies and variety in them. So spend an evening once a week chopping up all the onions, cucumbers, lettuce, peppers, etc. and putting them into labeled baggies.

Then put the baggies into a plastic bin, and put in the fridge. The next time you need a salad, it will take only a minute or two to prepare, instead of ten or twenty minutes!

Check out www.salad-in-a-jar.com for other salad storage and preparation tips.

There are so many ideas out there for eating healthy on a diet. With a little creativity, you can come up with a diet plan that will help you chip away at those extra pounds, without making a huge dent in your budget.

Learn more about your health online when you read the rest of our information here about: diet plans guide and also download the free health report available there!

Warren Tattersall has been a full time nutritional consultant for over a decade and works with people all over the world to help them improve their health, increase their personal energy levels and to use supplements to assist with diet related health issues.

Just send him a note on the form here - Contact Us - to request a personal no obligation one-on-one consultation with Warren

New order website for Australian customers:
For all the subscribers that don't want to talk to anyone, just want to buy their products direct, I'm creating these websites that process orders for you once you register with them.
The
Australia GoHerbalifeSite
is the first one completed, other countries will come along soon...
Australian customers:
Click this link
or tap on the banner below to check it out and get registered to place your orders... and remember your 15% discount code:
HLIntro15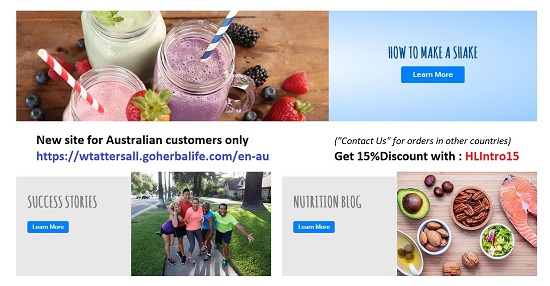 Did you find this post fun, informative and useful? If so, please share it with others!
If you have a comment, question or suggestion, please leave a comment below!