Understanding Vertigo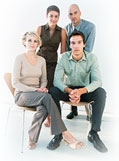 A health article fromYour Health Online the A to Z directory of dealing with Health Problems & nutritional Self Care Strategies

Understanding Vertigo

Vertigo is a condition where you experience dizziness with a change in the normal environment. Sometimes feeling a movement in space too is a sign of vertigo. However, it is not the case that all types of dizziness is vertigo; but certainly all vertigo is dizziness.

The true form of vertigo is a severe form of dizziness that results in movement hallucination. Such people suffer from a peripheral vestibular disorder like benign positional vertigo. These conditions in turn lead to tinnitus and hearing loss. With vertigo, you get the impression that you and your surroundings seem to move and you may experience some vomiting, tilting, and a feeling of falling through space. Some cases also lead to eyes jerking back and forth uncontrollably. It commonly lasts for periods ranging from a few days to a few weeks and though these symptoms generally improve, they may persist for a few weeks to a few months.

There are many causes for vertigo, the most common one being the Benign Positional Paroxysmal Vertigo (BPPV). This is a disorder of the inner ear, whose cause is not exactly known. However, it is usually an upper respiratory tract infection or a blow to the head that seems to be responsible for it. This is because it leads to a dislodgement of crystalline structures in the ear's balance detectors. This form of vertigo is most prevalent, especially when the head moves up and down, or when turning in bed. These attacks generally last 30 to 60 seconds and its occurrence can be reduced by avoiding positions which bring on vertigo.

Vertigo is also caused through labyrinthitis. This is a condition of the inner ear, which is associated with inflammation, maybe nerve deterioration, an upper respiratory infection or may occur independently of other situations. A symptom of various central nervous system disorders like multiple sclerosis, neck injuries, epilepsy, some forms of migraine, cerebellar and brain stem tumors and acoustic neuroma can be vertigo.

There is no common treatment for vertigo. Your physician has to do a complete medical evaluation to find out the true cause, and correspondingly advise the right solution. If some medication is found to cause your condition, lowering the dosage or discontinuing it can eliminate it all together. Some doctors also advise Vestibular rehabilitation therapy, which is the most popular physical therapy used for the treatment of vertigo. Here, dizziness is minimized, balance improved and falls prevented by restoring the normal function of the vestibular system through exercises that make the brain adapt, and compensate the cause of vertigo. Some types of vertigo are also treated through medication while multiple sclerosis, cerebrovascular disease, and tumors may need medication, radiation or surgery.


Jason Rickard is the owner of Your Favourite Shop - Offering White Noise and Relaxation CDs - Visit Hapa Health for more articles.
==========

Even when we try to eat well, we're disadvantaged. The nutritional content of most food has been compromised over the years, not only by deficient soils and modern production, transportation, storage and processing methods, but also by the enormous amounts of chemical and artificial substances added to promote growth, storage life, taste and appearance.

It's for this reason that more and more medical authorities are advocating the use of vitamin and mineral supplements. However, finding them in the right combination can be both confusing and costly.
The nutrition products I am going to recommend you make use of knowledge gained from the botanical world's 6,000 year history. They incorporated health building nutritional herbs with the best modern technology to help our bodies cleanse and detoxify so that the cells - the tiniest living units - can be as fully nourished as possible.
This allows the cells to grow, repair and to perform their functions with the best possible efficiency so that we feel and look better and are more able to prevent and fight disease. Once the body begins to clear itself of toxins it can more efficiently absorb nutrition.

Further reading through our articles on health issues will give you a body of information that will help you decide what options you have to deal with the underlying causes of your problem through giving your body the nutrition products that will assist you body to heal from the inside out.



You can visit our health food products page here: Herbalife Health Nutrition Supplements and learn more about our core nutrition program, the Cellular Nutrition Advanced Program and also check out these targeted products, Florafiber to replace your healthy flora and Aloe Vera Juice to help cleanse your system.

We wish you well in your search for solutions to this problem and your movement towards better health in all areas.






BACK TO "Your Health Onlineâ€
the A to Z directory of dealing with Health Problems & Self Care Strategies for natural remedies to your health issues.

Back to Top of your health online page
Subscribe to "Your Health Success†newsletter
Terms of Use | Privacy Policy |Disclaimer | Free Health Book