Super Strategies for Stamping Out Acne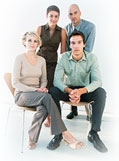 A health article fromYour Health Online the A to Z directory of dealing with Health Problems & nutritional Self Care Strategies

Super Strategies for Stamping Out Acne

Most people with acne attempt to treat their irritated skin with external face washes, soaps, lotions and treatments.



However, the best way to treat acne is by changing your diet and getting rid of acne-causing ingredients such as fried foods.


A healthful diet rich in natural whole foods like vegetables, fruits, whole grains and beans is the first recommendation for treating acne.


Foods containing trans-fatty acids, such as milk, milk products, margarine, shortening and other synthetically hydrogenated vegetable oils, as well as fried foods, should be avoided.


It seems the prevalence of acne in the United States is built into the typical American diet. Americans tend to eat fried foods in large quantities, usually cooked in the most harmful of fats and oils.


Not all fats are bad, but the fats that typical Americans eat make them more prone to develop acne and skin problems, such as what's in ice cream, cheese, bacon, and milk.


Acne cannot really be treated using creams and soaps because the root of the condition lies beneath the skin.



Pimples and blemishes are caused by bacteria and other irritants embedded underneath the skin's oil glands and hair follicles, which are generally caused as a result of improper hygiene and poor diet – such as too much processed, fatty, fried and sugary foods.


A skin-healthy diet emphasizes raw and lightly cooked vegetables, especially green leafy vegetables that contain valuable trace minerals and are rich in fiber.


Fresh green vegetables are essential. Also include in your diet lean protein sources and complex carbohydrates, such as rice, whole-grain bread, and potatoes. These fiber-rich foods help ensure a clean gastrointestinal tract, which is especially important in the management of acne.


Eat three healthy meals daily to provide important nutrients and to decrease your appetite for sugary or greasy fried foods. Foods rich in vitamin A, like apricots, watermelon, and broccoli, as well as foods like lean beef, nuts, beans and whole grains that are rich in zinc can also be helpful in reducing acne breakouts.


It's also imperative to drink lots of water to help flush the toxins out that contribute to breakouts.

==========

Even when we try to eat well, we're disadvantaged. The nutritional content of most food has been compromised over the years, not only by deficient soils and modern production, transportation, storage and processing methods, but also by the enormous amounts of chemical and artificial substances added to promote growth, storage life, taste and appearance.

It's for this reason that more and more medical authorities are advocating the use of vitamin and mineral supplements. However, finding them in the right combination can be both confusing and costly.
The nutrition products I am going to recommend you make use of knowledge gained from the botanical world's 6,000 year history. They incorporated health building nutritional herbs with the best modern technology to help our bodies cleanse and detoxify so that the cells - the tiniest living units - can be as fully nourished as possible.
This allows the cells to grow, repair and to perform their functions with the best possible efficiency so that we feel and look better and are more able to prevent and fight disease. Once the body begins to clear itself of toxins it can more efficiently absorb nutrition.

Further reading through our articles on health issues will give you a body of information that will help you decide what options you have to deal with the underlying causes of your problem through giving your body the nutrition products that will assist you body to heal from the inside out.



You can visit our health food products page here: Herbalife Health Nutrition Supplements and learn more about our core nutrition program, the Cellular Nutrition Advanced Program and also check out these targeted products, Florafiber to replace your healthy flora and Aloe Vera Juice to help cleanse your system.

We wish you well in your search for solutions to this problem and your movement towards better health in all areas.






BACK TO "Your Health Online"
the A to Z directory of dealing with Health Problems & Self Care Strategies for natural remedies to your health issues.

Back to Top of your health online page
Subscribe to "Your Health Success" newsletter
Terms of Use | Privacy Policy |Disclaimer | Free Health Book