Oily Skin- Why Some Of Us Have Oily Skin?
Oily Skin- A Trouble?

Oily skin is a big trouble for many of us. Why our skin oozes more oils than others is a big mystery for the sufferers. The skin attracts more dirt and is more prone to acne. it has shining look and causes all types of cosmetic problems. Why do we have that kind of skin? Can we do something to eliminate this problem forever? Let us find out.

Skin- Why Does It Produce Oils?


Our skin produces sebum. This sebum is mainly made of lipids. The sebum protects us from microbial infections and keeps our skin moist. Along with sebum, we also produce sweat. Our skin also sheds dead skin cells. All these combine and form a layer on the skin. Those who have oily skin, produce more of sebum. Hormones mainly activate the sebum production and some of us are genetically conditioned to produce more oils. You should talk with your doctor if anything can be done with the hormones.

Oily Skin Management-

To manage oily skin the only common way is to use oil free products. Wash your face at least twice a day with soap. Use oil absorbing blotting papers. Use more of powder products. Astringents will remove lot of oil and so do the toners. Look after your oily skin because you will get fewer wrinkles than those who have dry skin. They will envy you after some years.

This article is only for informative purposes. This article is not intended to be a medical advise and it is not a substitute for professional medical advice. Please consult your doctor for your medical concerns. Please follow any tip given in this article only after consulting your doctor. The author is not liable for any outcome or damage resulting from information obtained from this article.

Learn more in our section here about healthy skincare and the treatment of Acne Vulgaris

Warren Tattersall has been a full time nutritional consultant for over a decade and works with people all over the work to help them improve their health issues, including skin care, with inner and outer nutrition programs

Contact Us if you would like a no obligation free private consultation with Warren about your health online.

Learn more about your health online when you read the rest of our information here about: diet plans guide and also download the free health report available there!

Warren Tattersall has been a full time nutritional consultant for over a decade and works with people all over the world to help them improve their health, increase their personal energy levels and to use supplements to assist with diet related health issues.

Just send him a note on the form here - Contact Us - to request a personal no obligation one-on-one consultation with Warren

New order website for Australian customers:
For all the subscribers that don't want to talk to anyone, just want to buy their products direct, I'm creating these websites that process orders for you once you register with them.
The
Australia GoHerbalifeSite
is the first one completed, other countries will come along soon...
Australian customers:
Click this link
or tap on the banner below to check it out and get registered to place your orders... and remember your 15% discount code:
HLIntro15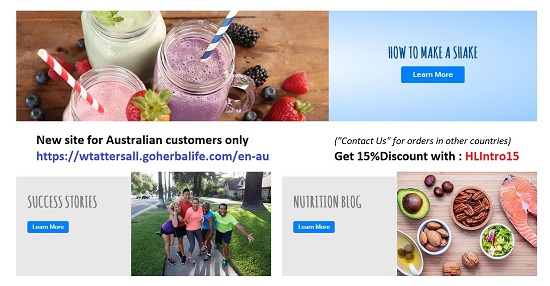 Did you find this post fun, informative and useful? If so, please share it with others!
If you have a comment, question or suggestion, please leave a comment below!