Menopausal Dizziness And Vertigo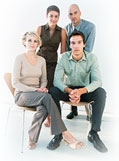 A health article fromYour Health Online the A to Z directory of dealing with Health Problems & nutritional Self Care Strategies

Getting A Grip On Menopausal Dizziness And Vertigo


It's not just the risk of osteoporosis that makes menopause quite the irksome adventure, it's also all the different symptoms that go along with it. Even though not every menopausal woman will experience the same physical or psychological problems, it is important that you are aware of the most common symptoms. The reason is because you may be suffering from a symptom but are not relating it to menopause.

For instance, many menopausal women who suffer from dizziness have no idea that this is a common symptom of their condition. Dizziness may be directly related to menopause due to changes in the body. For instance, due to lower estrogen levels, changes occur in the blood vessels within the nervous system which can result in dizziness. Furthermore, hot flashes, night sweats and migraine headaches are other menopausal symptoms that can lead to dizziness and vertigo.

Dizziness could also be indirectly related to menopause by being a side effect of medications you are taking to treat other symptoms such as hormone replacement therapy.

Despite the cause of your menopausal dizziness, this symptom can be irritating, and in some cases dangerous. Imagine what could happen if a woman, who suffers frequent dizzy spells, becomes dizzy while driving a vehicle, riding a bike, crossing a street or walking down the stairs. This could result in an accident with possible, serious consequences. In addition, a severe case of dizziness may lead to vertigo.

Vertigo is a serious condition that can cause headaches, dizziness, a spinning sensation, imbalance and falling. Vertigo is often followed by nausea and sometimes vomiting. The condition is made worse with motion. Vertigo occurs when otoliths (calcium carbonate particles) are misplaced in the inner ear's semicircular canals.

Excessive dizziness and incidences of vertigo should be brought to your doctor's attention. Your health care provider can examine and diagnose your condition, and provide you with treatment options to help with your symptoms.

That being said, some common ways to treat menopausal dizziness include:

Eating – Most women are constantly on the go and fail to provide their body with the energy and nutrients it needs. Many women do not eat a proper breakfast, nor do they have snacks when they are hungry. Furthermore, they drink too many dehydrating fluids such as coffee, tea and soda, and not enough water to help their body stay hydrated. During menopause, your body is going through too many hormonal changes and cannot handle a poor diet.

Therefore, if you are experiencing dizziness, try improving your diet and eat foods with protein, and natural energy such as fruit. Also, be sure to drink plenty of water throughout the day!

Relax – Stress leads to many negative emotional side affects including depression, anxiety and headaches. You can reduce the stress you feel by engaging in meditation and exercises that promote deep breathing such as Yoga and Pilates. Furthermore, getting a good night sleep can also help with dizziness.

Herbal treatment - A popular herbal remedy is inhaling lavender oil from a cloth. This treatment has been used for centuries to treat swooning (lightheadedness). As an extra bonus, it smells wonderful.

Note: Talk to your doctor before treating your dizzy spells with herbal remedies or over-the-counter medications.

Always remember that while dizziness is a common symptom of menopause, excessive dizziness may be a sign of something far more serious than menopause such as a brain tumor. Thus, before you brush your dizzy symptoms aside, take the time to seek the opinion of your doctor.

For information on the menopause relief or for details about treating menopause symptoms naturally,please visit NaturalMenopauseReliefSecrets.com and sign up for a free newsletter.

==========

Even when we try to eat well, we're disadvantaged. The nutritional content of most food has been compromised over the years, not only by deficient soils and modern production, transportation, storage and processing methods, but also by the enormous amounts of chemical and artificial substances added to promote growth, storage life, taste and appearance.

It's for this reason that more and more medical authorities are advocating the use of vitamin and mineral supplements. However, finding them in the right combination can be both confusing and costly.
The nutrition products I am going to recommend you make use of knowledge gained from the botanical world's 6,000 year history. They incorporated health building nutritional herbs with the best modern technology to help our bodies cleanse and detoxify so that the cells - the tiniest living units - can be as fully nourished as possible.
This allows the cells to grow, repair and to perform their functions with the best possible efficiency so that we feel and look better and are more able to prevent and fight disease. Once the body begins to clear itself of toxins it can more efficiently absorb nutrition.

Further reading through our articles on health issues will give you a body of information that will help you decide what options you have to deal with the underlying causes of your problem through giving your body the nutrition products that will assist you body to heal from the inside out.




We wish you well in your search for solutions to this problem and your movement towards better health in all areas.






BACK TO "Your Health Online"
the A to Z directory of dealing with Health Problems & Self Care Strategies for natural remedies to your health issues.

Back to Top of your health online page
Subscribe to "Your Health Success" newsletter
Terms of Use | Privacy Policy |Disclaimer | Free Health Book