Men Going In For Plastic Surgery?
Women have historically been the race most likely to take advantage of plastic surgery. To the surprise of many, more and more men are looking to plastic surgery.

Men Going In For Plastic Surgery?

Mention plastic surgery patients and one immediately thinks of women. The names of procedures such as facelifts and breast augmentation, lend themselves to this assumption. In truth, women make up approximately 80 percent of all plastic surgery patients.

Of course, the above figure means 20 percent of the patients for plastic surgery are men. Given the fact there were over 10 million plastic surgery procedures in 2005, two to three million men underwent enhancement procedures. Obviously, plastic surgery for men is no longer a taboo or unmanly option.

Men tend to pursue personal enhancements for the same reasons as women. They desire to improve a perceived physical fault or push back the effects of time. The most popular procedures with men are facelifts, nose jobs, eyelid lifts and liposuction for the infamous beer gut. For obvious reasons, breast augmentation is not popular!

Although the same titles are used for these procedures, the actual processes undertaken can vary widely from women to men due to the different contours found in the body of each gender.

So, why are more and more men turning to plastic surgery? There appear to be a few reasons. Men and women are both living longer. With this increased life expectancy, men tend to work far longer in the past and seek to keep their appearance in order.

Even powerful men in the sports world, such as Jerry Jones owner of Dallas Cowboys have gone under the knife to improve or maintain their appearance.

As society faces the fact that we live longer, the idea of plastic surgery is no longer something that raises eyebrows. While celebrity men regularly undertake it, the rest of us are also getting in on the act.


Learn more in our section here about healthy skincare and the most popular treatment for Anti-Aging Skin Care and also get your free report about skincare to prevent aging and wrinkles.

Warren Tattersall has been a full time nutritional consultant for over a decade and works with people all over the work to help them improve their health issues, including skin care, with inner and outer nutrition programs

Contact Us if you would like a no obligation free private consultation with Warren about your health.
Learn more about your health online when you read the rest of our information here about: diet plans guide and also download the free health report available there!

Warren Tattersall has been a full time nutritional consultant for over a decade and works with people all over the world to help them improve their health, increase their personal energy levels and to use supplements to assist with diet related health issues.

Just send him a note on the form here - Contact Us - to request a personal no obligation one-on-one consultation with Warren

New order website for Australian customers:
For all the subscribers that don't want to talk to anyone, just want to buy their products direct, I'm creating these websites that process orders for you once you register with them.
The
Australia GoHerbalifeSite
is the first one completed, other countries will come along soon...
Australian customers:
Click this link
or tap on the banner below to check it out and get registered to place your orders... and remember your 15% discount code:
HLIntro15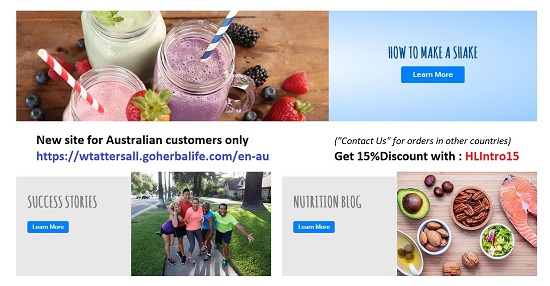 Did you find this post fun, informative and useful? If so, please share it with others!
If you have a comment, question or suggestion, please leave a comment below!