How To Effectively Clean A White Tongue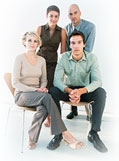 A health article fromYour Health Online the A to Z directory of dealing with Health Problems & nutritional Self Care Strategies

How To Effectively Clean A White Tongue, The Cause Of Bad Breath

Have you ever noticed that sometimes you have a white tongue? A white tongue is something that nobody wants to have. Why? A white tongue not only looks abnormal, but if left untreated, it's a strong indication of a bad breath problem.

People who have a white tongue, also known as a geographic tongue, are definitely more likely to experience an abnormally colored tongue. Geographic tongue simply means a tongue that has lots of grooves and fissures in it. These grooves and fissures make an excellent breeding ground for the anaerobic bacteria that cause bad breath and a white tongue. Under certain conditions, a geographic tongue can be white, yellow, even black in color. A geographic tongue can also be coated and sometimes dry and cracked. The way around this problem is simply making sure that your tongue is kept as clean as possible. But...not all tongue cleaning is created equal.

Tongue cleaning or tongue scraping is a process that the majority of people in the United States don't do on a daily basis. Yet, it's one of the most important steps you can take to keep your breath clean and fresh!

MYTHS ABOUT CLEANING A WHITE TONGUE

MYTH #1: You have to scrape hard to clean a white tongue. This is false! You do not need to scrape your tongue so hard that it bleeds. In general, pressing harder does not remove more bacteria. You simply need to press hard enough that the tongue cleaner you're using is pressed flush across the surface of your white tongue. Try not to leave any gaps.

MYTH #2: Tongue Cleaning Alone Prevents Bad Breath. This is also false! Tongue cleaning alone does not kill the bacteria that cause bad breath that are breeding below the surface of a white tongue. It simply removes the gunk on the surface. This gunk (mucus and food debris) is a food source for anaerobic bacteria, the cause of a white tongue.

MYTH #3: You must use a complex, expensive gizmo to successfully clean your tongue. Again false! Really, all you need is a fairly rigid instrument, that you can easily make flush on the surface of your white tongue and cover the largest area possible. Those electronic tongue cleaners you see can be helpful if you have arthritis, difficulty with coordination, or in general have a a tough time performing some simple actions on tongue cleaning, which I'll outline below.

Tongue cleaning is really not that difficult to do, and it's not even very time consuming. That extra minute or two you spend on your tongue per day can reap huge rewards in preventing bad breath. It'll help prevent a white tongue, return it to it's normal color, and most importantly cut down on bad breath.

STEP-BY-STEP INSTRUCTIONS TO SUCCESSFULLY CLEAN A WHITE TONGUE

STEP 1: Starting at the base of your tongue, place a tongue cleaner/scraper flush against your tongue's surface and make slow sweeping strokes from the back to the front. You can start at either side of your tongue and work your way across to the other side. Depending on the tongue cleaner you are using, you might need to make three to four different swaths across your white tongue.

STEP 2: Once the surface debris from your white tongue has been removed, apply a small bead of toothpaste to the head of your tongue cleaner. Make sure your toothpaste does not contain Sodium Lauryl Sulfate because this ingredient will dry out your mouth. I recommend using TheraBreath Oxygenating Toothpaste (http://www.therabreath.com/products.asp?CAT=3).

STEP 3: Gently coat the surface of your tongue (as far back as possible without gagging yourself) with the toothpaste. This allows the toothpaste to penetrate below the surface of your tongue and neutralize those sulfur-producing anaerobic bacteria. Believe it or not, there are more bacteria in the rear of your tongue than in the front!

STEP 4: Once your tongue is coated, allow the toothpaste to stay on the surface of your tongue as long as you can. Up to 90 seconds is ideal. If you begin to cough, or your gag reflex kicks in, that's okay, just spit whenever you need to.

STEP 5: Ideally, it's best to leave the toothpaste on the surface of your tongue, while you brush your teeth normally.

Following this routine daily gives you the most benefit possible in cleaning a white tongue. This routine will help prevent white tongue, keep your breath fresh, and give a geographic white tongue its best possible chance at maintaining the normal, healthy, pink color that everyone would like to have.

Dr. Harold Katz is the worldwide expert on the topics of bad breath, halitosis, and dry mouth. Searching for a bad breath solution? To receive your FREE copy of his easy-to-read "Bad Breath Bible" visit: http://www.TheraBreath.com/web/art/L-HTCWT.asp

==========

Even when we try to eat well, we're disadvantaged. The nutritional content of most food has been compromised over the years, not only by deficient soils and modern production, transportation, storage and processing methods, but also by the enormous amounts of chemical and artificial substances added to promote growth, storage life, taste and appearance.

It's for this reason that more and more medical authorities are advocating the use of vitamin and mineral supplements. However, finding them in the right combination can be both confusing and costly.
The nutrition products I am going to recommend you make use of knowledge gained from the botanical world's 6,000 year history. They incorporated health building nutritional herbs with the best modern technology to help our bodies cleanse and detoxify so that the cells - the tiniest living units - can be as fully nourished as possible.
This allows the cells to grow, repair and to perform their functions with the best possible efficiency so that we feel and look better and are more able to prevent and fight disease. Once the body begins to clear itself of toxins it can more efficiently absorb nutrition.

Further reading through our articles on health issues will give you a body of information that will help you decide what options you have to deal with the underlying causes of your problem through giving your body the nutrition products that will assist you body to heal from the inside out.



You can visit our health food products page here: Herbalife Health Nutrition Supplements and learn more about our core nutrition program, the Cellular Nutrition Advanced Program and also check out these targeted products, Florafiber to replace your healthy flora and Aloe Vera Juice to help cleanse your system.

We wish you well in your search for solutions to this problem and your movement towards better health in all areas.






BACK TO "Your Health Online"
the A to Z directory of dealing with Health Problems & Self Care Strategies for natural remedies to your health issues.

Back to Top of your health online page
Subscribe to "Your Health Success" newsletter
Terms of Use | Privacy Policy |Disclaimer | Free Health Book