How Effective Is Vitamin D And Weight Loss?
Adding optimum amounts of Vitamin D to your diet may be one of the best ways to lose excess weight and help get your weight to its best level. Recent research shows that Vitamin D is a natural aid to weight loss and that if you run low on it that it may increase your risk of becoming obese.

Vitamin D and weight loss seem to be connected and that taking Vitamin D supplements can help with weight loss and maintenance of that weight loss.

The American Journal of Clinical Nutrition published a study in 2010 reporting that researchers had discovered that when individuals boost their levels of Vitamin D, as well as their calcium levels, it can increase potential weight loss while dieting.

Researchers conducted a study with one hundred twenty six participants who were overweight and followed them for six months.

Another indication of Vitamin D and weight loss is its potential to be helpful in preventing mid-life weight gain often experienced by women.

The Archives of Internal Medicine published a study in 2007 that showed results from a study of 26,282 women who were postmenopausal. Each received either a 400 IU of Vitamin D and 1,000 MG of calcium or a placebo every day.

The study lasted for three years and those who took the Vitamin D and calcium were less likely to gain weight.

Many people who are overweight also seem to be deficient in Vitamin D and as a result may suffer from muscle pain and aches in joints and ligaments.

Some doctors treat these symptoms with injections of Vitamin D, along with prescribing a healthy diet and exercise routine.

Weight loss is almost always also recommended since excess weight is very hard on an individual's joints and ligaments.

Another benefit of Vitamin D supplements seems to be heart health. According to a study from the American Journal of Clinical Nutrition in 2007, sixty-three obese and overweight women assigned to a weight loss program took 400 IU of Vitamin D and 1,200 MG of calcium during the fifteen weeks of their program.

These women all had improvements in their cholesterol levels than other participants who had taken a placebo over the same period and who were in the same weight loss program.

Research from the National Institutes of Health reports that Vitamin D and weight loss is enhanced when combined with a calcium supplement. Many foods contain Vitamin D including fortified milk and oily fish.

The body also produces Vitamin D when it is exposed to the sun, but with the dangers involved with excessive sun exposure it is much safer to get your necessary Vitamin D through food and Vitamin supplements.

Taking Vitamin D, along with calcium supplements is a good way to increase your overall health as well as supporting your weight loss efforts.

Vitamin D also helps your body absorb the calcium supplements which is necessary for strong bone density and for preventing osteoporosis.

Taking Vitamin D and calcium supplements seems to be a good way to help with weight loss and weight loss maintenance.

You do need to be cautious about not consuming too much Vitamin D because there can be side effects when you absorb too much Vitamin D into your body.

Are you fed up with being overweight and want to get serious and drop those pounds and keep them off? Our Free Weight Loss Report Reveals the fundamentals of losing weight the natural way .

If you would like to learn more about healthy ways to lose weight, and about the natural supplements that I recommend and use myself, just drop me a line here and you'll get a free consultation with Warren Tattersall... CONTACT ME - no obligation, we'll just have a chat about your weight and health goals and the best ways you can achieve them while improving your overall health.

Learn more about your health online when you read the rest of our information here about: diet plans guide and also download the free health report available there!

Warren Tattersall has been a full time nutritional consultant for over a decade and works with people all over the world to help them improve their health, increase their personal energy levels and to use supplements to assist with diet related health issues.

Just send him a note on the form here - Contact Us - to request a personal no obligation one-on-one consultation with Warren

New order website for Australian customers:
For all the subscribers that don't want to talk to anyone, just want to buy their products direct, I'm creating these websites that process orders for you once you register with them.
The
Australia GoHerbalifeSite
is the first one completed, other countries will come along soon...
Australian customers:
Click this link
or tap on the banner below to check it out and get registered to place your orders... and remember your 15% discount code:
HLIntro15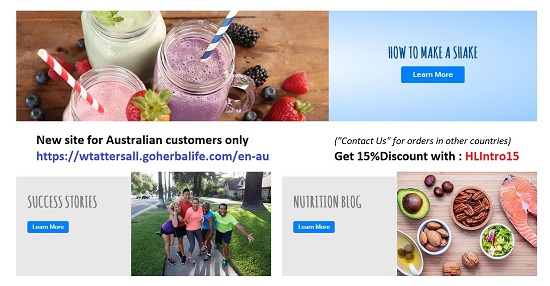 Did you find this post fun, informative and useful? If so, please share it with others!
If you have a comment, question or suggestion, please leave a comment below!