Five Efficient Ways To Stop Hair Loss
Hair loss is a common symptom of aging but there are different things you can try in order to stop this process. You should go over the following article if you want to learn more about hair loss and how to stop it.

Hair loss should not cause you to worry unless it started very suddenly. You should meet with your doctor if you started losing large quantities of hair in a very sudden way and if you notice other symptoms.

Hair loss is sometimes caused by a medical condition but it is caused by aging in most cases. It is best to meet with your doctor to determine what is causing your hair loss and get some advice on how to adopt a healthier lifestyle.

Stress or fatigue can make your body age faster. Losing your hair because of stress or fatigue is a lot more common than you would think.


You need to learn to manage your stress more efficiently in order to get rid of your hair loss problem. Try finding an activity that allows you to relax for at least a few hours a day.


Adopt a different schedule so you have more time to relax and sleep if you are dealing with fatigue and you will see a difference.

If you are smoker, quitting is your best option. Tobacco and the other chemicals contained in cigarettes have a negative effect on the human body and can cause many health issues, including hair loss.

In fact, losing your hair will be the least of your worries once nicotine starts taking a toll on your health. You should make quitting a priority, even if getting rid of your cigarettes is stressful.

Try adopting a balanced diet. If your diet is not healthy, you might be losing your hair because of a vitamin deficiency. You can correct your vitamin deficiency right away by taking some supplements.

Try transforming your diet, for instance by adding more fruits and vegetables. Limit your fat, sugar and sodium intake as much as possible and replace sugary or caffeinated beverages with water. Get some help from a nutritionist if you are not sure how to improve your diet.

Adopt a better hair care regimen. Taking good care of your hair can make a real difference. You should start your day by massaging your scalp to improve your circulation.

Use your fingertips to massage vigorously until you feel a tingling sensation. You can then wash your hair with a quality shampoo designed to slow down hair loss. Using conditioner will make combing your hair easier, even if you do not have long hair. There are also masks or creams you can use to strengthen your hair. The best thing to do is test different products until you find one that works.

Apply these tips to make a few changes to your lifestyle and you will soon see a difference. Remember that adopting healthier habits will help you avoid a lot of health issues besides hair loss.


Learn more here in our online guide about how to deal with hair loss and ways to take preventative steps by keeping your hair healthy


Resources :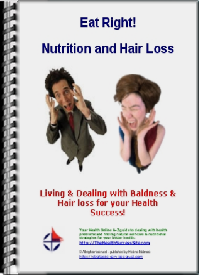 Free Report Reveals tips for "Eat Right!
Using Good Nutrition to Prevent Hair Loss"
Free Health Book.
- Living & Dealing with Hair loss or Baldness.

Hair loss is something that over half of the men in this world (and a lot of women too) will have to deal with at some point in their lives.
Click the link above or book cover to get your free Report & eCourse today!
Learn more about your health online when you read the rest of our information here about:
diet plans guide
and also download the free health report available there!
Warren Tattersall has been a full time nutritional consultant for over a decade and works with people all over the world to help them improve their health, increase their personal energy levels and to use supplements to assist with diet related health issues.
Just send him a note on the form here -
Contact Us
- to request a personal no obligation one-on-one consultation with Warren
New order website for Australian customers:
For all the subscribers that don't want to talk to anyone, just want to buy their products direct, I'm creating these websites that process orders for you once you register with them.
The
Australia GoHerbalifeSite
is the first one completed, other countries will come along soon...
Australian customers:
Click this link
or tap on the banner below to check it out and get registered to place your orders... and remember your 15% discount code:
HLIntro15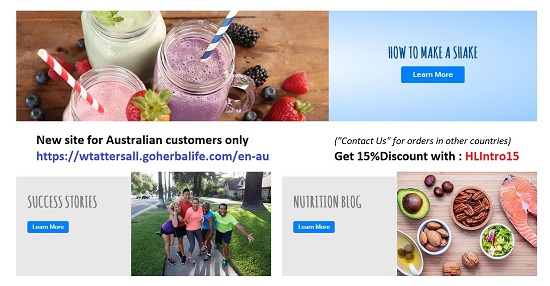 Did you find this post fun, informative and useful? If so, please share it with others!
If you have a comment, question or suggestion, please leave a comment below!