Fish Oil for Cardiovascular Health | Can Certain Foods Lower Your Cholesterol Level?
Did you know that there are cholesterol lowering foods? Are you one of those people who have high cholesterol? Are you concerned that you may not be eating a well balanced diet? You may want to consider changing your lifestyle because any overall improvements will help improve your health. Experts recommend that you eat a diet which is high in fiber, fish oils and garlic. These are some food suggestions that you can help you improve your diet for a better cholesterol level.


Soy products


Soy protein or isoflavones and are effective as a cholesterol lowering foods. The recommended daily intake is one to two ounces, or25 grams, of soy will help you lower your bad cholesterol level by about 8% -10%. If you have a high cholesterol level which is about 260-300, if you change your diet will help lower your cholesterol level by 15-20%. You may want to consider eating some of these Soy products which include: beans, soy milk, flour and tofu. You also may want to consider soy drinks and protein bars that contain 10 to 20 grams of soy protein.


Fiber Sources – Fruits, Vegetables and Others


Foods that are rich in fiber are considered as cholesterol lowering foods. Fiber is not easily digested. This can help lower one's cholesterol level. The best fruits to eat are berries, oranges, apples, honey dew melon and cantaloupe, and grapefruit are rich in fiber. The best vegetables to eat are carrots, cabbage, beets, spinach,, broccoli and peas are all great sources of fiber. Oats contain a soluble fiber call Glucan which plays a critical role in lowering cholesterol. Whole grains are cholesterol lowering foods because over-processed ones such as white bread are stripped of their fiber content.


Fish


Fish contains omega-3 polyunsaturated fatty acids which decrease the chances of getting blood clots. Fish is a good source of cholesterol lowering foods because they help you achieve a level of good cholesterol. They also help prevent blood clotting which can lead to heart attacks and strokes.


Garlic


Studies have shown that garlic is a cholesterol lowering foods. You may want to consider taking odorless coated garlic tablets which will give you the same effect. The small intestine absorbs the garlic. The coating helps the tablet pass through to the small intestine.


You may want to start with looking at cholesterol lowering foods as a part of a healthy regimen to improve your cholesterol level. Exercise will also help. But you need to do both. You need to start eating cholesterol lowering drugs as well as adding exercise into your daily routine. It is best to maintain a healthy routine until your next visit with your physician to see if there is any improvement.

Warren Tattersall has been a full time nutritional consultant for over a decade and works with people all over the world to help them improve their health, increase their personal energy levels and to use supplements to assist with diet related health issues.
This site has many helpful tips about nutrition and free health plans to reduce your high blood pressure and help you with a healthy heart. Not only will you get valuable cardiovascular problems health tips about
fish oil for cardiovascular health
, but you can also get free A-Z of Heart Health ebook download from here:
TheHealthSuccessSite.com
To have a free personal consultation with him to learn how incorporating nutritional supplements may improve your health concerns just visit "The Health Success Site" and download the free health report available there, or email warren@TheHealthSuccessSite.com to request a personal one-on-one consultation by email or phone.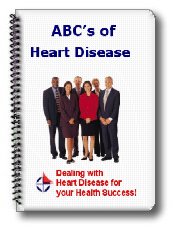 Free Report Reveals the "ABC's of Heart Disease" See how easy it is Dealing with Coronary Disease for your Health Success
Free Health Book.
If you have heart disease or are at risk, learn all you can about how the heart works and why heart disease occurs.
Click the link above or book cover to get your free Report & eCourse today!