Custom-Tailored Workout Plans For Weight Loss
Workout plans for weight loss don't have to be difficult or complicated. Instead, it is important to choose a plan that fits well with your lifestyle, current fitness level, interests and weight loss goals. Check out the following tips to develop a plan that will help you succeed.

Consider Your Current Fitness Level

A good workout should push you to your limits, helping you build strength, endurance and flexibility. However, it is important to look for a workout that is not too difficult for your current fitness level. Working out beyond your means cannot only leave you feeling frustrated, but it can also cause injuries.

Choose a plan that pushes you just beyond your current abilities. Once that plan becomes easy for you, modify it to be a little bit more difficult and so on until you reach your fitness goals.

Determine What You Like to Do

Exercise is only effective if you stick with it. That's why it's important to choose something that you enjoy doing. For instance, if you love biking, developing a workout plan that is based around riding your bike is a surefire way to stick with the plan for the long haul.

Make a list of some of your favorite activities and decide whether or not any of them can be incorporated into fun and engaging workout plans for weight loss.

Design Your Workout Around Your Lifestyle

When developing a workout plan, think about your current schedule, your habits and how you live your day-to-day life. For example, if you are an early riser try to work out first thing when you get out of bed.

If, on the other hand, you don't feel energetic until later in the day, schedule an afternoon workout session to maximize your results

If you have trouble forcing yourself to get out of the house, a gym membership is probably not the best idea. Instead look for exercise equipment that you can use in the comfort of your own home.

Some of the main things to think about are your sleeping habits, whether you like to work out with other people or by yourself, how motivated you are to leave your house and whether you like regimented workouts or the freedom to do your own thing.

Consider Your Weight Loss Goals

If you need to lose a lot of weight quickly for an upcoming event, you may need to choose a more intense workout than if you are just trying to lose a few pounds.

Decide how much weight you want to lose and how quickly want to lose it, and then design your workout plan to help you reach your goals.

Workout plans for weight loss are most effective when they are designed around your needs. By choosing an exercise program that matches your current abilities, takes advantage of your interests and is designed to work with your lifestyle, you can reach your goals more quickly.

The key to successful weight loss lies in choosing an exercise program that is custom-tailored to your needs so you can stick with it long enough to see results.

Learn more in our guide here about what is a healthy weight loss and fitness plan.

If you would like to learn more about safe healthy weight loss ways to get fit, and about the natural supplements that I recommend and use myself, just drop me a line here and you'll get a free consultation ... CONTACT ME - no obligation, we'll just have a chat about your weight and health goals and the best ways you can achieve them while improving your overall health.

Warren Tattersall has been a nutritional consultant for over 20 years and has a personal interest in weight lifting toward reaching competition level.

If you are interested in body building and weight lifting you can also get a fast start to build muscle like one of the Spartan 300 using this powerful training guide I have just published! Click banner to learn more >>>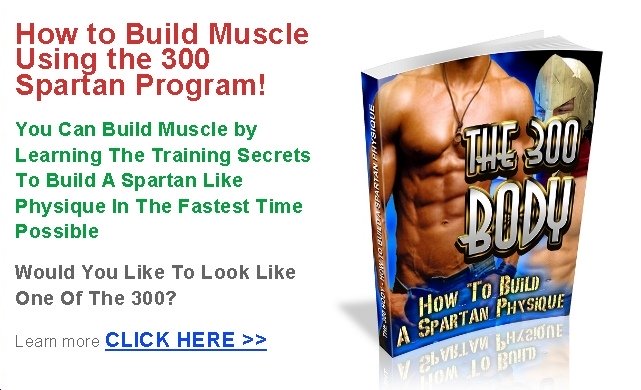 Easy Tips To Help You Lose Weight and Keep It Off
Summer is almost here and you still have twenty or thirty pounds to lose. How are you going to do that? Sometimes simple, easy changes are just the thing that can get you started and help you see results quickly.
Patience, however, is important because the weight did not appear overnight and it is not going to disappear overnight either.
It will take some time for you to develop the healthy exercise and eating habits that are going to make your weight loss permanent. Here are some tips that can help.
Take a little time and think about just what it is that makes you gain weight. Do you have trouble resisting certain foods? Is it difficult not to nosh when free food is within reach?
Are you too tired or too busy to shop for or to cook healthy meals? Is your partner supportive of your weight loss efforts?
There are usually a wide variety of factors for most people that cause them to gain weight. Identifying these can help identify the first steps.
If it's junk food that's your weakness, throw it all out and fill the refrigerator with healthy alternatives instead.
If it's intense emotions that spur your eating, find alternative outlets for those emotions such as calling a friend or taking a walk.
It is almost impossible to lose weight by cutting calories alone. You have got to get moving to lose the calories and then the weight.
It doesn't have to be an aerobic marathon, but it should be a regular exercise routine, so it can become a habit. Ideally you will do some form of exercise three or four times a week and stick to it. It is also good to be active whenever you can. Park away from the store and walk in.
Take the stairs instead of the elevator. Get up at work and walk around. Pace while you are on the phone. Fitting in little spurts of activity throughout the days adds up.
Think ahead to those occasions when it may not be easy to make a healthy choice and have a plan. Know that conference will not have any healthy options for lunch? Take your own or ask to do a special order for the luncheon. Any caterer worth their salt won't blink an eye at a special request, happens all the time, just get it in ahead of time.
Tend to crave chocolate late at night? Drink a cup of Oolong tea with a couple of squares of dark chocolate an hour before bed.
Both are rich in antioxidants and two squares won't throw off your diet. The Oolong tea will actually help burn off calories, too.
Fill up on fruits and veggies and try a bowl of soup before the meal. Eating lots of high volume foods is a great way to fill up without filling out.
Foods that are high in water such as green, leafy vegetables, watermelon, cantaloupe, apples, and pineapple are filling and very good for you.
Also, eating a bowl of soup before the main course will help fill you up so you won't eat so much. The soup should be something that is not cream based, such as vegetable or chicken broth.
These tips will help get you started on a path to steady, sustained weight loss that you should be able to keep off for the long term. It is not only about losing weight, it is also about being healthy and feeling good.
Learn more about your health online when you read the rest of our information here about:
diet plans guide
and also download the free health report available there!
Warren Tattersall has been a full time nutritional consultant for over a decade and works with people all over the world to help them improve their health, increase their personal energy levels and to use supplements to assist with diet related health issues.
Just send him a note on the form here -
Contact Us
- to request a personal no obligation one-on-one consultation with Warren
New order website for Australian customers:
For all the subscribers that don't want to talk to anyone, just want to buy their products direct, I'm creating these websites that process orders for you once you register with them.
The
Australia GoHerbalifeSite
is the first one completed, other countries will come along soon...
Australian customers:
Click this link
or tap on the banner below to check it out and get registered to place your orders... and remember your 15% discount code:
HLIntro15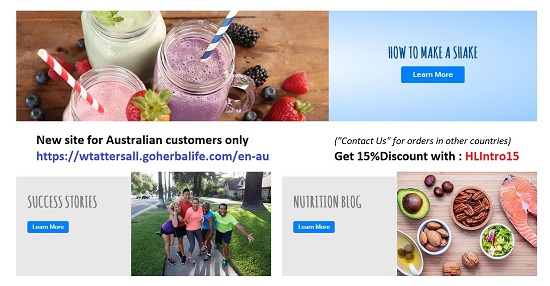 Did you find this post fun, informative and useful? If so, please share it with others!
If you have a comment, question or suggestion, please leave a comment below!