Chronic Fatigue Treatment Options
Patients of CFS or Chronic Fatigue Syndrome respond differently to various treatments. Some of them recover after drastic changes in lifestyle, some of them are more responsive to pharmacological treatments.

Here are the most common treatment modalities to which CFS patients are subjected and to which most of them respond well.

Self-Care/Management Techniques

Some patients can facilitate self-care treatments. This can be done by monitoring the level and pacing of activities such that prolonged and extreme levels of exhaustion are prevented.

This can also be done by preventing the urge to rest. Since CFS is not relieved through rest, regardless of the duration, health care professionals do not advise the patients to rest excessively.

Some form of physical activity must be maintained. This is oftentimes recommended by the physician.

When trying to manage the symptoms of the disorder by yourself, it is best to keep the pacing and the level of the activities under control. Otherwise, symptoms may occur at a more debilitating rate.


I have co-authored a book that details all the best proven CFS treatments that you can apply to help you better cope with CFS.


Learn more here about my book available on Amazon in Printed book or Kindle download; "How to Beat Chronic Fatigue Syndrome...and get your life back!"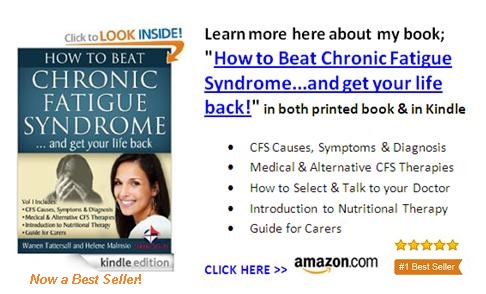 Cognitive Behavioral Therapy
CBT or Cognitive Behavioral Therapy is a psychological therapy that delivers relief of symptoms but not necessarily cure. This helps the patients understand their conditions and can therefore better guide them in forming their beliefs, perception and attitudes towards the syndrome.
It is believed that through a more accurate depiction of the condition, the patient can better respond to the symptoms and they can cause lesser inhibition of the recurrence of their symptoms.
Graded Exercise Therapy
This therapy involves the introduction of incremental changes in the patients' levels of activity. While concrete evidence are yet to be established, many experts believe that integration of activities is very important in managing the disease.
Under this therapy then, the patient will have to monitor his own activities and exercises. As the therapy progresses, he moves to higher intensities until he gets back to the doing activities he normally participated in prior to the onset of the condition.
Nutrition and Herbal Products
Diet supplements, nutritional products and Eastern/Herbal remedies will, in many cases, produce results ranging from 'some slight improvement' to, for some people, breathtaking turnarounds with the problem and apparent complete recovery.
People who use 'alternate health' professionals and who get fantastic results often believe that this is the answer to CFS for everybody. In their case they may well be right but CFS is such a difficult condition to deal with that someone else with exactly the same symptoms may get only marginal improvement.
Natural Remedies for some people work best when used in conjunction with other treatments.
Review and experiment is important to find how any individual can best manage and improve health in their particular case.
Pharmacological Treatments
Managements of the conditions through pharmacological treatments can involve the following medications:
Antidepressants are primarily used to manage mood swings and secondary depression. Low dosage antidepressants, on the other hand, are helpful in managing sleep disturbance and pain.
Autonomic nervous system stimulants are used to help improve concentration and short-term memory which are greatly affected by the disorder.
NSAIDs or Non-Steroidal Anti-Inflammatory Drugs are prescribed to CFS patients to relieve them from muscle and joint pains.
Anxiolyticagents are used to target symptoms of anxiety.
CAM or Complementary and Alternative Medicine
The use of dietary supplements in managing Chronic Fatigue Syndrome is central in alleviating the symptoms of CFS.
According to some pilot studies, supplements of Carnitine, essential fatty acids, Magnesium and polynutrient supplements have shown strong indications of symptom reduction among patients.
Because the origins of Chronic Fatigue Syndrome are not yet fully understood, treatment options are more directed to managing the symptoms and not really in curing the disorder. The main objective in producing relief from symptoms is to reinstate the conditions of the person as well as his well-being prior to the onset of the disorder.
As a result, majority of sufferers do not fully recover and even if they do, they recover gradually. For people who expect better and faster recovery, frustrations often ensue which for most of the cases, worsen the condition.
It is therefore recommended to undergo a treatment at a very slow but well-managed pace.
DO YOU HAVE CHRONIC FATIGUE?
There is help and NEW HOPE for you! Our unique combination of natural ingredients is proven to help beat CFS
Did you know that
Chronic Fatigue Syndrome
can be as disabling as Multiple Sclerosis, Lupus, Rheumatoid Arthritis, congestive Heart failure and similar chronic conditions? If you need help to
cope chonic fatigue
you will get it here!
CFS IS MISUNDERSTOOD - ARE YOU?
Friends and family don't understand chronic fatigue syndrome but we do. We can help you BEAT CFS with our
Chronic Fatigue Herbs
based natural programs - and give you your life back. Feel normal again!
Our proven system of supplements is GUARANTEED to get results.