Cholesterol and Heart Disease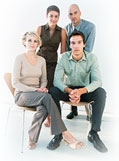 A health article fromYour Health Online the A to Z directory of dealing with Health Problems & nutritional Self Care Strategies

Cholesterol and Heart Disease

For many, the word cholesterol is nothing more than a bad medical term. We know that we are supposed to lower our cholesterol, and we even know that it depends on what we eat, but many people do not know the risks associated with high cholesterol and why it is important to prevent high cholesterol. Simply put, if you have high cholesterol, you put yourself at a high risk for having a heart attack. Heart attacks are devastating, especially when they come as a surprise, and many people who experience a heart attack never recover. Therefore, it is important to know how and why high cholesterol affects the health of your heart.

The heart pumps blood through our bodies, and blood can be seen as a carrier system for the body. Every day, the blood makes its rounds, picking up things at one organ and dropping off oxygen from the lungs and nutrients from the food we eat. Cholesterol is one such nutrient, and it is one of the lipids, or fats found in the body. The body is capable of making enough cholesterol itself, but we eat saturated fats and so these are put into the blood stream. The cholesterol from the saturated fat is used in the production of certain hormones and to build cell walls, so we do need small amounts in the body, but most people eat entirely too much, and so there is a large about of extra lipids in the body.

Lipoproteins carry the cholesterol through the blood stream. HDL cholesterol is good for the body, and this lipoprotein is found in small amounts. When measuring your cholesterol at a doctor's office, however, what people are concerned with is the LDL (bad) cholesterol levels. If there is too much LDL cholesterol in the blood, these little carriers start bumping into one another and against the blood vessel walls.

They often get stuck to the walls, and over time a thick layer of cholesterol builds up. When too much builds up, and there is already a high number of lipoproteins in the blood stream, it is difficult for the blood to pass through in order to reach the heart. The heart must work extra hard to pump the blood, and is stressed. You may then have a heart attack.

Heart attacks require surgery in most case and extensive time in the hospital. You can prevent this by simply eating healthier foods and exercising more regularly. When you keep your heart healthy, your entire life will be healthier, so learn all you can about cholesterol levels and how to keep them down.



==========

Even when we try to eat well, we're disadvantaged. The nutritional content of most food has been compromised over the years, not only by deficient soils and modern production, transportation, storage and processing methods, but also by the enormous amounts of chemical and artificial substances added to promote growth, storage life, taste and appearance.

It's for this reason that more and more medical authorities are advocating the use of vitamin and mineral supplements. However, finding them in the right combination can be both confusing and costly.
The nutrition products I am going to recommend you make use of knowledge gained from the botanical world's 6,000 year history. They incorporated health building nutritional herbs with the best modern technology to help our bodies cleanse and detoxify so that the cells - the tiniest living units - can be as fully nourished as possible.
This allows the cells to grow, repair and to perform their functions with the best possible efficiency so that we feel and look better and are more able to prevent and fight disease. Once the body begins to clear itself of toxins it can more efficiently absorb nutrition.

Further reading through our articles on health issues will give you a body of information that will help you decide what options you have to deal with the underlying causes of your problem through giving your body the nutrition products that will assist you body to heal from the inside out.



You can visit our health food products page here: Herbalife Health Nutrition Supplements and learn more about our core nutrition program, the Cellular Nutrition Advanced Program and also check out these targeted products, Florafiber to replace your healthy flora and Aloe Vera Juice to help cleanse your system.

We wish you well in your search for solutions to this problem and your movement towards better health in all areas.






BACK TO "Your Health Online"
the A to Z directory of dealing with Health Problems & Self Care Strategies for natural remedies to your health issues.

Back to Top of your health online page
Subscribe to "Your Health Success" newsletter
Terms of Use | Privacy Policy |Disclaimer | Free Health Book