Can You Trust Weight Loss Articles On The Internet?
There is an old saying "trust but verify." This is an adage that truly applies to the weight loss articles found online. The truth is that it is very easy to place an article online and make it sound very authoritative.

Because of this there has been a mass number of fad diets posted all over the internet that are not only ineffective, but in some cases can be rather dangerous.

For a consumer who really wants to lose weight, it is important to understand what the limits of the human body are, and what safe weight loss is.

Understanding your body from the most basic biological perspective will arm you with the knowledge you need to have in order to separate good diets from bad ones.

Here are the basics that you need to know which many fad weight loss articles do not talk about to any great extent.

First, it really is all about calories. Calories in and calories out pretty much spell the entirety of what weight loss and gain is comprised of.

Certainly there can be other variables that muddy these waters like hormonal imbalances or high stress levels, but cases where other factors play a major role in weight gain are really not that common.

So just remember, at the most basic level, if you want to lose weight you must burn more calories per day than you eat.

The second major area that many weight loss articles fail to address is the mental aspect of dieting. Fad diets are effective in the short term because they have the dieter take extreme action that will force the body to shed fat.

The major issue with losing weight in this way is that the person never learned self control. They never took mastery over the areas of their life that caused them to gain the weight in the first place.

Extreme fad diets are not sustainable for an extended period of time. So what happens when that diet ends?

If the person has not learned how to properly manage their day-to-day lives in terms of what they eat and the exercise that they get, then every single pound that they lose will be gained back.

This phenomena is well documented. Doctors and fitness experts call it the rebound effect.

For weight loss to be effective the first thing that anyone needs to do is identify the areas in their life that have caused them to put on so many pounds.

Only when those areas are identified and put into order will any diet and fitness plan become effective.

Losing weight fast is certainly an admirable goal, but understanding that a high level of fitness is something that should be a lifelong effort. Health is something that needs to become part of your daily lifestyle.

So long as people are out there looking for an "easy button" that will let them magically get the body of their dreams, that body will always remain a dream.

Are you fed up with being overweight and want to get serious and drop those pounds and keep them off? Our Free Weight Loss Report Reveals the fundamentals of losing weight the natural way .

If you would like to learn more about healthy ways to lose weight, and about the natural supplements that I recommend and use myself, just drop me a line here and you'll get a free consultation with Warren Tattersall... CONTACT ME - no obligation, we'll just have a chat about your weight and health goals and the best ways you can achieve them while improving your overall health.

Learn more about your health online when you read the rest of our information here about: diet plans guide and also download the free health report available there!

Warren Tattersall has been a full time nutritional consultant for over a decade and works with people all over the world to help them improve their health, increase their personal energy levels and to use supplements to assist with diet related health issues.

Just send him a note on the form here - Contact Us - to request a personal no obligation one-on-one consultation with Warren

New order website for Australian customers:
For all the subscribers that don't want to talk to anyone, just want to buy their products direct, I'm creating these websites that process orders for you once you register with them.
The
Australia GoHerbalifeSite
is the first one completed, other countries will come along soon...
Australian customers:
Click this link
or tap on the banner below to check it out and get registered to place your orders... and remember your 15% discount code:
HLIntro15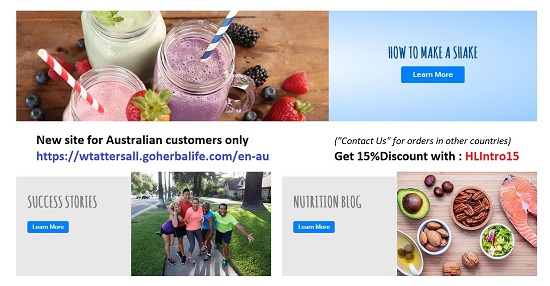 Did you find this post fun, informative and useful? If so, please share it with others!
If you have a comment, question or suggestion, please leave a comment below!