Bowels and stomach digestion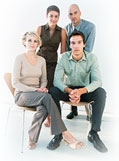 A health article fromYour Health Online the A to Z directory of dealing with Health Problems & nutritional Self Care Strategies

Vegetarian diet - Bowels and stomach digestion

Many of the health benefits derived from a vegetarian diet have to do with creating a healthy environment in the bowels and stomach.

Our digestive systems, from prehistory on, were designed to metabolize vegetable matter, more than animal products.

Fruits, vegetables, legumes and nuts provide the kind of dietary fiber our digestive systems need to function properly.

The Western diet that's high in processed and refined flour and sugar, and in animal products that are laden with hormones and antibiotics, are actually anathema to our insides.

When the digestive system doesn't function and work as it's intended to, that leads to opportunistic diseases or changes in the DNA of cells in the stomach and colon.

And there are more practical considerations as well. When we don't get enough of the fiber we need, we incur a host of digestion and elimination problems, such as constipation and hemorrhoids that are a result of straining.


These diseases and syndromes are much less evident in a vegetarian population than in a meat-eating population.

Other diseases of the bowel that occur less frequently in a vegetarian population include irritable bowel syndrome, and chronic ulcerative colitis, mostly likely due to the increased fiber content in a vegetarian diet.

And of course a diet that's higher in dietary fiber that comes from a vegetarian diet will decrease the likelihood or risk of colon cancer.

When you consider the risks that come with a diet that includes meat and animal products, and the benefits that come from a vegetarian diet, does the prospect of a steak or burger or bacon really sound that good to you? Doesn't it at least make sense to reverse the portion sizes and proportions of meats to vegetables and side dishes?

In other words, if you must continue to eat meat, then make meat your side dish, or just incidental to your meal, such as in a stir fry. Increasing the proportion of fruits and vegetables in your diet can only be good for you.

==========

Even when we try to eat well, we're disadvantaged. The nutritional content of most food has been compromised over the years, not only by deficient soils and modern production, transportation, storage and processing methods, but also by the enormous amounts of chemical and artificial substances added to promote growth, storage life, taste and appearance.

It's for this reason that more and more medical authorities are advocating the use of vitamin and mineral supplements. However, finding them in the right combination can be both confusing and costly.
The nutrition products I am going to recommend you make use of knowledge gained from the botanical world's 6,000 year history. They incorporated health building nutritional herbs with the best modern technology to help our bodies cleanse and detoxify so that the cells - the tiniest living units - can be as fully nourished as possible.
This allows the cells to grow, repair and to perform their functions with the best possible efficiency so that we feel and look better and are more able to prevent and fight disease. Once the body begins to clear itself of toxins it can more efficiently absorb nutrition.

Further reading through our articles on health issues will give you a body of information that will help you decide what options you have to deal with the underlying causes of your problem through giving your body the nutrition products that will assist you body to heal from the inside out.



You can visit our health food products page here: Herbalife Health Nutrition Supplements and learn more about our core nutrition program, the Cellular Nutrition Advanced Program and also check out these targeted products, Florafiber to replace your healthy flora and Aloe Vera Juice to help cleanse your system.

We wish you well in your search for solutions to this problem and your movement towards better health in all areas.






BACK TO "Your Health Online"
the A to Z directory of dealing with Health Problems & Self Care Strategies for natural remedies to your health issues.

Back to Top of your health online page
Subscribe to "Your Health Success" newsletter
Terms of Use | Privacy Policy |Disclaimer | Free Health Book