All You Need To Know About Hair Loss Treatments
Hair loss or hair thinning is a common problem for many adults throughout the globe. There are numerous reasons for hair loss, each differing from individual to individual. The more typical reasons may include hereditary causes, but other factors such as poor diet and medical complications may feature.

Nowadays, hair loss is not a permanent problem and can be treated effectively with different methods including various hair loss treatments.

One of the most popular and well-known forms of hair loss treatments is a surgical procedure known as a 'follicle follicular transfer'.

This surgery involves transplanting growing hairs from various areas on an individual's head to the affected, balding areas. It is an intricate process and requires a great deal of skill and experience to complete adequately.

The follicle follicular transfer is conducted in three phases. The first phase is the extraction phase, the second the healing phase, and the third the implantation phase.

If the transfer is successful the hair will take root and grow within 3 to 5 months after the operation. This treatment is recommended for individuals whom have suffered severe hair loss.

While some individuals will be willing to undergo formal medical procedures in an attempt to reduce or reverse hair loss, some would rather use external agents as a remedy. If this is the case, doctors can offer the option of pharmaceutical medications.

Hair loss treatments come in the forms of oils, ointments, creams and tablets. The most popular and reputable oral medication is that of Minoxidil.

Minoxidil is an over-the-counter prescription that contains the nitric oxide chemical 'moiety' which assists in not only reducing hair loss, but also helps with hair growth.

Unfortunately, Minoxidil has some side-effects which must be considered before use - burning eyes, irritation of the treated area and unwanted hair growth on various other parts of the body other than the head.

One must also be aware of possible allergic reactions such as swelling of the mouth and lips or dizziness and increased heart rate.

Another well-known oral medication which may be used is Finasteride. Unlike Minoxidil, Finasteride is exclusively for males and is famous for use in reversing the effects of male pattern baldness.

Research has indicated that at least 3 out of every 5 men suffering male pattern baldness experience regrowth when taking this drug. However, Finasteride should not be used for individuals with severe hair loss and is recommended for those with mild to moderate hair thinning.


One of the more organic options when facing hair loss, for males and females, is vitamins. The introduction of certain vitamins and supplements into one's diet has been seen to lead to either halting in or reduction of hair loss. Through regular and long-term intake of vitamin B, B5, B6 and B3 some hair growth may be seen.

In conclusion, while hair loss is a rising problem there are methods to treat the difficulty. Whether one chooses surgical procedures or the more natural introduction of vitamins into a diet, hair loss treatment should work for those who engage in it fully.

Learn more here in our online guide about how to deal with hair loss and ways to take preventative steps by keeping your hair healthy


Resources :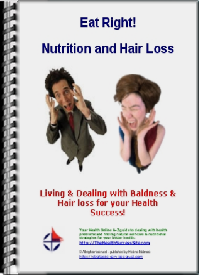 Free Report Reveals tips for "Eat Right!
Using Good Nutrition to Prevent Hair Loss"
Free Health Book.
- Living & Dealing with Hair loss or Baldness.

Hair loss is something that over half of the men in this world (and a lot of women too) will have to deal with at some point in their lives.
Click the link above or book cover to get your free Report & eCourse today!
Learn more about your health online when you read the rest of our information here about:
diet plans guide
and also download the free health report available there!
Warren Tattersall has been a full time nutritional consultant for over a decade and works with people all over the world to help them improve their health, increase their personal energy levels and to use supplements to assist with diet related health issues.
Just send him a note on the form here -
Contact Us
- to request a personal no obligation one-on-one consultation with Warren
New order website for Australian customers:
For all the subscribers that don't want to talk to anyone, just want to buy their products direct, I'm creating these websites that process orders for you once you register with them.
The
Australia GoHerbalifeSite
is the first one completed, other countries will come along soon...
Australian customers:
Click this link
or tap on the banner below to check it out and get registered to place your orders... and remember your 15% discount code:
HLIntro15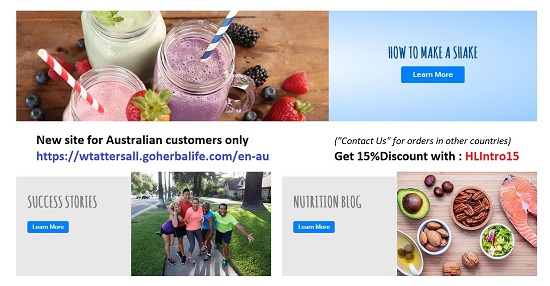 Did you find this post fun, informative and useful? If so, please share it with others!
If you have a comment, question or suggestion, please leave a comment below!