Adding some Variety to Vegetarian Diet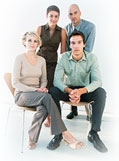 A health article fromYour Health Online the A to Z directory of dealing with Health Problems & nutritional Self Care Strategies

Ideas for Adding some Variety to your Vegetarian Lifestyle

When you're planning a healthy vegetarian diet, you're only limited by your imagination.

It's important to incorporate a wide variety of whole grains, legumes, vegetables and fruits in different meals, including seeds and nuts.

Variety is the spice of life, and it will help ensure your vegetarian diet is nutrient-dense, interesting, and fun!

Aim for variety, even when you serve favorite entrees over and over again, by serving different side dishes, snacks and desserts.

Be creative in planning meals.

Boost your consumption of beans and vegetables by eating these foods at lunch time rather than just for dinner. Make it a goal to serve a vegetable every day for lunch and two for dinner.

Plan a meal around a vegetable. A baked potato can be a hearty entree; serve it with baked beans, a sauce of stewed tomatoes or a few tablespoons of salsa. Or make a simple meal of sautéed vegetables and pasta.

Try new foods often. Experiment with a variety of grains such as quinoa, couscous, bulgur, barley, and wheat berries. Try fruits and vegetables that are popular in different international cuisines, such as bok choy. Accentuate the positive.

Focus more on healthy foods that fit into a vegetarian plan instead of foods to avoid. If you're unsure how to include a new food into your vegetarian diet, ask the produce manager at your local grocer or health food store for ideas on how to prepare it.

The internet can be a great resource for new recipe and preparation ideas. But be sure that you're building your menu on a strong plant food base. Make them the core of your diet.

Don't stress about getting enough protein. As long as calories are sufficient and the diet is varied, vegetarians easily meet protein needs.

Grains, beans, vegetables, and nuts all provide protein. Vegetarians do not need to eat special combinations of foods to meet protein needs.

However, it is important to be aware of fat. Even vegetarians can get too much fat if the diet contains large amounts of nuts, oils, processed foods, or sweets.


==========

Even when we try to eat well, we're disadvantaged. The nutritional content of most food has been compromised over the years, not only by deficient soils and modern production, transportation, storage and processing methods, but also by the enormous amounts of chemical and artificial substances added to promote growth, storage life, taste and appearance.

It's for this reason that more and more medical authorities are advocating the use of vitamin and mineral supplements. However, finding them in the right combination can be both confusing and costly.
The nutrition products I am going to recommend you make use of knowledge gained from the botanical world's 6,000 year history. They incorporated health building nutritional herbs with the best modern technology to help our bodies cleanse and detoxify so that the cells - the tiniest living units - can be as fully nourished as possible.
This allows the cells to grow, repair and to perform their functions with the best possible efficiency so that we feel and look better and are more able to prevent and fight disease. Once the body begins to clear itself of toxins it can more efficiently absorb nutrition.

Further reading through our articles on health issues will give you a body of information that will help you decide what options you have to deal with the underlying causes of your problem through giving your body the nutrition products that will assist you body to heal from the inside out.



You can visit our health food products page here: Herbalife Health Nutrition Supplements and learn more about our core nutrition program, the Cellular Nutrition Advanced Program and also check out these targeted products, Florafiber to replace your healthy flora and Aloe Vera Juice to help cleanse your system.

We wish you well in your search for solutions to this problem and your movement towards better health in all areas.






BACK TO "Your Health Online"
the A to Z directory of dealing with Health Problems & Self Care Strategies for natural remedies to your health issues.

Back to Top of your health online page
Subscribe to "Your Health Success" newsletter
Terms of Use | Privacy Policy |Disclaimer | Free Health Book