5 De-Stressing Tips For Bedtime
Stress is a natural human response. It's how we protect ourselves from perceived threats and ensure that we're aware of the world around us. However, stress can also be detrimental to our long-term health.

Chronic stress and anxiety lead to serious challenges with your quality of life. The more cortisol you have in your system all the time the more likely you are to struggle with things like heart conditions, anxiety, depression, and more.

Stress can even stop you from getting a good night's sleep. Since sleep deprivation increases your chances of long-term ailments and heart conditions, it's important to know how you can put your stress to bed before you snooze.

Here are some quick tips to help:

1. Write some things down. Writing things down can make a huge difference to your stress levels. Creating a to-do list for all the things you want to do tomorrow helps you to feel focused and organized, so you can relax. You don't have to worry about forgetting the things you need to get done.

● Consider journaling. Writing your thoughts and feelings down in a structured way is an excellent strategy if you're worried about something. You can bring your stressful thoughts to the surface and then look for creative ways to overcome your challenges.

2. Forget the phone. Want to enjoy a healthy bedtime ritual? Reduce your reliance on your phone. Most of us are practically glued to our smartphones these days, but they're not the best for our sleeping patterns.

● Although you can put your phone on dark mode and night mode to reduce your exposure to blue light (which reduces melatonin production), just using your phone can be enough to keep you awake.

● When you're browsing through alerts and messages or checking out social media, you're actively engaged in doing something, which means it's harder to switch off. Your brain is overwhelmed by the promise of new experiences as you continue to scroll.

3. Try some tea and a good book.To replace your phone habit, why not try a light-hearted book? It's best to avoid anything that's going to really grab your attention, as you'll be tempted to stay awake and get to the next chapter. A book stops you from focusing on bright screens when you're trying to relax.

● Combine your book with a delicious cup of caffeine-free tea. You can try tons of flavors, ranging from lavender tea, to chamomile, valerian, and more. There are plenty of blends out there custom made for those who struggle with stress and sleeping issues.

4. Enjoy a bath and some tunes. Having a night-time bath in some warm, soapy water that smells like lavender could be the perfect way to unwind after a stressful day.

● Warm baths are wonderfully soothing, and soaking helps to release some of the physical stress you've been holding in your body too. While you're relaxing and soaking, give your mind something positive to focus on by turning on the tunes.

● Sometimes, deafening silence, or the sound of your tap dripping isn't relaxing. However, thanks to your smartphone and speakers, you can play virtually any music you like while you're in your tub. If you don't feel like listening to music, you could try a relaxing podcast instead.

5. Focus on positives. Finally, as part of your night-time routine, make an effort to focus on something positive.

● It could be something that you're pleased with yourself for, like finishing your hefty workload for the day. Or you could focus on something larger, like the fact that your family is happy and healthy.

● It's up to you to find those positive thoughts that make you smile.

● Each day, give yourself positive thoughts to focus your mind on. This will help to reduce the risk of your brain being filled with negative or stressful thoughts when you're going to bed.

The next time you feel stressed at bedtime, try one of these tips and settle your mind and body for a good night's rest!


Learn more about your health online when you read the rest of our information here about: Stress Management guide and also download the free health report available there!

Warren Tattersall has been a full time nutritional consultant for over a decade and works with people all over the world to help them improve their health, increase their personal energy levels and to use supplements to assist with diet related health issues.

Just send him a note on the form here - Contact Us - to request a personal no obligation one-on-one consultation with Warren

New order website for Australian customers:
For all the subscribers that don't want to talk to anyone, just want to buy their products direct, I'm creating these websites that process orders for you once you register with them.
The
Australia GoHerbalifeSite
is the first one completed, other countries will come along soon...
Australian customers:
Click this link
or tap on the banner below to check it out and get registered to place your orders... and remember your 15% discount code:
HLIntro15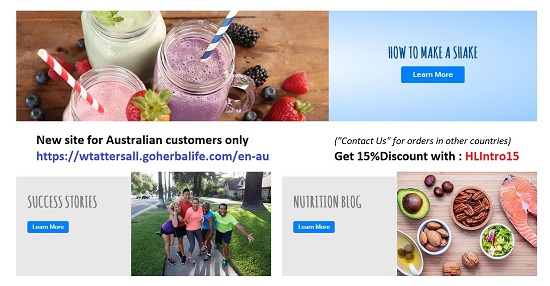 Did you find this post fun, informative and useful? If so, please share it with others!
If you have a comment, question or suggestion, please leave a comment below!
5 Simple Home Remedies for Stress Relief
Stress is a major issue for a lot of people.
Did you know that around 74% of people say that in the last year, they've felt so stressed that they've been unable to cope? You may not be at that point quite yet, but it's worth taking some steps to reduce your stress levels before you get there.
The good news is that there are ways you can cut back on feelings of stress each day, from the comfort of your own home. Here are some of the top tips.
Exercise
Exercise is the number one way to handle stress.
When you're feeling overwhelmed, you might not fancy rushing out to the gym for a sweat session. However, exercise is an amazing way to get endorphins - and positive feelings - rushing through your body. People who exercise regularly are less likely to suffer from anxiety than their counterparts.
When you exercise – even only a little – you reduce the amount of stress hormones in your body and replace them with handy endorphins, which help to boost your mood.
Exercise can also improve sleep quality, which is often negatively affected by anxiety and stress. When you get enough sleep, you're more capable of dealing with stressful feelings.
To get the most out of your exercise routine, find an activity you enjoy and mix it in with your schedule - even if it's just a stretching session each night.
Get Social
Do you ever get the urge to isolate yourself when you're stressed or nervous? You're not alone. However, withdrawing from your social group could make your stress worse. Being part of a group of people who love and care for you will help to get you through tough times.
One study found that spending time with friends helps to release the natural stress reliever – oxytocin. Some professionals even call the socializing response the "tend and befriend" approach, rather than the "fight or flight" that we're used to with stress.
If you can't meet with someone face to face, find another way to connect. You can call a friend or loved one to vent some of the things you're stressed about. Get involved in a video meeting, or just send someone a text if it helps.
Make Yourself Laugh
Have you ever noticed that it's difficult to keep focusing on the things that make you feel anxious or stressed when you're laughing? Laughter is genuinely good for your health, both from a physical and a mental perspective. It helps to relieve tension in your muscles and decreases your stress response.
Over time, regular periods of laughter can improve your mood and help your immune system to work better. According to a study of people suffering with cancer, people who laughed most experienced more stress relief than those who just distracted themselves.
Read a funny book or talk to a friend who frequently makes you laugh. Even if you're just giggling at something on TV, let it out.
Practice Self-Care Activities
We could all benefit from investing more time and effort into ourselves. We live in a society where it's increasingly common for people to prioritize working too much or barely getting any sleep. However, these are the kinds of things that increase your stress.
Sometimes, it's important to look at your life and ask yourself what you need to feel better. That could mean taking the time that you need for yourself and saying "no" when others ask you for help. It's not selfish – it's about giving yourself the help you need first.
Good self-care could also mean changing your routine. Go to bed earlier or change your menus so that you're eating healthier food. Invest time and energy into things that make you feel good – even if it's just having a long bubble bath.