2019 Ushers in the Most Obese Population Ever
Every year, more and more people than ever before are being classified as obese. In previous years it's dipped up and down, but in 2019, the obese population will include a higher percentage of people than it ever has before.

This is due a variety of factors, from cheaper unhealthy foods to economic growth, but the increasing population of obese people has also opened up a wide variety of new weight loss programs.

With all kinds of different diets, workout plans, and online resources, there's still a record high amount of obese and overweight people. It's starting to become more prevalent in all different genders and age groups, as well, appearing earlier in children and more frequently in adults.

The main problem at hand is that people aren't taking advantage of these resources. If you're just starting a weight loss program and trying to get in shape, it's intimidating these days.

With social media, you've probably seen all kinds of videos of these super in shape people and been discouraged. You've probably also seen so many articles telling you which diet is the best among many, and all of that gets really confusing.

What you need to know is that the best workout plan and the best diet varies from person to person. The diet that works for that Instagram model who's already in shape is not the same diet that you should immediately go for.

You need to find something that's better than your current diet, but also something reasonable. When people go to these extreme lengths to try to get in shape, it's really difficult for them to keep up with.

This is the main crux of the matter. The ultimate failure that will bring your weight loss program down isn't having an easy diet or having light workouts, it's not being able to commit to your program.

No matter what kind of program you do, it's useless for weight loss unless you can stick with it for an extended period of time. Don't push yourself to go for the most extreme diet and the most intense workout program, especially if you're just starting off.

You don't have to work that hard to start losing weight, so if you push yourself beyond your limits, you're just going to stop when you don't see the quick results you want to see. Keep your weight loss program within reason, and you'll be a lot more successful.

Learn more about your health online when you read the rest of our information here about: diet plans guide and also download the free health report available there!

Warren Tattersall has been a full time nutritional consultant for over a decade and works with people all over the world to help them improve their health, increase their personal energy levels and to use supplements to assist with diet related health issues.

Just send him a note on the form here - Contact Us - to request a personal no obligation one-on-one consultation with Warren

New order website for Australian customers:
For all the subscribers that don't want to talk to anyone, just want to buy their products direct, I'm creating these websites that process orders for you once you register with them.
The
Australia GoHerbalifeSite
is the first one completed, other countries will come along soon...
Australian customers:
Click this link
or tap on the banner below to check it out and get registered to place your orders... and remember your 15% discount code:
HLIntro15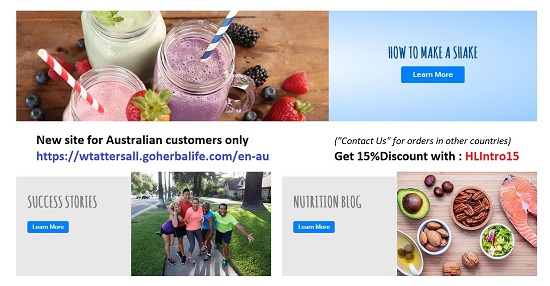 Gut Health Is Emerging as a Predictor to Obesity
Weight gain isn't exclusively tied to how well you eat and how active you are. While that's the common consensus, scientists have understood for some time now that there's a significant genetic propensity to obesity.
Some people are much more predisposed to becoming obese later in life than others, which is why you'll often see overweight families instead of healthy parents and overweight kids.
Previously, we could only detect whether kids would be prone to obesity after they already started showing signs of being overweight. Normally you can check their metabolisms, but they change with age, so it's hard to predict where it will end up when they're adults.
By the time they're all grown up, it could already be too late. New studies have shown that the genes contributing to obesity can be detected in children as early as two years old by studying one simple part of your body: gut health.
Your digestive system is responsible for far more than you might think. Of course, it processes food and converts it into waste, but it's also closely tied with your metabolism and how that food is used in the body.
If you're not aware, your digestive system is filled with tiny bacteria that help us by breaking down the food we eat, and those bacteria are the key to this study. The studies showed that by observing samples of the gut bacteria in children, they could accurately predict whether or not those children would be predisposed to obesity later in life.
This can make a major difference, because if it turns out your child is likely going to be overweight, you can change their eating habits early to make sure they don't wind up overweight or obese later in life.
This study is also very relevant to adults. If an adult is already obese, they can lose the weight with workout regiments and diets, but the process can become easier if they can improve their own gut health. By helping your digestive system out, you'll find that weight loss becomes a lot easier and you'll see results faster.
One thing you can focus on if you want to better your gut health is fiber. Fiber is an essential nutrient that helps your digestive system do its job, so having enough is very important. You can increase your fiber intake by eating things like vegetables and grains.
To Optimize Weight Loss Hone in on Your Sleep Quality
Not many people realize the full importance of sleep in their lives. While everyone knows that if you don't get enough sleep you'll be tired the next day, fewer people understand the complexities of what your body is actually doing while you sleep.
In fact, your body is extremely busy while you're sleeping, and it's just your brain that's in a subconscious state. While you're asleep, your body takes that time to perform a wide range of important hormonal and metabolic processes so that your body will be well rested and prepared for the next day.
Among these processes are multiple weight-related hormones. While you sleep, these hormones all kick in, performing various tasks regarding weight loss. Throughout the day, you might have worked out, dieted properly, and done everything correctly, but that work doesn't really translate into any actual results over the course of the day.
All of those changes occur while you're asleep and while these hormones are kicking in. These hormones have many different jobs, including breaking down fat molecules, flushing out your system, and working with your metabolism to fully process food.
The effectiveness of these hormones can be affected by the amount of sleep you get, as well as the quality of the sleep you get. For example, if you're only working with three hours of sleep, and you were tossing and turning throughout it, your hormones won't have had enough time to fully complete their jobs before you woke up.
On the other hand, getting a full eight hours of good sleep will allow your body's hormones to get a lot more work done, leading to better results seen from your workouts and diets.
There are a few ways that you can help increase the amount of sleep you get, as well as your quality of sleep. First, you need to get on a consistent schedule. Set yourself a specific time each night that you need to be in bed by, and have alarms set to wake yourself up in the morning.
If you have trouble sleeping, try simple fixes like getting a heavier blanket or changing the stiffness of your pillows. Some have also taken to using scented oils to help them fall asleep, using soothing scents that allow them to relax.
Along that same track, you can also use melatonin pills to help make you a bit more tired at bedtime so that you not only have an easier time falling asleep, but so you stay asleep throughout the night.
Did you find this post fun, informative and useful? If so, please share it with others!
If you have a comment, question or suggestion, please leave a comment below!