Public Speaking & Presentation Skills
MLM Training tools for MLM Consultants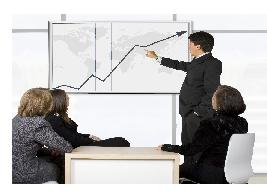 BACK TO DIRECTORY:
Distributor Training Toolbox


You Can Learn to Become an Efficient Public Speaker


High among the list of scary things for many people is the fear of public speaking. Few things can strike fear into the heart of a person and one of them is facing an audience.


At any point in anyone's life, a person has the opportunity to talk in front of an audience. Everyone who is faced with such a dilemma knows those familiar feelings of anxiety. This situation is often accompanied by sweaty palms, shaky voices, palpitations, and sometimes a few sobs.


It is at this precise moment that "visions" come -- thoughts of being laughed at and ridiculed emerged. You imagine standing frozen in front as you forgot what to say, mumbled along, and placed everyone to sleep.


At this point, you are yanked back into reality by the sound of the presenter introducing your name. What follows next can be pretty ugly.


Those who have experienced similar situations know how difficult and uncomfortable it is to make a speech. Even confident people can sometimes be stopped by stage fright. This has led many people to despise public speaking.


Yet there are people do it with such seemingly relative ease! It is because they know that public speaking is like a skill that can be learned. It can be learned by anyone, including you.


One of the most important things in preparing to make a speech is to maintain a positive mental attitude. Let your fears pass through you and realize that many people have done this before and therefore, you can do it too.


Here are some things to remember in making a speech:


1) Preparation is key.


You must know your topic inside and out. Write an outline of the speech, highlighting all the key points. Prepare possible questions and answers. It's important to understand the topic and not just to memorize words. That way, even if you forget the words mid-speech, you still have confidence to continue.


Practice as much as possible.


2)
You must practice until you know it by heart. Use a timer to control the pace of the speech. A timer is useful especially if there is a time limit. Practice in front of a mirror and practice in front of friends. Ask for their opinions on how to improve your speech.


3) Arrive at the venue early and get a feel of the place.


Try rehearsing on the actual podium. Consider your appearance. Dress well in comfortable clothes. This will inspire confidence in your self, as well as, make good impression on the audience.


4) Breathe deeply.


It is normal to feel anxious before a speech but you can't let nervousness stop you from being effective. Deep breathing increases the flow of oxygen into the brain. This helps maintain a clear mind. It would also be good to have a glass of water on hand.


5) Don't be afraid of the audience.


Never assume that the audience knows more about the topic than you do. The audience isn't there to hurt you. They are there in order to hear what you have to say. Pretend that the audience is composed of friends and family. Better yet, have one of your friends who listened to your speech attend.


Remember to maintain a positive mentality at all times. Never entertain the thought of messing up. Be confident in your preparations and in yourself. Believe that you can do it and you will.


Anyone can learn to speak in public confidently. All it takes is some practice and a positive mental attitude to overcome this common fear.



Patricia Fripp - The Answer is No if You Don't Ask
Patricia Fripp - Networking


Patricia Fripp - Wear Your Advertising


Patricia Fripp - Stories Sell
Patricia Fripp - Schmooze Factor Selling
Achieving sales goals: The Power Of Asking


BR>

Achieving sales goals: Consultant vs. Salesperson


Presentation Skills
Killer Presentation Skills
Tips to Overcoming Stage Fright


The first thing you need to understand about stage fright is that it is not uncommon at all. Some of the greatest actors, politicians and other public figures known to society experience the phenomenon every time they get in front of an audience. In short, stage fright is a perfectly rational and human response to a social situation.


For most people, that initial level of anxiety quickly subsides once on stage and into the business at hand. However, if you find that your stage fright tends to linger, there are a few different tricks you can employ in order to help things along and focus on the business at hand.


First, remind yourself people do not die of stage fright. Second, when is the last time you personally knew someone fainting from stage fright? Chances are you don't, in spite of what you see in the movies or have heard about from vague sources.


The truth is that the anxiety of stage fright is simply a little extra adrenalin coursing through your system. Your body is a wonderful device that knows how to shut down the adrenalin flow before there is too much. So realize that if you don't feed the anxiety by thinking it will never end, your initial bout will be over in just a few minutes.


Second, forget about making a fool of yourself in front of other people. This is the foundation for most cases of stage fright. Remind yourself that you are prepared and you are a professional. You know how to do this right. Because you are in control, you will not embarrass yourself. Instead, people are expecting to learn something and will inn fact be very happy to be in your presence for the course of your time on stage.


Last, pick out a few people around the audience to address. While your remarks are intended for everyone present, identifying a few faces that seem to be especially welcoming will help to trick your brain into thinking in terms of having a conversation with just a handful of people – a much less anxious situation for most people.


As you calm down and get into the swing of your presentation, you will quickly find you are having that private conversation with more and more people.


One final word of advice – don't dread stage fright. It is a useful tool that will help you to stay mentally alert and on top of things. That is why many stage actors get really nervous if they don't experience stage fright before stepping onto the stage for the first time that night – they just know their relaxed attitude is going to lead to dropping a line or missing a cue.


So see your initial stage fright as your mind's way of getting you ready to give the best presentation ever!



This ebook has been compiled with articles about preparing yourself for public speaking
Please continue below to download your item.…
Step 1)
How to Download the ebook:
To save the file to your computer, "Right-Click" on the link above that says Herbalife Health Testimonials and choose "Save Target As" from the pop-up menu, and select a location on your computer to save it to.
MAKE SURE *YOU* and
YOUR CUSTOMER & PROSPECTS



to "Your Health Success"
our monthly F'R'E'E' Newsletter
So that they get a marketing email from you every month!
(and a free ebook for subscribing)
Back to Top of MLM Training for MLM Consultants page

Subscribe to "Your Health Success" newsletter
| About Us | Contact Us | Free Health Book | Health Blog | Terms of Use | Privacy Policy | Disclaimer | Site Map | Health web resources | HOME PAGE |
============================================================================
SITE DISCLAIMER: Do these products "cure" anything? Of course not… but it stands to reason that if you cleanse your body and feed it the finest nutrition available, giving it everything it needs in balance, on a daily basis, that your body will do what nature intended, and give you the best possible chance to fend off sickness and disease. This MLM Training for MLM Consultants information is not presented by a medical practitioner and is for educational and MLM Training for MLM Consultants informational purposes only. The MLM Training for MLM Consultants content is not intended to be a substitute for professional medical advice, diagnosis, or treatment. Always seek the advice of your physician or other qualified health provider with any MLM Training for MLM Consultants questions you may have regarding a medical condition. Never disregard professional medical advice or delay in seeking it because of something you have read.
The MLM Training for MLM Consultants resources on this site are not intended to be a substitute for professional advice. While all attempts have been made to verify information provided in this publication, neither the author nor the publisher assumes any responsibility for errors, omissions or contrary interpretation of the web site MLM Training for MLM Consultants subject matter herein. The site MLM Training for MLM Consultants contents are solely the opinion of the authors and should not be considered as a form of advice, direction and/or recommendation of any kind. If expert advice or counseling is needed, services of a competent professional should be sought. The MLM Training for MLM Consultants author and the Publisher assume no responsibility or liability and specifically disclaim any warranty, express or implied for any products or services mentioned, or any techniques or MLM Training for MLM Consultants practices described.
The purchaser or reader of this publication assumes responsibility for the use of these materials and information. Neither the MLM Training for MLM Consultants author nor the Publisher assumes any responsibility or liability whatsoever on the behalf of any purchaser or reader of these MLM Training for MLM Consultants materials. There is no guarantee of validity of accuracy. Any perceived slight of specific people or organizations is unintentional. This website and its creators are not responsible for the content of any sites linked to. Since natural and/or dietary supplements are not FDA approved they must be accompanied by a two-part disclaimer on the product label: that the statement has not been evaluated by FDA and that the product is not intended to "diagnose, treat, cure or prevent any disease."
============================================================================