Vegetarian diet and Osteoporosis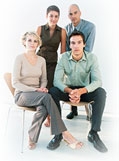 A health article fromYour Health Online the A to Z directory of dealing with Health Problems & nutritional Self Care Strategies

Vegetarian diet and Osteoporosis

You know that eating a vegetarian diet can decrease the incidence of heart disease and certain types of cancers.

You also know that it can make you leaner and healthier.

But so many of the health studies are done on men?

What about women and the impact of a vegetarian diet on their health as they age?

Diets that are high in protein, especially animal protein, tend to cause the body to excrete more calcium, oxalate, and uric acid.

These three substances are the main components of urinary tract stones. British researchers have advised that persons with a tendency to form kidney stones should follow a vegetarian diet.

The American Academy of Family Physicians notes that high animal protein intake is largely responsible for the high prevalence of kidney stones in the United States and other developed countries and recommends protein restriction for the prevention of recurrent kidney stones.

For many of the same reasons, vegetarians are at a lower risk for osteoporosis. Since animal products force calcium out of the body, eating meat can promote bone loss.

In nations with mainly vegetable diets (and without dairy product consumption), osteoporosis is less common than in the U.S., even when calcium intake is also less than in the U.S. Calcium is important, but there is no need to get calcium from dairy products.

We continue to consume meat, while at the same time downing calcium supplements and prescription drugs to prevent osteoporosis, that often have drastic side effects.

And most experts agree that calcium supplements are inferior to calcium derived from natural food sources. Doesn't it make more sense (and cents) to get your calcium from eating a healthier diet?

What are some good vegetarian sources of calcium? Orange juice, for one.

Dry beans, such as black-eyed peas, kidney beans and black beans are another good source, as are dark leafy vegetables such as broccoli and kale. Tofu is also a good source of calcium.

==========

Even when we try to eat well, we're disadvantaged. The nutritional content of most food has been compromised over the years, not only by deficient soils and modern production, transportation, storage and processing methods, but also by the enormous amounts of chemical and artificial substances added to promote growth, storage life, taste and appearance.

It's for this reason that more and more medical authorities are advocating the use of vitamin and mineral supplements. However, finding them in the right combination can be both confusing and costly.
The nutrition products I am going to recommend you make use of knowledge gained from the botanical world's 6,000 year history. They incorporated health building nutritional herbs with the best modern technology to help our bodies cleanse and detoxify so that the cells - the tiniest living units - can be as fully nourished as possible.
This allows the cells to grow, repair and to perform their functions with the best possible efficiency so that we feel and look better and are more able to prevent and fight disease. Once the body begins to clear itself of toxins it can more efficiently absorb nutrition.

Further reading through our articles on health issues will give you a body of information that will help you decide what options you have to deal with the underlying causes of your problem through giving your body the nutrition products that will assist you body to heal from the inside out.



You can visit our health food products page here: Herbalife Health Nutrition Supplements and learn more about our core nutrition program, the Cellular Nutrition Advanced Program and also check out these targeted products, Florafiber to replace your healthy flora and Aloe Vera Juice to help cleanse your system.

We wish you well in your search for solutions to this problem and your movement towards better health in all areas.






BACK TO "Your Health Online"
the A to Z directory of dealing with Health Problems & Self Care Strategies for natural remedies to your health issues.

Back to Top of your health online page
Subscribe to "Your Health Success" newsletter
Terms of Use | Privacy Policy |Disclaimer | Free Health Book