Saved by the Dentist: How a Dentist Can Spot an Eating Disorder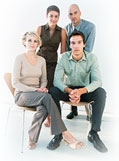 A health article about Eating Disorder from Eating Disorders Problems & nutritional Self Care Strategies
A little known fact is that dental health professionals are usually the first people to notice the signs of eating disorders. This is because oral health problems are very frequent in people who have eating disorders.
If you are a dental health professional, watch out for these tell-tale signs and be sure to alert parents or other family members if you suspect eating disorders.
Bulimia is the most common affliction that is associated with tooth decay. Bulimia is best characterized as a binge and purge eating condition. Bulimic people will intake huge amounts of food and then purge them from the body, usually through self induced vomiting.
The obvious reason for tooth decay with a bulimic person is the corrosive stomach acid that is a part of vomit is exposed to tooth enamel on a frequent basis. It is estimated that almost 90% of people who suffer from bulimia show signs of tooth decay.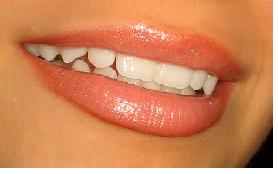 In anorexia nervosa the reason for tooth decay is not as apparent. A person with anorexia is in a state of starvation. The lack of nutrients to the body can result in bone loss, and even osteoporosis.
This can cause the teeth, and even the jaw to become weak. Since the jaw supports the teeth, tooth loss commonly results.
A more overlooked reason for tooth decay and eating disorders is binge eating. Some people binge eat to relieve stress and to escape from reality. In extreme cases of binge eating a person can experience tooth decay from continuous intake of high sugar and acid foods like soda and candy.
There are multiple signs and symptoms that dental professionals should look for to determine the possibility of an eating disorder. Tissue loss and lesions or lost skin will appear in the mouth as a result of the corrosive effect of stomach acid.
The teeth can become brittle, discolored, or even translucent. Sensitivity to temperature or unprovoked and spontaneous pain with one tooth might also be a symptom.
Since dental health professionals are usually the first to have the chance to notice symptoms of an eating disorder, they should take some responsibility in the intervention of an eating disorder.
Dental health professionals can find scripts on multiple websites on how to approach and help a person that they fear might have fallen victim to an eating disorder.
The National Eating Disorders Association has a basic script available for dentists to follow. This is a good starting point for dental health professionals who want to take a role in helping their patients overcome a potentially life threatening aliment.
Vitamin & Nutrient Associations
Even when we try to eat well, we're disadvantaged. The nutritional content of most food has been compromised over the years, not only by deficient soils and modern production, transportation, storage and processing methods, but also by the enormous amounts of chemical and artificial substances added to promote growth, storage life, taste and appearance.
It's for this reason that more and more medical authorities are advocating the use of vitamin and mineral supplements. However, finding them in the right combination can be both confusing and costly. The nutrition products I am going to recommend you make use of knowledge gained from the botanical world's 6,000 year history. They incorporated health building nutritional herbs with the best modern technology to help our bodies cleanse and detoxify so that the cells - the tiniest living units - can be as fully nourished as possible. This allows the cells to grow, repair and to perform their functions with the best possible efficiency so that we feel and look better and are more able to prevent and fight disease. Once the body begins to clear itself of toxins it can more efficiently absorb nutrition.
More Resources available about eating disorders :


Eating Away Pain: How Depression and Eating Disorders Go Hand in Hand
There is no single known cause for eating disorders. In fact, for most people who suffer from them, a number of factors lead into the development of eating disorders.
These problems with food, weight, and body image can be extremely dangerous to a person's health, both mentally and physically. Because those who suffer from eating disorders have poor body image, it is easy to see how eating disorders and depression work together.
(To read the rest of this article click on the Title above here.)


with you, so prevention is the only acceptable form of treatment.
(To read the rest of this article click on the Title above here.)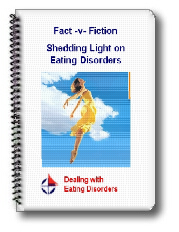 Free Report Reveals the Facts v Fiction - Shedding Light on Eating Disorders

Free Health Book.

Dispelling the Myths and taking positive action! If you just follow the simple advice in this guide, you will begin to see positive changes within days.

Click the link above or book cover to get your free Report & eCourse today!




Eating Disorders - Preventing Relapse: Just as Important as Treatment
There is no easy and graceful path to recovering from an eating disorder. Relapse of an eating disorder is a very possible scenario for someone on the road to recovery. The key is to keep temporary relapses back into destructive patterns from becoming a full regression.
It is important to note that relapse prevention for eating disorders is different depending on each disorder. A good idea is to consult the professional that is aiding your recovery about the possibility and treatment involved with the potential relapse of an eating disorder.
(To read the rest of this article click on the Title above here.)


Doctor's Office: What to Expect
Admitting you have an eating problem is the first step to getting help. However, the prospect of having to go to the doctor and face your difficulties can be overwhelming.
If you know what to expect, a doctor's exam is not quite so scary—this can help you face your fears and get you (or a loved one) the help that you really need. Eating disorders can be very unhealthy and result in death, so it is important to start a treatment program as soon as possible.
The first thing you can expect at a doctor's appointment is paperwork. This will ask you for a family health history as well as personal health information. Be truthful and as complete as possible. Your doctor may then ask you some general health questions. It is here where you should voice your concerns about food and your diet.
Vomiting, even once, to rid your body of food is unhealthy, and if the thought of eating makes you feel sick because you're worried you will gain weight, even if this thought only crosses your mind one time, you should talk to you doctor. He or she has dealt with this before, so there is no reason to be embarrassed.
Next, you doctor will perform a basic physical. This will include weighing you, something that could be very uncomfortable.
Ask to face away from the scale if not knowing your weight would help put you at ease. You doctor will also check vital signs, analyze body fat, check your internal organs, look at your skin, and listen to your heart and lungs.
Laboratory exams are common after that. You will be asked for a urine sample most likely; although you may also have your mouth swabbed or be asked to give blood. Laboratory tests can check a number of things, such as blood sugar, electrolytes, hormone levels, and cholesterol.
A psychological evaluation usually follows. Don't worry—nobody thinks you are crazy. This is simply a way for doctors to learn more about you and why you have trouble dealing with food. It will also check for depression and anxiety, which are common mental diseases associated with eating disorders. This exam will assess your thoughts, feelings, and habits to better show the doctors how you need to be treated.
Your doctor may run other tests as well to diagnosis your overall health. You may have to be hospitalized, depending on the severity of your eating disorder, before you begin outpatient treatment.
Remember that you are taking the first step to a healthy and beautiful life. The doctor is here to help and guide you through the process and being aware of his or her procedures will help you face your fears.



to "Your Health Success"
our monthly F'R'E'E' Newsletter
Back to Top of page

Subscribe to "Your Health Success" newsletter
Terms of Use | Privacy Policy | Disclaimer | Site Map
============================================================================
SITE DISCLAIMER: Do these products "cure" anything? Of course not… but it stands to reason that if you cleanse your body and feed it the finest nutrition available, giving it everything it needs in balance, on a daily basis, that your body will do what nature intended, and give you the best possible chance to fend off sickness and disease. This Eating Disorder information is not presented by a medical practitioner and is for educational and informational purposes only. The Eating Disorder content is not intended to be a substitute for professional medical advice, diagnosis, or treatment. Always seek the advice of your physician or other qualified health provider with any Eating Disorder questions you may have regarding a medical condition. Never disregard professional medical advice or delay in seeking it because of something you have read. Eating Disorder Saved by the Dentist: How a Dentist Can Spot an Eating Disorder
The Eating Disorder resources on this site are not intended to be a substitute for professional advice. While all attempts have been made to verify Eating Disorder information provided in this publication, neither the author nor the publisher assumes any responsibility for errors, omissions or contrary interpretation of the web site Eating Disorder subject matter herein. The site Eating Disorder contents are solely the opinion of the authors and should not be considered as a form of advice, direction and/or recommendation of any kind. If expert advice or counseling is needed, services of a competent professional should be sought. The author and the Publisher assume no responsibility or liability and specifically disclaim any warranty, express or implied for any Eating Disorder products or services mentioned, or any techniques or Eating Disorder practices described.
The purchaser or reader of thi Eating Disorder s publication assumes responsibility for the use of these materials and information. Neither the author nor the Publisher assumes any responsibility or liability whatsoever on the behalf of any purchaser or reader of these Eating Disorder materials. There is no guarantee of validity of accuracy. Any perceived slight of specific people or organizations is unintentional. This website and its creators are not responsible for the content of any sites linked to. Since natural and/or dietary supplements are not FDA approved they must be accompanied by a two-part disclaimer on the product label: that the statement has not been evaluated by FDA and that the product is not intended to "diagnose, treat, cure or prevent any disease." Eating Disorder Saved by the Dentist: How a Dentist Can Spot an Eating Disorder
============================================================================


Back to Top of page Eating Disorder Saved by the Dentist: How a Dentist Can Spot an Eating Disorder