What exercise is best for a Diet weight loss?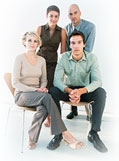 A health article about Diet weight loss exercises from
Your Health Online with Diet & Exercises as nutritional Self Care Strategies
Exercise as part of your Diet and weight management strategy
If you want to keep yourself on the straight and narrow when it comes to losing weight, you have no choice but to become more active.
Exercise is the key to success. Exercise is the only way you are going to create the essential calorie deficiency you need to lose weight.
Remember, the exercise can be anything – from doing regular housework to joining the local canoeing club.
You have to be able to find an activity that is going to help you burn more calories, and add that with the calories you are saving in your diet.
Here are a few tips that we can offer for exercise:
• Do what you can, and then 10 per cent more.
• You don't need to start running marathons to lose weight. Start with something that burns your target 250 calories per day.
• Always consult your doctor if you want to get into a sport that is considered strenuous. It may be something that you can work toward rather than jump into right away.
• Find something you enjoy doing rather than something that has to burn a lot of calories. You stand a far greater chance of sticking with it long term if it is something that you like. You don't want to quit your exercise routine because you might not get it started back up.
• Find something you can do with friends or family. Get the kids involved or your spouse. If you have support and you are having fun then there is a greater chance that you will continue doing it.
• When you have the choice, do something active over sitting in front of the television. It's OK to sit in front of the boob-tube every once in a while, just don't make that a habit over being active. Try and switch it around. You wouldn't believe how many extra calories you will burn if you rake the lawn or sweep out the garage.
• Exercise as a part of a lifestyle change that is going to make you feel better in the long run. Make it something you are committed to for life rather than something you can only be committed to because you want to lose weight.
There are so many other benefits to exercise besides trimming the inches of your waist.
A review of the most popular Diet Plans and what makes for good nutrition for healthy weight loss. Good nutrition coupled with exercise is the key to a healthy diet plan. Good nutrition is the key ingredient to improving your chances for weight loss. But we're not talking crash diets here, or plain old starving yourself.
We are talking about eating healthy and making sure your portions match the number of calories you need on a daily basis. It is believed that if you can create a 500-calorie deficiency every day between exercise and nutrition, you can lose up to a pound a week.

to "Your Health Success"
our monthly F'R'E'E' Newsletter
Back to Top of Diet weight loss exercises page

Subscribe to "Your Health Success" newsletter
Terms of Use | Privacy Policy | Disclaimer | Site Map
=======================================================================
SITE DISCLAIMER: Do these products "cure" anything? Of course not… but it stands to reason that if you cleanse your body and feed it the finest nutrition available, giving it everything it needs in balance, on a daily basis, that your body will do what nature intended, and give you the best possible chance to fend off sickness and disease. This Diet weight loss exercises information is not presented by a medical practitioner and is for educational and informational purposes only. The Diet weight loss exercises content is not intended to be a substitute for professional medical advice, diagnosis, or treatment. Always seek the advice of your physician or other qualified health provider with any Diet weight loss exercises questions you may have regarding a medical condition. Never disregard professional medical advice or delay in seeking it because of something you have read.
The Diet weight loss exercises resources on this site are not intended to be a substitute for professional advice. While all attempts have been made to verify Diet weight loss exercises information provided in this publication, neither the author nor the publisher assumes any responsibility for errors, omissions or contrary interpretation of the web site Diet weight loss exercises subject matter herein. The site Diet weight loss exercises contents are solely the opinion of the authors and should not be considered as a form of advice, direction and/or recommendation of any kind. If expert advice or counseling is needed, services of a competent professional should be sought. The author and the Publisher assume no responsibility or liability and specifically disclaim any warranty, express or implied for any Diet weight loss exercises products or services mentioned, or any techniques or Diet weight loss exercises practices described.
The purchaser or reader of thi Diet weight loss exercises s publication assumes responsibility for the use of these materials and information. Neither the author nor the Publisher assumes any responsibility or liability whatsoever on the behalf of any purchaser or reader of these Diet weight loss exercises materials. There is no guarantee of validity of accuracy. Any perceived slight of specific people or organizations is unintentional. This website and its creators are not responsible for the content of any sites linked to. Since natural and/or dietary supplements are not FDA approved they must be accompanied by a two-part disclaimer on the product label: that the statement has not been evaluated by FDA and that the product is not intended to "diagnose, treat, cure or prevent any disease."
=======================================================================