Thank you for subscribing to "Your Health Success" ezine, delivered free to your inbox every month.



I hope you enjoy the e-zine as much as I do writing it.



A reminder: I have published a book of "How To Live to 100" that is a thank you gift to all my new subscribers.



So if you haven't already done so, just go to the bottom of this ezine and click on the link there and you will be able to download it to your computer instantly!

(And if you ever decide to unsubscribe you can just click on the link at the bottom of this ezine, but we'll be sorry to see you go!)



Index:
Optimum Health Tip
Power Quotes
Article: Tips for Maintaining Positive Energy Everyday.
Healthy Recipe
Recommendations & Sponsors
Natural Beauty recipe
Editor's Notes & Humor
Fr'ee ebook download "How to Live to 100"



Thank you to my readers who refer other people to my ezine. If they want to subscribe for the next edition, they can just visit the website and subscribe here: SUBSCRIBE eZine



If you ever decide that you want to unsubscribe, you will find the link to do so at the bottom of this page.


Optimum Health Tip:


Play with your kids!

It is hard enough at times for us to find time to be with them with all the pressures of life.

Make the effort and time to play some kind of game requiring physical movement with your kids.

They will love you for it, and you will benefit in more ways than you can imagine.

If you think you can you will. If you think you can't, you won't.



Snack every 4 hours!

Try oranges, apples, carrot sticks, pretzels, airpopped popcorn.

Buy pre-cut fruit and veggies: You'll be more likely to munch on them for a snack or make a salad for dinner.

Cut down on fat, keep it to less than 25 percent, somewhere around 20 percent is nice.


Power Quotes
"If you want to feel rich, just count all of the things you have that money can't buy."
- Anonymous


"It's kind of fun to do the impossible."
- Walt Disney
Article:
Life-Changing Tips for Maintaining Positive Energy Everyday.
How does a typical day start for you? Does the following scenario sound all too familiar?

You're shocked out of a fitful sleep by a blaring alarm. As you crawl out of bed bemoaning the stresses of the day ahead, you turn on the TV or radio, open your newspaper, or click onto the Internet. What do you see? The media delights in engulfing you with stories of horrific events.

As you leave your home, you're surrounded by harried drivers until you finally arrive at the office, only to be submerged in office politics and other trappings of the rat race.

In a world filled with so much negativity, is it possible to live a positively charged life?

The answer is yes! Consider, for a moment, how this same day could have started if you were focusing on positivity, instead:

As you awaken, you feel rejuvenated by restful slumber. You're greeted by the melody of the birds singing as they herald the beauty of the new day.

The aroma of freshly brewed coffee fills the air and you sit up, stretch, and spend a leisurely moment taking it all in.

You spend your commute wondering what exciting opportunities await you as you plan a fulfilling day mixed with working toward your goals and enjoying your favorite hobbies. At the office, your co-workers chat amiably as they settle in for a productive day.

Which morning do you prefer?

The amazing thing is you have the power to choose either one!

Try these life-changing strategies that help you discover your power to keep positive energy flowing on a daily basis:

1. Interact with nature.

As simple as it may sound, you can gain a positive outlook by interacting with nature. The beauty of nature is the reality that, regardless of the surrounding circumstances, the course of nature continues.

Sunlight always breaks through the cloudiest days and darkest nights.

Spring brings an annual rebirth of life as new plants peek through the frozen snow.

Animals carry on their natural routines as they fulfill their purpose.

2. Connect with your spiritual side.

Spirituality can bring calmness, happiness and serenity to your life. These attributes help to contribute to positive energy.

Whether you decide to embrace religious beliefs or spend some time in self-reflection, you'll find that you feel differently when you connect with your spiritual self.

Connecting with your spiritual side can truly allow you to be accepting of yourself and your past and willing to commit to turning things around for the better.

3. Count your blessings.

As bad as things might seem to you, know that they're not the worst they could be! It's important to notice the good things you have in your life.

Think of five things each day that you're happy about or thankful for.

Ask yourself how you can turn your current situation around and make it better with the resources you have now.

4. Help someone in need.

There's nothing quite as fulfilling and positive as helping someone in need. Discover the satisfaction that comes from being a Good Samaritan.

Remember that when you help someone in need, you're contributing to making the world a better place because someone will be better off because of you.

5. Change your perception.

Your circumstances are what you make them, and make of them. If you look at a situation and expect hopelessness out of it, then hopelessness is likely what you'll get. Instead, why not look for a positive outcome for each and every event?

Give it a try and see how quickly you'll be able to extract a glimmer of hope from those negative circumstances. Use the tools you've been given and make the machine work the way you want it to.

Embrace your inner power to make life what you want it to be. Use these life-changing strategies to fill your life with positivity. Then, instead of relying on others to create what you hope to have, you can craft the situation you want for yourself!


Learn more about your health online here at www.TheHealthSuccessSite.com about Body Mind Spirit Balance


We also have a free report that you can download when you are there about this subject!



Article reprint requirements:
. You may reprint this article, electronically in free-only publications in it's entirety in an Ezine, blog or web site.
. You may not use this article in Unsolicited Commercial Email.
. Whenever this article is used, it must include the above authors byline with an active link back to our web site.


Healthy Recipe
Herbal Tea Recipes

Cranberry Orange Ice Tea

2 cups boiling water
6 cranberry herb tea bags
1/4 cup lemon juice
9 packets (or 1 tablespoon bulk) Sweet'N Low granulated sugar substitute
2-1/2 cups cold water
1-1/2 cups orange juice

1. In a large pitcher, pour the boiling water over the tea bags. Steep 5 minutes; remove the tea bags and discard.

2. Stir in the lemon juice and sweetner until it dissolves. Mix in the cold water and orange juice.

3. Refrigerate until well chilled.

4. Pour over ice in tall glasses. Makes 6 cups. Per Serving (1 cup): 40 calories, 1 g protein, 9 g carbohydrate, 1 g fat, 1 g saturated fat, 0 mg cholesterol, 10 mg sodium


Triple Berry

4 oz. of ice
6 oz. raspberry iced tea
2 oz. cranberry juice
1 oz. blackberry syrup

Combine ice, iced tea, juice and blackberry syrup in a cocktail shaker or a jar with a lid. Shake until cold and frothy. Pour into a tall iced tea glass.


Green Banana Iced Tea

1 cup Green Tea
1 cup Banana Pineapple Nectar
Ice cubes

Place one tea bag of Green Tea into an 8 oz. cup. Pour approximately 2 oz. (1/4 cup) boiling water into cup and steep for 4 to 6 minutes.

Remove tea bag and fill cup to top with cold water. Mix with banana pineapple nectar and ice. Makes on 16 oz. serving.


Note: When making your favourite healthy fruit smoothies, adding some protein powder or healthy nutritional supplement powder to these recipes help to make them superfoods!
Recommendations & Sponsors
Our Sponsors and Affiliates are what keep this newsletter and our website self help books, articles and resources free to you, so we appreciate your support when purchasing from our sponsors.
In 2012 I began co-writing a book about the CFS therapies that had worked for me and my clients.


The book fully explains all the most popular and effective therapies and treatments that are most effective in beating chronic fatigue syndrome.


There are many methods and processes that you can try out for yourself to discover the ones that resonate best with your lifestyle and personal philosophies.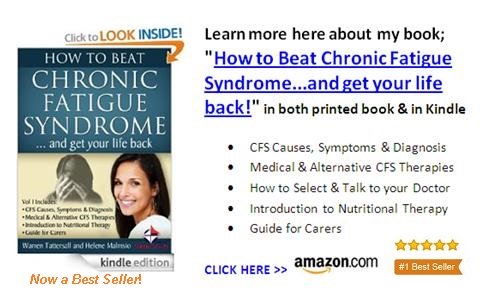 OMEGA 3 LIFELINE


Boost Your Brainpower, Reduce Your Risk of Heart Attack ... and Lose Weight!

It's well known that the omega-3 fatty acids found in fish and fish oil can reduce inflammation, prevent heart disease, and improve brain function.

When combined with exercise, they can also help you win the battle of the bulge.

Researchers in Australia conducted a study of the combined effects of fish oil supplementation and exercise. The subjects of the study, all significantly overweight, were divided into four groups.

One group took fish oil and exercised three times per week. Two groups took fish oil only or sunflower oil only. And a fourth group combined sunflower oil with exercise.

Those who combined fish oil with exercise lost significantly more bodyfat than any other group, with most of the fat loss occurring in the abdomen.


I naturally recommend that the fastest and most convenient way to get your Omega3 for optimal health is to simply take our LifeLine capsules! Simply email me if you would like to know more about this powerful natural product. Contact Us with "LifeLine" in the subject section.
Natural Beauty recipe
Full Body Treatment For Dry or Oily Skin
Dry Skin Body Treatment

Heat almond oil in a Pyrex dish until warm; slather all over your body. Standing outside the shower, turn on the spray till the water is hot, closing the shower curtain or door till Steam forms.

Now, enter the shower and stand under the steam (not the hot water!)

For 10 minutes. Feel the oil slip into your skin. Next, stand under the warm -- not hot -- water for 10 minutes... Then wash is usual.


Blemished Skin Body Treatment

This treatment is great for broken-out backs. Add enough water to crushed almonds or cornmeal to make a paste.

Stand in the shower and apply your meal paste all over your body, massaging it vigorously -- first with your hands, then with a loofah, or Body Buf-Puf.

The skin will look clear following your shower.
Editor's Notes & Humor


Your Attitude And Your Health:

Attitude plays a big part in your chance of getting colds, flues, and other illnesses. Eating right, getting plenty of rest, and taking care of your body are important, of course, but thinking healthy is also important.

If negative thoughts invade your mind, banish them. Replace them with positive thoughts and feelings about yourself and keep on telling yourself that you are good and worthy.

This good attitude seems to give us the added strength to fight off illnesses more easily. Some people do not know it but even the slightest negative thoughts have a greater impact on you and last longer than powerful positive thoughts.

Researchers now know that the mental attitude one has plays a definite role in the body's immune system and its ability to fight off illnesses. A positive attitude won't cure you of all illnesses and it can't take the place of your doctor, but it can help you get better.

Treat your life as a learning experience. None of us are born knowing all that we need to know, and none of us ever knows enough. We can all benefit from looking at each experience as an opportunity to learn and to become wiser.

Your attitude plays a big part in how you feel about your body. You do what you can to look your best, but you should also try to accept yourself as you are.



~*~*~*~*~

Feel free to download and share the social media image below with your friends and family - ENJOY!


RESIGNATION
I am hereby officially tendering my resignation as an adult. I have decided I would like to accept the responsibilities of an 8 year-old again.


I want to go to McDonald's and think that it's a four star restaurant.


I want to sail sticks across a fresh mud puddle and make a sidewalk with rocks.


I want to think M&Ms are better than money because you can eat them.


I want to lie under a big oak tree and run a lemonade stand with my friends on a hot summer's day.


I want to return to a time when life was simple; When all you knew were colors, multiplication tables, and nursery rhymes, but that didn't bother you, because you didn't know what you didn't know and you didn't care.


All you knew was to be happy because you were blissfully unaware of all the things that should make you worried or upset.


I want to think the world is fair.
That everyone is honest and good.


I want to believe that anything is possible. I want to be oblivious to the complexities of life and be overly excited by the little things again.


I want to live simple again. I don't want my day to consist of computer crashes, mountains of paperwork, depressing news, how to survive more days in the month than there is money in the bank, doctor bills, gossip, and illness,


I want to believe in the power of smiles, hugs, a kind word, truth, justice, peace, dreams, the imagination, mankind, and making angels in the snow.


So . . . here's my cheque book and my car-keys, my credit card bills and my tax statements. I am officially resigning from adulthood. And if you want to discuss this further, you'll have to catch me first, cause........


......"Tag! You're it."


Pass this to someone and brighten their day by helping them remember the Simple things in Life!


((((((((((((((HUGS))))))))))))))


Hope Ya'll join me




Remember to download your book for Subscribing!





The Ultimate Secrets of Healthy Heart & Longevity Finally Revealed! - Learn How You Can Add 10-20 More Years To Your Life By Reversing Arteriosclerosis & Curing Bad Habits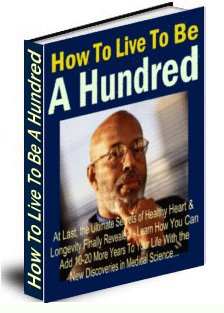 If you are under 20, you can increase your life-span by as much as 15 years.

Even if you are over 60, you can still enjoy more than two golden, bonus years by following the advice in this life-changing book!


Just mouse over the link below and click "right mouse button" and select "save target as" from the window that appears, to save this 200+ page book to your computer



ENJOY!



~*~*~*~*~


Thank you for joining us this month, I hope that you have found some extra motivation and inspiration to achieve lifetime optimal health!


To update yourself on our new resources and lifetime optimal health strategies just go to Your Health Online at The Health Success Site


Your Editor,
Warren Tattersall
www.TheHealthSuccessSite.com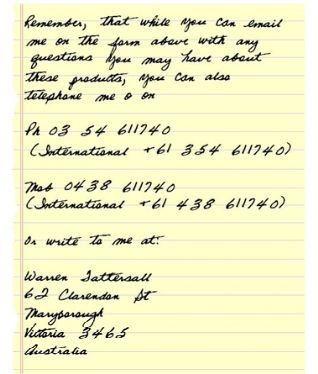 ~~~~~~~~~~~~~~~~~~~~~~~~~~~~~~~



DISCLAIMER: All information is intended for your general knowledge only and is not a substitute for your counselor's advice or treatment.



Use of these products and tips are at your own risk. We make no warranty, express or implied, regarding your individual results.



~~~~~~~~~~~~~~~~~~~~~~~~~~~~~~~



DISCLOSURE: I may be an affiliate for products that I recommend. If you purchase those items through my links I will earn a commission.



You will not pay more when buying a product through my link. In fact, I oftentimes am able to negotiate a lower rate (or bonuses) not available elsewhere.



Plus, when you order through my link, it helps me to continue to offer you lots of free stuff. :)



Thank you, in advance for your support!



No Liability



Under no circumstances will the product creator, programmer or any of the distributors of this product, or any distributors, be liable to any party for any direct, indirect, punitive, special, incidental, or other consequential damages arising directly or indirectly from the use of this product.



This product is provided "as is" and without warranties.



Use of this product indicates your acceptance of the "No Liability" policy.



If you do not agree with our "No Liability" policy, then you are not permitted to use or distribute this product (if applicable.)



Failure to read this notice in its entirety does not void your agreement to this policy should you decide to use this product.



Applicable law may not allow the limitation or exclusion of liability or incidental or consequential damages, so the above limitation or exclusion may not apply to you.



The liability for damages, regardless of the form of the action, shall not exceed the actual fee paid for the product.



Note: Articles in this ezine may concern health treatments and references to trademark brands.



These articles are supplied for entertainment purposes only.



Any claims that are made in your use of them and any consequences of your use of them are your own responsibility.



You are advised to take legal advice in relation to setting up disclaimers and other aspects of your business.

~~~~~~~~~~~~~~~~~~~~~~~~~~~~~~~



Unsubscribe only if you want to stop receiving this ezine.



Instructions are below.

~~~~~~~~~~~~~~~~~~~~~~~~~~~~~~~