Thank you for subscribing to "Your Health Success" ezine, delivered free to your inbox every month.



I hope you enjoy the e-zine as much as I do writing it.



Index:

Optimum Health Tip
Motivating Quotes
Article: 7 Ways to Relax Before You Go to Bed.
Healthy Recipe
Recommendations & Sponsors
Natural Beauty recipe
Editor's Notes & Humor
Fr'ee ebook download "How to Live to 100"



Thank you to my readers who refer other people to my ezine. If they want to subscribe for the next edition, they can just visit the website and subscribe here: SUBSCRIBE to eZine


If you ever decide that you want to unsubscribe, you will find the link to do so at the bottom of this page.


Optimum Health Tip:
Eat Less Later in the Day

Everyone knows, whether they want to admit it or not, reducing calories will help you to lose weight.

However, just as you should reduce the calorie intake, you need to know when to eat.

Breakfast is the most important meal of the day and the one meal that should not be missed. Lunch should be healthy but a less than what you ate for breakfast.

As you approach dinner, eat healthy but light. Avoid after dinner snacks or eating before bed!


Motivating Quotes:


"Twenty years from now you will be more disappointed by the things that you didn't do than by the ones you did do. So throw off the bowlines. Sail away from the safe harbor. Catch the trade winds in your sails. Explore. Dream. Discover."
- Mark Twain



"Fun is about as good a habit as there is."
- Jimmy Buffet




Your Health:

7 Ways to Relax Before You Go to Bed
Do you find it hard to relax at the end of a long day? Are you one of those people that tosses and turns all night long, worrying and stressing over situations in your life? If so, then you know that this can lead to poor sleep patterns.

You wake up tired and grouchy and reach for a sugar-filled caffeine "pick me up", not the healthiest way to start the day.

The following 7 tips will help you relax before you go to bed, so you naturally sleep restfully and start each and every day at your fullest potential.

1 – Program proper sleep with a routine

Develop a set pre-sleep schedule of activities. Let your brain know it is time to shut down.

This means limiting stressful thoughts and outward influences before bedtime. This is how you "wind down" before you hit the hay.

You could do this by consistently reading for 1 hour before bedtime. Your brain will eventually recognize that 60 minutes of reading in the evening is a signal that sleep is approaching.

2 – Develop a set bedtime

Most people live a very regular existence. They go to work at the same time, eat lunch and dinner about the same time, and have several consistent daily routines.

When you go to bed and awaken at the same time consistently, you program your internal clock to shut down your busy brain and wake up on a given schedule.

This relaxes you by putting your sleep pattern on autopilot, instead of you anxiously trying to force yourself to sleep.

3 – Exercise a couple of hours before hitting the bed

Exercise and other forms of physical exertion immediately deliver a boost of energy. Soon after, your body tells you that you need rest and recuperation.

Exercising in the evening, 2 to 3 hours before you go to bed, signals your brain for rest and recovery, rather than a stressful "how will I go to sleep" mentality.

4 – Start counting sheep ... seriously

There is a good reason the sheep counting strategy works to help you go to sleep.

What you are actually doing is replacing stressful and worrisome thoughts with a simple and boring, repetitive mental exercise.

You can accomplish the same by thinking of objects or foods whose names start with each letter of the alphabet. Your brain only focuses on one thing at a time, in this instance a simple mental exercise instead of stress and anxiety.

5 – Enjoy a daily moment of gratitude

Right before you crawl into bed, think about all the reasons you have to be grateful.

It is hard to be anxious and stressed out when you realize you have so many things to be thankful for. Doing this right before bed implants positive thoughts on your nighttime brain.

6 – Meditate

Mindful meditation focuses on the present moment. You concentrate on your breathing and your present state of existence. This allows no room for focusing on past problems or future issues which have yet to arrive.

Lifelong practitioners of meditation can even slow down their heart rate and fall to sleep quickly, enjoying a healthy night's rest.

7 – Free your bedroom of distractions

Ideally, the place where you sleep should have minimal possessions. This is especially true regarding consumer electronics, cell phones, MP3 players and the like. The fewer pieces of furniture in your bedroom the better.

As you are preparing for bed, your mind unconsciously takes in all of the distractions and objects in your environment. This can negatively affect your ability to fall asleep, creating more stress in the process.


Learn more on your health online site here about Daily Sleep Requirements


We also have a free report that you can download when you are there about this subject!


We wish you well in your search for healthy diet solutions and your movement towards better health in all areas.

Contact Us if you would like a free private consultation with us about your health online.



Article reprint requirements:
. You may reprint this article, electronically in free-only publications in it's entirety in an Ezine, blog or web site.
. You may not use this article in Unsolicited Commercial Email.
. Whenever this article is used, it must include the above authors byline with an active link back to our web site.

Healthy Recipe:
Cooking Apples
Apple pie or apple cobbler can be made vegan fashion with evaporated cane juice for sweetener and whole-grain pastry flour for the crust.

A little non-hydrogenated vegetable oil makes an excellent fat substitute if needed.


Applesauce:

Peel and core apples. Cut into slices, put them into a saucepan, and add a little water or apple juice to cover the bottom of the pot.

Cover pot, start heat on high, and bring to a boil. Turn heat down to medium, and cook gently, about 15 minutes, stirring often and checking liquid to prevent burning.

When soft, the apples can be mashed for a textured applesauce or put through a food mill or food processor for a smoother texture.

Add any spices, flavoring extracts, and sweeteners to taste and cook for another minute or two to set the flavors. Cool and store in the refrigerator.


Apple Butter:

Apple butter begins with the preparation of applesauce, then spices are added and the mixture is cooked longer.

After adding the spices, flavorings, and sweetener, remove the pot lid, and continue cooking over medium-low heat until the mixture becomes very thick, stirring frequently.

The process may take an hour or two depending on the water content of the apples. Cool thoroughly before refrigerating.


As an alternative, you can bake your pureed, spiced apples in a shallow pan in the oven at 300 (gas mark 2) for 2 hours until thickened.

With either method, check for doneness by putting a little dollop of apple butter on a dish and turning the dish upside down. The mixture should stick to the plate.


If you plan to make a large quantity for gift giving, have hot sterilized jars ready and spoon your hot apple butter into the jars, leaving only 1/8-inch at the top. Seal immediately and cool.


Recommendations & Sponsors:
Our Sponsors and Affiliates are what keep this newsletter and our website self help books, articles and resources free to you, so we appreciate your support when purchasing from our sponsors.
In 2012 I began co-writing a book about the CFS therapies that had worked for me and my clients.


The book fully explains all the most popular and effective therapies and treatments that are most effective in beating chronic fatigue syndrome.


There are many methods and processes that you can try out for yourself to discover the ones that resonate best with your lifestyle and personal philosophies.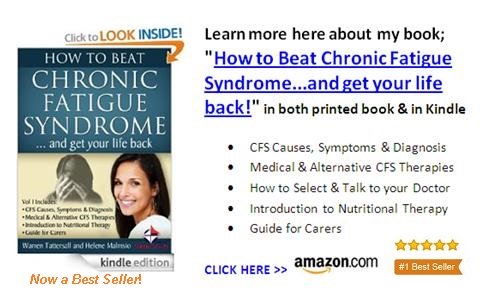 THERMOGENISIS


The NEW Development in Weight Management and Energy!

(Taken from 9 to 5 magazine)


Scientists believe the concept of thermogenisis is the most exciting news from weight management research in fifty years.


Thermogenisis, meaning the generation of heat, is a normal process, like digestion, in which the body's brown adipose (fatty) tissue (BAT) burns up the calories your body doesn't need, thus creating a natural energy.


Being overfat or obese, occurs primarily when BAT is not functioning properly, and the body must deal with excess calories by storing them as white fat.


Scientists have discovered that by combining specific amounts of certain "totally natural" thermogenetic substances, it is possible to create a basically new compound with an "amazingly safe" thermogenetic action!


THERMOGENISIS WILL DO THE FOLLOWING:
* Prevent dietary lipids from being stored as white fat
* Convert current white fat back into soluble lipids to be burned off
* Burn off the soluble lipids
* Increase the body's energy by increasing the flow of blood, oxygen and nutrients to muscle tissue, . . . and
* Remove the craving for high calorie food that causes the problem in the first place.


THERMOJETICS ™ by Herbalife.
THERMOJETICS ™ Beverage can be taken in hot or cold water, added to soup, Orange juice, Tomato juice etc.


Only limited by your own creativity. It activates the thermogenetic process as described in article above.


Often described as "rocket fuel", due to the lift in mental clarity and either increased, or more sustainable energy.


WHAT PEOPLE EXPERIENCE . . .
* Clarity of thinking
* Increased energy
* Good for hangovers
* Feeling of well being
* Weight loss
* Size loss



To get STARTED or for a FREE Consultation, simply email me if you would like to know more about this powerful natural product Contact Us with Thermojetics in the subject section.


Natural Beauty recipe:
Hair Care Treatments
Homemade Intensive Conditioner

Mix 1/4 cup of olive oil with 1 egg and apply to hair. Use more olive oil if your hair is very long.

Cover your head with aluminum foil, then cover with a towel that has been soaked in hot water and wrung out. Leave on for 30 minutes or overnight for deep conditioning very dry hair, then shampoo as usual.

Homemade Intensive Conditioner

Mix 1/4 cup of olive oil with 1 egg and apply to hair. Use more olive oil if your hair is very long.

Cover your head with aluminum foil, then cover with a towel that has been soaked in hot water and rung out. Leave on for 30 minutes or overnight for deep conditioning very dry hair, then shampoo as usual.


Editor's Notes & Humor:


EXCESS WEIGHT:

We all know that being overweight is bad for a person's health and makes energy levels plummet.

Your body has to work harder and longer just to move and breathe! Each pound you lose will add to your vitality.

ZINC:

An ideal remedy for fatigue, say most researchers. You can find the marvelous mineral in lean meats, eggs, cheese, breakfast cereals and whole-grain breads. Or, buy it in tablet form at any health food store.



USE YOUR MUSCLES:

Too much rest can be exhausting. If your muscles are not worked for 24 hours, they'll weaken - and you'll feel tired.

But there's an easy remedy. Simply do any exercise for at least ten minutes a day. You'll have so much pep in your step, you'll want more.



~*~*~*~*~



Feel free to download and share the social media image below with your friends and family - ENJOY!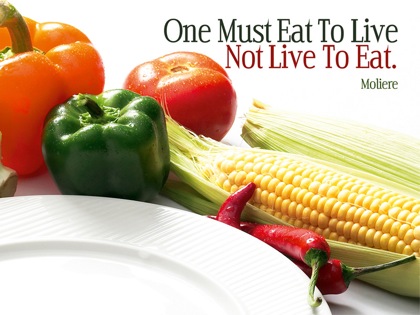 A WASHINGTON POST columnist runs a column each summer listing interesting WOMEN'S T-shirts observed at the Ocean City, Maryland beach.


1. I CHILD PROOFED MY HOUSE, BUT THEY STILL GET IN.


2. (On the front) 60 IS NOT OLD.
(On the back) IF YOU'RE A TREE.


3. AT MY AGE, "GETTING LUCKY" MEANS FINDING MY CAR IN THE PARKING LOT.


5. MY REALITY CHECK JUST BOUNCED.


6. LIFE IS SHORT. MAKE FUN OF IT.


7. I'M NOT 50. I'M $49.95 PLUS TAX.


8. PHYSICALLY PFFFFFT!


9. IT'S MY CAT'S WORLD. I'M JUST HERE TO OPEN CANS.


10. "EARTH" IS THE INSANE ASYLUM OF THE UNIVERSE.


11. KEEP STARING....I MAY DO A TRICK.


12. WE GOT RID OF THE KIDS. THE CAT WAS ALLERGIC.


13. DANGEROUSLY UNDER-MEDICATED.


14. MY MIND WORKS LIKE LIGHTNING. ONE BRILLIANT FLASH AND IT'S GONE.


15. LIVE YOUR LIFE SO THAT WHEN YOU DIE, THE PREACHER WON'T HAVE TO TELL LIES AT YOUR FUNERAL.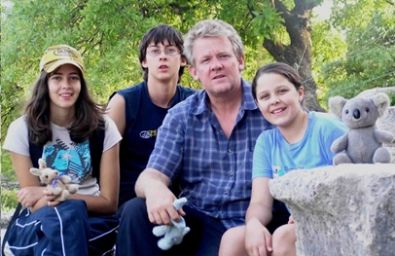 ~*~*~*~*

If you have any questions or would like to have direct contact to discuss anything related to this page, nutrition products or working with the nutrition industry then please send a note through the Contact Us form on The Health Success Site: Contact Us

~*~*~*~*



Remember to download your book for Subscribing!





The Ultimate Secrets of Healthy Heart & Longevity Finally Revealed! - Learn How You Can Add 10-20 More Years To Your Life By Reversing Arteriosclerosis & Curing Bad Habits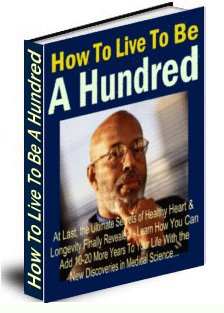 If you are under 20, you can increase your life-span by as much as 15 years.

Even if you are over 60, you can still enjoy more than two golden, bonus years by following the advice in this life-changing book!


Just mouse over the link below and click "right mouse button" and select "save target as" from the window that appears, to save this 200+ page book to your computer



ENJOY!



~*~*~*~*~


Thank you for joining us this month, I hope that you have found some extra motivation and inspiration to achieve lifetime optimal health!


To update yourself on our new resources and lifetime optimal health strategies just go to Your Health Online at The Health Success Site


Your Editor,
Warren Tattersall
www.TheHealthSuccessSite.com

~~~~~~~~~~~~~~~~~~~~~~~~~~~~~~~


DISCLAIMER: All information is intended for your general knowledge only and is not a substitute for your counselor's advice or treatment.


Use of these products and tips are at your own risk. We make no warranty, express or implied, regarding your individual results.


~~~~~~~~~~~~~~~~~~~~~~~~~~~~~~~


DISCLOSURE: I may be an affiliate for products that I recommend. If you purchase those items through my links I will earn a commission.


You will not pay more when buying a product through my link. In fact, I oftentimes am able to negotiate a lower rate (or bonuses) not available elsewhere.


Plus, when you order through my link, it helps me to continue to offer you lots of free stuff. :)


Thank you, in advance for your support!


No Liability

Under no circumstances will the product creator, programmer or any of the distributors of this product, or any distributors, be liable to any party for any direct, indirect, punitive, special, incidental, or other consequential damages arising directly or indirectly from the use of this product.


This product is provided "as is" and without warranties.


Use of this product indicates your acceptance of the "No Liability" policy.


If you do not agree with our "No Liability" policy, then you are not permitted to use or distribute this product (if applicable.)


Failure to read this notice in its entirety does not void your agreement to this policy should you decide to use this product.


Applicable law may not allow the limitation or exclusion of liability or incidental or consequential damages, so the above limitation or exclusion may not apply to you.


The liability for damages, regardless of the form of the action, shall not exceed the actual fee paid for the product.


Note: Articles in this ezine may concern health treatments and references to trademark brands.


These articles are supplied for entertainment purposes only.


Any claims that are made in your use of them and any consequences of your use of them are your own responsibility.


You are advised to take legal advice in relation to setting up disclaimers and other aspects of your business.


~~~~~~~~~~~~~~~~~~~~~~~~~~~~~~~


Unsubscribe only if you want to stop receiving this ezine.


Instructions are below.


~~~~~~~~~~~~~~~~~~~~~~~~~~~~~~~