What is the Food Pyramid?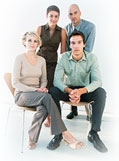 A health article about Food Pyramid from
DIET PLAN REVIEWS GUIDE Old and new food recommendation schedules
An overwhelming variety of both natural and highly processed foods is available at the market. To guide people in picking healthy food items, the US Department of Agriculture has designed the food pyramid.
It is a labeled illustration, shaped like a pyramid, which demonstrates groups of essential food types and the quantity in which a normal individual requires each of these foods.
** above is an example of the OLD FOOD PYRAMID **
At the base of the food pyramid are such food items that serve as ready sources of energy. These are rich in starch, low in fat, and include cereals, pasta, bread, and different types of grains. By the specifications of the food pyramid, a normal adult individual needs 6 to 11 servings of these items daily.
Whole grains are the best and healthiest food of this group. In a single serving of these foods you can include a slice of bread, a cup of cereal flakes, one flat tortilla, and one ounce of rice or pasta.
As the geometry of the food pyramid shows, vegetables and fruits are required in less quantity than carbohydrates. Normally, a grown person would need 3 to 5 servings of vegetables and 2 to 4 servings of fruits daily. The high fiber content of vegetables and fruits make them ideal food items as fiber keeps the bowel movements in order.
In addition, they are both rich in vitamins (required for immunity and general health) and minerals, which ensure the proper functioning of various body organs. Among vegetables, go for more dark green vegetables and try to pick fresh fruits instead of fruit juices.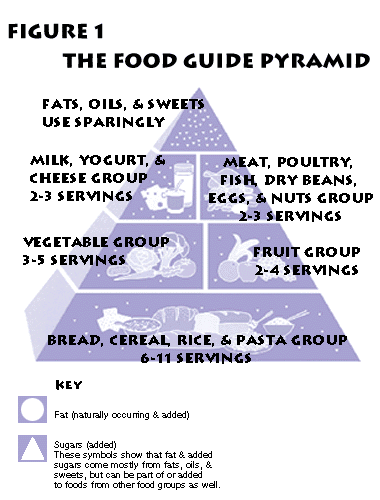 ** above is another example of the FOOD PYRAMID **
Next upper chamber in the food pyramid is occupied by proteins and dairy products. You need 2 to 3 servings daily of each of these foods. Protein comes from lean meat, eggs, fish, beans, and nuts. It is advisable to remove the visible fat on the meat so as to make it a low fat item. Be moderate in using nuts, since they also hold fats.
Among the dairy products, milk is the complete diet with most of the required vitamins and minerals like calcium, phosphorus, and magnesium. Cheese and yogurt are also recommended dairy foods. Try to abstain from high intake of ice cream and cheese that is high in fat.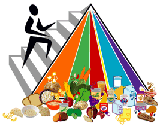 ** above is an example of the REVISED NEW FOOD PYRAMID **
Lastly, at the top of the food pyramid lie fats, including oils, and sweets. The recommended quantity of these items is limited to sparing use.
Butter, cream, oils, candies, margarines etc., are all foods that are not easy to digest and hence should be used in minimal amounts.
However, it is an important part of our diet, just as all the other parts of the food pyramid are important as well.
Back to diet plan review Directory

A review of the most popular Diet Plans and what makes for good nutrition for healthy weight loss. Good nutrition coupled with exercise is the key to a healthy diet plan. Good nutrition is the key ingredient to improving your chances for weight loss. But we're not talking crash diets here, or plain old starving yourself. This resource is full of diet reviews and we invite you to add your experiences here!
We have a range of interesting articles written by leading scientists and dotors. Here is an article on : Food for Fuel written by By Luigi Gratton, M.D., M.P.H.



to "Your Health Success"
our monthly F'R'E'E' Newsletter
Back to Top of What is the Food Pyramid page

Subscribe to "Your Health Success" newsletter
Terms of Use | Privacy Policy | Disclaimer | Site Map
=======================================================================
SITE DISCLAIMER: Do these products "cure" anything? Of course not… but it stands to reason that if you cleanse your body and feed it the finest nutrition available, giving it everything it needs in balance, on a daily basis, that your body will do what nature intended, and give you the best possible chance to fend off sickness and disease. This What is the Food Pyramid information is not presented by a medical practitioner and is for educational and informational purposes only. The What is the Food Pyramid content is not intended to be a substitute for professional medical advice, diagnosis, or treatment. Always seek the advice of your physician or other qualified health provider with any What is the Food Pyramid questions you may have regarding a medical condition. Never disregard professional medical advice or delay in seeking it because of something you have read.
The What is the Food Pyramid resources on this site are not intended to be a substitute for professional advice. While all attempts have been made to verify What is the Food Pyramid information provided in this publication, neither the author nor the publisher assumes any responsibility for errors, omissions or contrary interpretation of the web site What is the Food Pyramid subject matter herein. The site What is the Food Pyramid contents are solely the opinion of the authors and should not be considered as a form of advice, direction and/or recommendation of any kind. If expert advice or counseling is needed, services of a competent professional should be sought. The author and the Publisher assume no responsibility or liability and specifically disclaim any warranty, express or implied for any What is the Food Pyramid products or services mentioned, or any techniques or What is the Food Pyramid practices described.
The purchaser or reader of thi What is the Food Pyramid s publication assumes responsibility for the use of these materials and information. Neither the author nor the Publisher assumes any responsibility or liability whatsoever on the behalf of any purchaser or reader of these What is the Food Pyramid materials. There is no guarantee of validity of accuracy. Any perceived slight of specific people or organizations is unintentional. This website and its creators are not responsible for the content of any sites linked to. Since natural and/or dietary supplements are not FDA approved they must be accompanied by a two-part disclaimer on the product label: that the statement has not been evaluated by FDA and that the product is not intended to "diagnose, treat, cure or prevent any disease."
=======================================================================