Walking And Weight Loss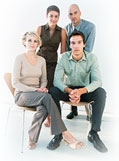 A health article about Walking And Weight Loss for lifetime fitness from
lifetime Fitness exercises resource guide
Three universal goals most of us share are: to live longer, to live free of illness and to control our weight. Interesting enough, normal walking lets us achieve all three.
In fact, walking may be man's best medicine for slowing the aging process. First, it works almost every muscle in the body, improving circulation to the joints and massaging the blood vessels (keeping them more elastic). Walking also helps us maintain both our muscle mass and metabolism as we age. It also keeps us young in spirit. For anyone out of shape or un-athletically inclined, walking is the no-stress, no-sweat answer to lifelong conditioning.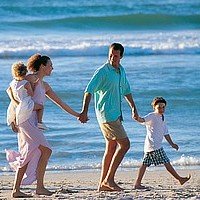 All it takes is a little time, common sense and a few guidelines. Unfortunately, there's a lot of misinformation floating around regarding fitness walking, weight-loss and dieting.
Walking is one of the best exercise for strengthening bones, controlling weight, toning the leg muscles, maintaining good posture and improving positive self-concept.
People who diet without exercising often get fatter with time. Although your weight may initially drop while dieting, such weight loss consists mostly of water and muscle. When the weight returns, it comes back as fat. To avoid getting fatter over time, increase your metabolism by exercising daily.
To lose weight, it's more important to walk for time than speed. Walking at a moderate pace yields longer workouts with less soreness - - leading to more miles and more calories spent on a regular basis.
High-intensity walks on alternate days help condition one's system. But in a waking, weight-loss program, it's better to be active every day. This doesn't require walking an hour every day. The key is leading an active life-style 365 days a year.
When it comes to good health and weight loss, exercise and diet are interrelated. Exercising without maintaining a balanced diet is no more beneficial than dieting while remaining inactive.
The national research council recommends eating five or more servings of fruits and vegetables a day. Fruits and vegetables are the ideal diet foods for several reasons. They're relatively low in fat and calories, yet are often high in fiber and rich in essential vitamins and minerals.
Remember that rapid weight-loss consists mostly of water and muscle - - the wrong kind of weight to lose. To avoid this, set more reasonable goals, such as one pound per week.
Carbohydrates are high-octane fuel. They provide energy for movement and help raise internal body metabolism. They're also satisfying. The key is not adding high-fat toppings to your carbohydrates.
It's everyday habits which define our weight and body composition. A three-minute walk after each meal is worth four pounds less body fat annually. Two flights of stairs a day burns off half a pound of body fat in a year.
How to achieve lifetime Fitness with Exercise
A lot of us live our lives like penned animals. Built to move, too often we put ourselves in a cage. We have bodies designed for racing across the savannas, but we live a lifestyle designed for migrating from the bed to the breakfast table; to the car seat; to the office chair; to the restaurant booth; to the living room couch and back to the bed.

It was not always this way. Not long ago in the United States, a man who worked on a farm did the equivalent of 15 miles of jogging every day; and his wife did the equivalent of 7 miles of jogging. Today, our daily obligations of work and home keep us tied to our chairs, and if we want exercise, we have to seek it out.

to "Your Health Success"
our monthly F'R'E'E' Newsletter
Back to Top of Walking And Weight Loss for lifetime fitness page

Subscribe to "Your Health Success" newsletter
Terms of Use | Privacy Policy | Disclaimer | Site Map
============================================================================
SITE DISCLAIMER: Do these products "cure" anything? Of course not… but it stands to reason that if you cleanse your body and feed it the finest nutrition available, giving it everything it needs in balance, on a daily basis, that your body will do what nature intended, and give you the best possible chance to fend off sickness and disease. This Walking And Weight Loss for lifetime fitness information is not presented by a medical practitioner and is for educational and informational purposes only. The Walking And Weight Loss for lifetime fitness content is not intended to be a substitute for professional medical advice, diagnosis, or treatment. Always seek the advice of your physician or other qualified health provider with any Walking And Weight Loss for lifetime fitness questions you may have regarding a medical condition. Never disregard professional medical advice or delay in seeking it because of something you have read.
The Walking And Weight Loss for lifetime fitness resources on this site are not intended to be a substitute for professional advice. While all attempts have been made to verify Walking And Weight Loss for lifetime fitness information provided in this publication, neither the author nor the publisher assumes any responsibility for errors, omissions or contrary interpretation of the web site Walking And Weight Loss for lifetime fitness subject matter herein. The site Walking And Weight Loss for lifetime fitness contents are solely the opinion of the authors and should not be considered as a form of advice, direction and/or recommendation of any kind. If expert advice or counseling is needed, services of a competent professional should be sought. The author and the Publisher assume no responsibility or liability and specifically disclaim any warranty, express or implied for any Walking And Weight Loss for lifetime fitness products or services mentioned, or any techniques or Walking And Weight Loss for lifetime fitness practices described.
The purchaser or reader of thi Walking And Weight Loss for lifetime fitness s publication assumes responsibility for the use of these materials and information. Neither the author nor the Publisher assumes any responsibility or liability whatsoever on the behalf of any purchaser or reader of these Walking And Weight Loss for lifetime fitness materials. There is no guarantee of validity of accuracy. Any perceived slight of specific people or organizations is unintentional. This website and its creators are not responsible for the content of any sites linked to. Since natural and/or dietary supplements are not FDA approved they must be accompanied by a two-part disclaimer on the product label: that the statement has not been evaluated by FDA and that the product is not intended to "diagnose, treat, cure or prevent any disease."
============================================================================