MLM TRAINING-Distributor application
THIS MLM TRAINING-DISTRIBUTOR APPLICATION TRAINING PAGE IS ON A PRIVATE SITE AND IS NOT PROVIDED FOR ANY INDIVIDUAL WHO IS NOT ALREADY A DISTRIBUTOR IN THE HEALTH SUCCESS GROUP OF INDEPENDENT HERBALIFE DISTRIBUTORS. THIS SITE MAKES NO CLAIMS OF INCOME THAT CAN BE GENERATED WITHIN THE HERBALIFE BUSINESS AND IT DOES NOT IN ANY WAY REPRESENT THE HERBALIFE INTERNATIONAL COMPANY OR SPEAK ON THEIR BEHALF IN ANY MATTER. THE COPYRIGHT OF THE HERBALIFE COMPANY AND PRODUCTS IS RESPECTED AND www.TheHealthSuccessSite.com MAKES NO CLAIMS UPON ANY NAMES OR TRADEMARKS BELONGING TO HERBALIFE INTERNATIONAL. IF YOU HAVE COME TO THIS SITE BY ACCIDENT WITHOUT A SPECIFIC INVITATION FROM www.TheHealthSuccessSite.com THEN WE ASK YOU TO NOW LEAVE THE SITE.

First things first. – Getting registered as a Distributor.
When you work with the Herbalife company the first thing you need to do is get registered.
A Herbalife distributorship has no area attached to it so once you are registered as a distributor your business can grow out into all the countries where we trade and you can run your business internationally.
The only way to do this is to have an existing distributor sponsor you. You do this by buying an IBP (International Business Pack) that has the form inside it.
Once you have this form you need to treat it with some care. The only way to replace it is by buying another IBP or by returning a damaged or incorrectly filled form to Herbalife for them to replace.
Herbalife treat the form very seriously as top distributors earn over a million dollars a year and they treat each distributorship as if it is a million dollar business.
Step one to register is to take out the form out of your IBP pack. It looks like this:.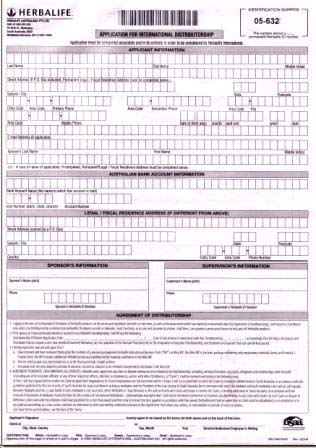 You begin by filling out your name and postal address and other details.
You do that in this part of the application:
.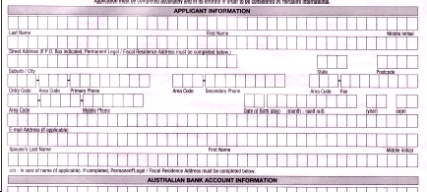 Then you fill out your sponsors details. Getting this right is important so I will explain in more detail.
Herbalife run their business through their Supervisors. This is the level where wholesale profit is paid and Herbalife send all active supervisors a statement of the activity that happens in their business each month along with the earnings.
You have a supervisor sponsor who's details must be filled out in the Supervisor box on the right hand side of the distributor form.
In addition you need to list your first level sponsor.
IF YOUR FIRST LEVEL SPONSOR IS NOT A SUPERVISOR THEN THE NAMES WILL BE DIFFERENT. IF YOUR SPONSOR IS A SUPERVISOR THEN THE NAMES AND DETAILS WILL BE THE SAME.
If there are more people in between your direct sponsor and your supervisor there is no problem. When any of those people, or you sponsor becomes a supervisor, or when you become a supervisor yourself, the Herbalife computers update all records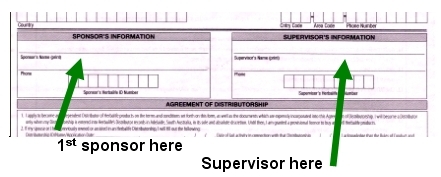 The details to fill here are available from your sponsor.
Finally, as you work down the form, you will find the space to sign at the bottom. You sign and date the form.
If you have a spouse who is also to be involved with the distributorship then you need to have them fill the details and sign as well.
(Herbalife will treat the business as belonging to the person on the application.)
This section is on the very bottom of the form:

Once you have done all this then you separate the copies.
At the very bottom of the form, just under where you sign there is a list of the different coloured forms and who they need to go to.
Getting Herbalife's copy or copies to them is required for you to be registered and it is important to your own business that your sponsor and supervisor receive their copies so they know you are up and running and they have the contact details to be able to support you.
Once everything is filled out then mail the copies of the application off to the people they are designed for.



Note: If you fill in the wrong details then do not use white out to write over and crossing out information and changing is probably not going to be acceptable to Herbalife either. If you really mess up then record your number to use until things are sorted out and then mail all copies of the from back to Herbalife and request them to issue a replacement application.

MAKE SURE *YOU* and YOUR CUSTOMER & PROSPECTS



to "Your Health Success"
our monthly F'R'E'E' Newsletter So that they get a marketing email from you every month!
(and a free ebook for subscribing)
Back to Top of MLM TRAINING-Distributor application page

Subscribe to "Your Health Success" newsletter
| Contact Us | About Us | Free Health Book | Health Blog | Terms of Use | Privacy Policy | Disclaimer | Site Map | Health web resources | HOME PAGE |
============================================================================
SITE DISCLAIMER: Do these products "cure" anything? Of course not… but it stands to reason that if you cleanse your body and feed it the finest nutrition available, giving it everything it needs in balance, on a daily basis, that your body will do what nature intended, and give you the best possible chance to fend off sickness and disease. This MLM TRAINING-Distributor application information is not presented by a medical practitioner and is for educational and MLM TRAINING-Distributor application informational purposes only. The MLM TRAINING-Distributor application content is not intended to be a substitute for professional medical advice, diagnosis, or treatment. Always seek the advice of your physician or other qualified health provider with any MLM TRAINING-Distributor application questions you may have regarding a medical condition. Never disregard professional medical advice or delay in seeking it because of something you have read.
The MLM TRAINING-Distributor application resources on this site are not intended to be a substitute for professional advice. While all attempts have been made to verify information provided in this publication, neither the author nor the publisher assumes any responsibility for errors, omissions or contrary interpretation of the web site MLM TRAINING-Distributor application subject matter herein. The site MLM TRAINING-Distributor application contents are solely the opinion of the authors and should not be considered as a form of advice, direction and/or recommendation of any kind. If expert advice or counseling is needed, services of a competent professional should be sought. The MLM TRAINING-Distributor application author and the Publisher assume no responsibility or liability and specifically disclaim any warranty, express or implied for any products or services mentioned, or any techniques or MLM TRAINING-Distributor application practices described.
The purchaser or reader of this publication assumes responsibility for the use of these materials and information. Neither the MLM TRAINING-Distributor application author nor the Publisher assumes any responsibility or liability whatsoever on the behalf of any purchaser or reader of these MLM TRAINING-Distributor application materials. There is no guarantee of validity of accuracy. Any perceived slight of specific people or organizations is unintentional. This website and its creators are not responsible for the content of any sites linked to. Since natural and/or dietary supplements are not FDA approved they must be accompanied by a two-part disclaimer on the product label: that the statement has not been evaluated by FDA and that the product is not intended to "diagnose, treat, cure or prevent any disease."
============================================================================