Fish Help the Heart by Fighting Inflammation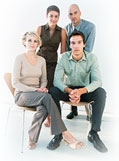 A health article about heart inflammation from Heart disease the A to Z directory of
dealing with Health Problems & nutritional
Self Care Strategies
The inflammation-fighting effects of omega-3 fatty acids may be the key behind fish's heart-healthy benefits, according to a new study.

Researchers found inflammation markers, such as C-reactive protein and others, were up to a third lower in people who ate at least 10 ounces of fish per week compared with those didn't eat fish.

The more fish the people ate, especially fish rich in omega-3 fatty acids such as salmon, mackerel, and tuna, the lower their level of markers of inflammation in the bloodstream.

Omega 3 fatty acids are a type of unsaturated fat that has been shown to reduce the rates of heart disease and death from heart disease.

The mechanism behind this action is unknown but studies show that they reduce inflammation.

Inflammation within blood vessels plays a key role in the development of atherosclerosis -- a risk for heart disease and stroke.

Therefore, researchers say the anti-inflammatory effects of the omega-3 fatty acids in fish found in this study may explain why fish is healthy for the heart.

"For the general public it could be suggested that consuming fish one or two times per week could lead to these beneficial effects found in our study," says researcher Demosthenes B. Panagiotakos, PhD, of Harokopio University in Athens, in a news release. "The general recommendation is to avoid frying the fish."


You Can get your Omega 3 Fatty Acids by taking Herbalifeline Fish Fight Inflammation to Keep Heart Healthy

In the study, which appears in the Journal of the American College of Cardiology, researchers compared fish consumption and blood inflammation markers in a group of about 3,000 men and women in the Attica region of Greece.

None of the participants had a history of heart disease, and nine out of 10 said they ate fish at least once a month.

The results showed that compared with those who said they didn't eat fish, those who ate at least 10.5 ounces of fish per week had 33 percent lower C-reactive protein and 33 percent lower tumor necrosis factor-alpha (another indicator of inflammation) levels as well as much lower levels of other signs of inflammation. People who ate about 5 to 10 ounces of fish per week also had lower levels of inflammation in the bloodstream.

"We revealed that not only the fish portion, but also the amount of omega-3 fatty acids seems to play a role in the reduction of inflammatory markers levels," says researcher Antonis Zampelas, PhD, of Harokopio University in Athens, in the release.

Researchers say an average daily dose of omega-3 fatty acids of about 0.6 grams, regardless of the fish source, appeared to be the optimal level to achieve the inflammation-fighting benefits and lower the risk of heart disease.

Three ounces of the following fish provide 1 gram of the omega-3 fatty acids known as eicosapentaenoic acid (EPA) and docosahexaenoic acid (DHA).

Herring, Pacific, 1.5 ounces cooked Salmon, chinook, 2 ounces cooked Salmon, Atlantic, 2.5 ounces cooked Oysters, Pacific, 2.5 ounces cooked Trout, rainbow, 3.5 ounces cooked Tuna, white, packed in water 4 ounces cooked

The American Heart Association recommends eating fish (particularly fatty fish) at least twice a week. Fatty fish high in omega-3 fatty acids include mackerel, lake trout, herring, sardines, albacore tuna, and salmon.

By Jennifer Warner, reviewed by Brunilda Nazario, MD

SOURCES: Zampelas, A. Journal of the American College of Cardiology, July 5, 2005; vol 46: pp 121-124. News release, American College of Cardiology. American Heart Association. Linus Pauling Institute.


Heart disease
The term coronary heart disease covers a group of clinical syndromes arising particularly from failure of the coronary arteries to supply sufficient blood to the heart. They include angina peactoris, coronary thrombosis or heart attack and sudden death without infarction.
There has been a marked increase in the incidence of heart disease in recent years. Heart attacks have become the number one killer in Western countries. The disease affects people of all ages and both sexes, although it is more common in men than in women, especially among those aged 40-60 years.
(To read rest of this coronary heart disease article click on the Title above here.)


cholesterol
Cholesterol can be both good and bad, so its important to learn what cholesterol is, how it affects your health and how to manage your blood cholesterol levels.
Understanding the facts about cholesterol will help you take better care of your heart so you can live a healthier life, reducing your risk for heart attack and stroke.

What are symptoms of heart disease?
Fainting—Is it really Harmless?
Cardiac syncope, or fainting that is cause by a heart condition, is extremely serious, as it could be fatal if gone unchecked.
In some cases, you simply do faint because of heat, nerves, fever, or other things. However, if you faint for what seems to be no reason at all, see a doctor right away.
(To read rest of article click on the Title above here.)


Heart Disease and Women: Not Just for Men
In the past it was thought that the greatest risk for heart disease lied with men and not with women. However, in recent years it has come to be known that women, in fact, are at a huge risk for heart disease. Heart disease is actually one of the biggest causes for death among adult women.
This is partly genetic, remember. Most of the people who have heart disease have a genetic disposition towards it. However, this means that even those that have a genetic disposition have a chance to get around it, and not develop heart disease.
(To read rest of this coronary heart disease article click on the Title above here.)



to "Your Health Success"
our monthly F'R'E'E' Newsletter
Back to Top of heart inflammation page

Subscribe to "Your Health Success" newsletter
Terms of Use | Privacy Policy | Disclaimer | Site Map
============================================================================
SITE DISCLAIMER: Do these products "cure" anything? Of course not… but it stands to reason that if you cleanse your body and feed it the finest nutrition available, giving it everything it needs in balance, on a daily basis, that your body will do what nature intended, and give you the best possible chance to fend off sickness and disease. This heart inflammation information is not presented by a medical practitioner and is for educational and informational purposes only. The heart inflammation content is not intended to be a substitute for professional medical advice, diagnosis, or treatment. Always seek the advice of your physician or other qualified health provider with any heart inflammation questions you may have regarding a medical condition. Never disregard professional medical advice or delay in seeking it because of something you have read.
The heart inflammation resources on this site are not intended to be a substitute for professional advice. While all attempts have been made to verify heart inflammation information provided in this publication, neither the author nor the publisher assumes any responsibility for errors, omissions or contrary interpretation of the web site heart inflammation subject matter herein. The site heart inflammation contents are solely the opinion of the authors and should not be considered as a form of advice, direction and/or recommendation of any kind. If expert advice or counseling is needed, services of a competent professional should be sought. The author and the Publisher assume no responsibility or liability and specifically disclaim any warranty, express or implied for any heart inflammation products or services mentioned, or any techniques or heart inflammation practices described.
The purchaser or reader of thi heart inflammation s publication assumes responsibility for the use of these materials and information. Neither the author nor the Publisher assumes any responsibility or liability whatsoever on the behalf of any purchaser or reader of these heart inflammation materials. There is no guarantee of validity of accuracy. Any perceived slight of specific people or organizations is unintentional. This website and its creators are not responsible for the content of any sites linked to. Since natural and/or dietary supplements are not FDA approved they must be accompanied by a two-part disclaimer on the product label: that the statement has not been evaluated by FDA and that the product is not intended to "diagnose, treat, cure or prevent any disease."
============================================================================