Carbohydrate Cravings and the Atkins diet plan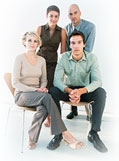 A health article about Diet review - Atkins and carbohydrate cravings from
Diet reveiw – Atkins diet plan
Carbohydrate cravings are difficult to deal with, especially when you are trying to maintain a low carbohydrate way of life. However, carbohydrate cravings are not just a matter of will power. As Dr. Atkins points out in his book, carbohydrates produce a flood of insulin and a rise in blood sugar.
There is indeed a physical trigger for carbohydrate cravings, and it is one of the reasons that it is so easy to develop a high-carbohydrate, low protein way of eating.
There are many signs of physical carbohydrate cravings. You will experience a compelling hunger for carbohydrate rich foods. Overtime, you will develop a growing need for starches, snack foods and sweets. Additionally, you may experience cravings and weight gain after using some of the carbohydrate act-a-likes such as sugar substitutes and alcohol.
High carbohydrate foods are everywhere, which makes the cravings even harder to overcome. Eating the high-sugar, refined starch foods will feed your cravings and create more, much like a drug habit. In fact, high levels of carbohydrates produce high levels of the brain chemical seratonin, which is the chemical found in Prozac and other anti-depressants. So eating high levels of carbohydrates is self-medicating. People with low levels of seratonin are prone to using carbohydrates like a drug.
Tension and stress can also lead to overeating carbohydrate-laden foods. When we are tense, the adrenal gland creates more cortisol. Cortisol is a hormone that stimulates production of a brain chemical that causes carbohydrate cravings. It also stimulates insulin, which leads to blood sugar dips and more fat storage.
Considering all of these factors, it may seem impossible to live on a low-carbohydrate diet. However, following the Atkins plan is one of the best ways to break the cycle of carbohydrate addiction and take back your life and your health. The Atkins plan helps you take control of your cravings and rid yourself of years of damage caused by eating too many carbohydrates.
While on the Atkins diet, you may experience some carbohydrate cravings from time to time, especially during the initial phases of the diet. However, these will lessen as your body becomes more used to eating a protein-centered diet. In order to keep your cravings in check, eat small meals or snacks that contain protein every few hours.
This will keep your blood sugars stable and avoid the "crash" you feel when you go hungry. Skipping meals will cause drops in blood sugar and leave you craving sweets.
Protein and fat, which are the focus of the Atkins plan, will give your body extended energy. Make sure you are getting enough levels of the essential fats. Sometimes an Omega 3 fish oil supplement will help stave off carbohydrate cravings.
Cravings for foods can sometimes be caused by dehydration. It's a good rule of thumb to drink a glass of water before reaching for any type of snack. Sometimes thirst can mask itself as hunger. When your body is properly hydrated, it will run more efficiently and you will see a decrease in cravings.
Recognize that there is a physical addiction to carbohydrates that will need to be broken. Don't worry if you feel overwhelmed with cravings for carbs after the first few days on the plan. This is normal. Your body is used to running on a diet full of sugar and carbohydrates. It will take some time to adjust to this new way of eating. Normally, these feelings don't last more than the two-week induction period. Stay committed to this new way of eating and you will see the benefits quickly.
Carbohydrate Substitutes for the Atkins diet
Cutting down on carbohydrates with the Atkins diet is easy when you see the wide variety of proteins and vegetables that are on the acceptable foods list. However, it does take some time and adjustment to get used to this new way of eating. A lot of the American diet centers around complex carbohydrate foods like breads and pastas. Snack foods are full of sugars and refined carbohydrates. This new way of eating will challenge your old habits. However, there are many carbohydrate substitutes that can fill in the gap.
Some of the most popular replacement items are sugar substitutes. These can be good or bad depending on how you react to them. Each person has a different reaction to artificial sweeteners like aspartame and Splenda. They can be helpful in baking low-carbohydrate treats and making things taste sweet without risking sugar use. However, many people find that using artificial sweeteners makes them crave sugar even more. If you find you want more sweet treats after drinking a diet soda or eating a snack made with Splenda, its best to eliminate them entirely from your diet.
Bread is the number one challenge that Atkins dieters face when looking at their new diet plans. Bread is a staple food for many people, and eliminating it can be somewhat of a problem. There are some low carb breads available out there, but you have to watch for hidden carbohydrates and other unacceptable ingredients. If you are ambitious, you can try making your own bread out of almond flour or other non-traditional flours.
Many people say that they love pasta, but people vary rarely eat it plain. The best part about pasta is the topping. So taking those toppings (meat, cheese and vegetables) and putting them over something else is an easy solution. Many people who follow the Atkins plan have found that squash makes a good pasta substitute. Spaghetti squash, a yellow orange gourd with stringy insides, is a natural base for homemade meat sauce. Zucchini is also a good pasta substitute. You can grate in into fine pieces or chunk it up into sections to act as a base for sauces. Lasagna is easily made with large pieces of eggplant as a substitute for the noodles. The meats and cheeses used in lasagna are low-carb so there's nothing to worry about there.
Another common problem for Atkins dieters is finding a good substitute for rice. One popular solution is to use cauliflower. Simply place the cauliflower florettes in a food processor and chop them until they are rice sizes pieces. Then microwave the "rice" without water. The pieces will come out fluffy and ready to be used in casseroles or as part of a side dish.
Cauliflower is also a popular potato substitute for Atkins dieters. This time, puree the cauliflower until it is smooth and creamy, just like mashed potatoes. You can add your favorite low-carb topping to it like bacon, sour cream and cheese.
Pizza is a favorite food for many people, but there are Atkins friendly solutions for homemade pizzas that taste just as good. You can make small pizzas using low-carb tortillas as the crust. You can also use the same method with large Portobello mushrooms.
If the alternative crust options don't sound good to you, you can also try a pizza casserole with all of the ingredient layered in a casserole dish.
These substitutes will help you avoid indulging in your high-carb favorites while on the Atkins diet.

A health article about Diet review - Atkins and carbohydrate cravings from
Diet reveiw – Atkins diet plan
Back to diet plan review Directory

A review of the most popular Diet Plans and what makes for good nutrition for healthy weight loss. Good nutrition coupled with exercise is the key to a healthy diet plan. Good nutrition is the key ingredient to improving your chances for weight loss. But we're not talking crash diets here, or plain old starving yourself. This resource is full of diet reviews and we invite you to add your experiences here!

to "Your Health Success"
our monthly F'R'E'E' Newsletter
Back to Top of Diet review - Carbohydrate Cravings and the Atkins diet page

Subscribe to "Your Health Success" newsletter
Terms of Use | Privacy Policy | Disclaimer | Site Map
=======================================================================
SITE DISCLAIMER: Do these products "cure" anything? Of course not… but it stands to reason that if you cleanse your body and feed it the finest nutrition available, giving it everything it needs in balance, on a daily basis, that your body will do what nature intended, and give you the best possible chance to fend off sickness and disease. This Diet review - Carbohydrate Cravings and the Atkins diet information is not presented by a medical practitioner and is for educational and informational purposes only. The Diet review - Carbohydrate Cravings and the Atkins diet content is not intended to be a substitute for professional medical advice, diagnosis, or treatment. Always seek the advice of your physician or other qualified health provider with any Diet review - Carbohydrate Cravings and the Atkins diet questions you may have regarding a medical condition. Never disregard professional medical advice or delay in seeking it because of something you have read.
The Diet review - Carbohydrate Cravings and the Atkins diet resources on this site are not intended to be a substitute for professional advice. While all attempts have been made to verify Diet review - Carbohydrate Cravings and the Atkins diet information provided in this publication, neither the author nor the publisher assumes any responsibility for errors, omissions or contrary interpretation of the web site Diet review - Carbohydrate Cravings and the Atkins diet subject matter herein. The site Diet review - Carbohydrate Cravings and the Atkins diet contents are solely the opinion of the authors and should not be considered as a form of advice, direction and/or recommendation of any kind. If expert advice or counseling is needed, services of a competent professional should be sought. The author and the Publisher assume no responsibility or liability and specifically disclaim any warranty, express or implied for any Diet review - Carbohydrate Cravings and the Atkins diet products or services mentioned, or any techniques or Diet review - Carbohydrate Cravings and the Atkins diet practices described.
The purchaser or reader of thi Diet review - Carbohydrate Cravings and the Atkins diet s publication assumes responsibility for the use of these materials and information. Neither the author nor the Publisher assumes any responsibility or liability whatsoever on the behalf of any purchaser or reader of these Diet review - Carbohydrate Cravings and the Atkins diet materials. There is no guarantee of validity of accuracy. Any perceived slight of specific people or organizations is unintentional. This website and its creators are not responsible for the content of any sites linked to. Since natural and/or dietary supplements are not FDA approved they must be accompanied by a two-part disclaimer on the product label: that the statement has not been evaluated by FDA and that the product is not intended to "diagnose, treat, cure or prevent any disease."
=======================================================================