Atkins and Intestinal Problems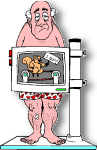 A health article about Diet review - Atkins and Intestinal Problems from
Diet reveiw – Atkins diet plan
The major complaint of those who use the Atkins diet is the intestinal problems that are associated with reducing carbohydrates. These problems can include constipation and diarrhea. These symptoms can happen to anybody at some point, but those who follow a low-carb diet are especially prone.
Most commonly dieters will experience diarrhea during the early days of induction. This is a result of the body getting rid of excess carbohydrates. It also marks the beginning of the ketosis process. So in actuality, experiencing diarrhea at the beginning of the diet is a good thing. It indicates that you are on the road to becoming a fat burning machine.
Constipation is a side effect of lack of fiber in the low carb diet. Whole grains, legumes and fruit are the normal sources of dietary fiber, and they are all restricted on the Atkins diet's initial phases.
However, you shouldn't be scared off from the low-carb way of life because of these issues. There are simple solutions that can prevent and help with these symptoms and allow you to continue with staying on the diet plan.
The first tip is to make sure to include the proper amount of low-carb vegetables in your daily diet. In the induction phase, you can eat up to 20 grams of carbohydrates per day. This is roughly equal to 3 cups of salad vegetables. Some people are tempted to use their carbohydrate grams on cheese or artificially sweetened soda. Eating acceptable vegetables is a vital part of maintaining intestinal health while following the Atkins plan. It's also important to drink a minimum of 8 eight-ounce glasses of water per day and get exercise. Both of these steps can help with intestinal programs.
If you are experiencing constipation specifically, then there are many methods for relief. When you switch from a diet full of processed and refined sugar products, your body will need some time to adjust to this new way of eating. You'll need to make sure to up your fiber intake with acceptable vegetables and fruits (certain fruits are allowed after the initial induction phase). You can also try a fiber supplement like sugar-free Metamucil.
Make sure you are eating enough fats and oils. Constipation can be a result of too little fat in your diet. Adding tablespoon of olive oil or flax oil to salads or other vegetables can help your intestinal health. Also, try to incorporate a variety of vegetables in your salad. Pale iceberg lettuce does not have much fiber in it. Try dark green lettuces or have a serving of dark green steamed veggies (broccoli, asparagus or spinach are good choices).
If these tips don't work, try cutting out all salt from your diet for a couple of days. This includes pickles, mustard, diet soda, ham, bacon and bottled salad dressing. This will decrease your fluid retention and sometimes helps with bowel movements.
Diarrhea should not be a problem after the first week of the Induction plan. However, on rare occasion, it does persist longer. First, analyze your diet. If you are eating low carb protein bars or other sugar free products, eliminate them. They may contain sweeteners like glycerine, sorbitol and malitol which are known to cause diarrhea and gas. Homemade low carb desserts may also be a cause of problems. Most of them use maltodextrin, an artificial sweetener used in baking. Maltodextrin is made from corn and can cause problems for some people.
If you are not used to eating raw vegetables everyday, this may be a cause of diarrhea. Understand that your body will adjust to the vegetables and the intestinal side effects won't last forever. Make sure you are chewing your raw vegetables thoroughly. Also, using lightly steamed vegetables rather than raw can be a solution to this problem.
Intestinal problems are common during the first portion of the Atkins diet. Keep in mind, however, that these problems will go away within the first few weeks of the new way of eating. If the problems persist, try the previously mentioned tips to get relief.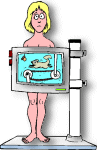 Atkins and Unprocessed Foods
When you first start on the Atkins program, you may be tempted to take advantage of many of the low carbohydrate products on the market today. There are a wide variety of packaged items that are specifically manufactured to be low-carb. These include low-carb snacks, low-carb baking products and low-carb substitutes (like pasta or bread). While it may be enticing to fill your shopping cart with all of these goodies, it's best for your diet and for your health to use them sparingly.
One of the key things to remember about the Atkins diet is its focus on raw, unprocessed foods. The center of diet, as shown by the Atkins diet food pyramid, is fresh vegetables and fresh meats. Added into the mix are natural cheeses, a selection of fruits and, eventually, whole unprocessed grains. There aren't any packaged meats, canned vegetables or instant anything.
There is a reason that the Atkins food pyramid shows these foods in their raw states. There are great health benefits in minimally processed foods. Raw, whole foods retain more vitamins and nutrients than foods that have been through chemical and industrial processing. Manufactured foods are more likely to be tainted with chemical additives that can cause a whole host of problems.
Raw, fresh food ingredients provide the best basis for a healthy diet. Many dieters rely on foods that are technically allowed on the plan, but not good for health. One example is bacon. Many people on the Atkins diet consume lots of bacon. In fact, many use it as a daily part of their protein foods. However, bacon contains high amounts of sodium nitrite, an ingredient that is known to cause cancer. The more bacon they eat, the more they expose themselves to this chemical and many others.
The Atkins pyramid, and the Atkins diet books, recommends unprocessed, unrefined and non-manufactured foods for a reason. If people follow these recommendations, they will lose weight and experience health transformations. By eating fresh and natural foods you'll be providing your body with the nutrients that you need to have optimum health.
Back to those packaged and processed low-carb foods. Technically, they are part of the low-carb program. They can be used in moderation as substitutes for your favorite carbohydrate heavy foods. In a pinch, low-carb bread and baked goods can help you get over cravings and add variety to your Atkins diet plan. However, one look at the labels of these products shows how chemically processed these items can be.
It is recommended that you use these products sparingly. In some individuals, low-carb packaged items cause carbohydrate cravings. This can make staying on the diet even more difficult. If you find that low-carb processed foods make you want to binge on carb-heavy foods, then its best that you stay away from these products. These products may also have hidden carb counts that will increase your daily carbohydrate level without you realizing it.
If you are experiencing a stall in your weight loss on the Atkins plan, re-evaluate your commitment to unprocessed and unrefined foods. If you've been eating too many low-carb processed foods, you may be consuming hidden carbs and eating more than necessary. Try eliminating these products and refocusing your diet on unprocessed and unrefined foods, like those seen on the Atkins diet pyramid. When you go grocery shopping, spend time along the outer rim of the store where the fresh, unprocessed foods are. This will help you avoid the temptation of packaged foods that can lead your diet astray.
You may need to rely on packaged meats, vegetables and fruits from time to time. We lead busy lives and convenience foods are part of life. It's understandable that you may need to use some canned soup, bacon or canned vegetables in your daily life. However, make an effort to concentrate your dietary efforts on a wide variety of fresh, unprocessed foods. Your health and weight loss efforts will be greatly rewarded.

A health article about Diet review - Atkins and Intestinal Problems from
Diet reveiw – Atkins diet plan
Back to diet plan review Directory

A review of the most popular Diet Plans and what makes for good nutrition for healthy weight loss. Good nutrition coupled with exercise is the key to a healthy diet plan. Good nutrition is the key ingredient to improving your chances for weight loss. But we're not talking crash diets here, or plain old starving yourself. This resource is full of diet reviews and we invite you to add your experiences here!

to "Your Health Success"
our monthly F'R'E'E' Newsletter
Back to Top of Diet review - Atkins and Intestinal Problems page

Subscribe to "Your Health Success" newsletter
Terms of Use | Privacy Policy | Disclaimer | Site Map
=========================================================================
SITE DISCLAIMER: Do these products "cure" anything? Of course not… but it stands to reason that if you cleanse your body and feed it the finest nutrition available, giving it everything it needs in balance, on a daily basis, that your body will do what nature intended, and give you the best possible chance to fend off sickness and disease. This Diet review - Atkins and Intestinal Problems information is not presented by a medical practitioner and is for educational and informational purposes only. The Diet review - Atkins and Intestinal Problems content is not intended to be a substitute for professional medical advice, diagnosis, or treatment. Always seek the advice of your physician or other qualified health provider with any Diet review - Atkins and Intestinal Problems questions you may have regarding a medical condition. Never disregard professional medical advice or delay in seeking it because of something you have read.
The Diet review - Atkins and Intestinal Problems resources on this site are not intended to be a substitute for professional advice. While all attempts have been made to verify Diet review - Atkins and Intestinal Problems information provided in this publication, neither the author nor the publisher assumes any responsibility for errors, omissions or contrary interpretation of the web site Diet review - Atkins and Intestinal Problems subject matter herein. The site Diet review - Atkins and Intestinal Problems contents are solely the opinion of the authors and should not be considered as a form of advice, direction and/or recommendation of any kind. If expert advice or counseling is needed, services of a competent professional should be sought. The author and the Publisher assume no responsibility or liability and specifically disclaim any warranty, express or implied for any Diet review - Atkins and Intestinal Problems products or services mentioned, or any techniques or Diet review - Atkins and Intestinal Problems practices described.
The purchaser or reader of thi Diet review - Atkins and Intestinal Problems s publication assumes responsibility for the use of these materials and information. Neither the author nor the Publisher assumes any responsibility or liability whatsoever on the behalf of any purchaser or reader of these Diet review - Atkins and Intestinal Problems materials. There is no guarantee of validity of accuracy. Any perceived slight of specific people or organizations is unintentional. This website and its creators are not responsible for the content of any sites linked to. Since natural and/or dietary supplements are not FDA approved they must be accompanied by a two-part disclaimer on the product label: that the statement has not been evaluated by FDA and that the product is not intended to "diagnose, treat, cure or prevent any disease."
========================================================================