Nutritional Advisory Board Members:

A health article about Linong Ji from the Herbalife Nutrition Advisory Board. Click here to return to the NAB Directory Page




Linong Ji, M.D.
Member, Herbalife Nutrition Advisory Board



Dr. Linong Ji is a member of Herbalife's Nutrition Advisory Board (NAB), based in China. The NAB is made of leading experts around the world in the fields of nutrition and health who educate and train Herbalife independent Distributors on the principles of nutrition, physical activity and healthy lifestyle.
Ji is the director of endocrinology department at the People's Hospital of Peking University in China and a co-director of the Peking University Diabetes Center. He is also the president of the Endocrine and Metabolic Physician Society under the Chinese Physician Association, chief editor of Chinese Journal of Diabetes, vice-president of the Chinese Diabetes Society and a delegate of the International Diabetes Federation Western Pacific Region (IDF-WPR). Ji's studies are focused on clinical work in endocrine and research in molecular genetics of diabetes mellitus and its treatment.
Ji received his medical degree from Beijing Medical University. Between 1993 and 1996, he studied at the JOSLIN Diabetes Center of Harvard Medical School. From 1997 to 1999, he was a visiting associate professor of medicine at Harvard University.



This information about members of the Herbalife Nutrition Advisory Board (NAB) was current in February 2009. While this page is periodically updated to keep current the main reason for the Doctor Listings is for people to understand the depth and breadth of the medical advice supporting the Herbalife companies and products. For a current list of members of the NAB visit http://www.herbalifescience.com/advisory-board/.



Herbalife Core Nutrition


Download our free report on Vitamin supplements here. Shortly we will replace this repost with our new 50 page e-book giving details of the Herbalife Nutrition Advisory Board, Clinical Trials and information relevant to health professionals. If you still see a Vitamin Supplement download hear then bookmark the page and drop back in a week or so for our Medical Pack. ( Warren Tattersall )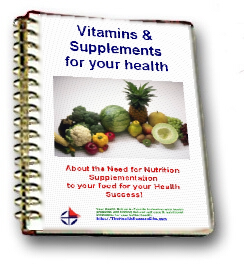 Free Report Reveals "Why you need Nutrition Supplementation with your food for your Health Success!"

Free Health Book.
Download your vitamin supplements Special Free Report Today
Click the link above to get your free ebook & eCourse today!
You can visit our health food products page here: Herbalife Health Nutrition Supplements to learn more about some of the nutrition products mentioned in our recommendations above.


We also feature new health articles & self care solutions every month in "Your Health Success" our FREE Health Magazine, so subscribe today to stay up-to-date!