The Difference Between Vegan and Vegetarian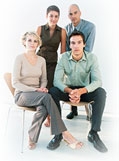 A health article fromYour Health Online the A to Z directory of dealing with Health Problems & nutritional Self Care Strategies

The Difference Between Vegan & Vegetarian

If you recently started reading about vegetarian
diets, you have probably read all sorts of
strange vegetarian terms and categories like "vegan,"
"ovo-lacto vegetarian," and "semi-vegetarian."
You probably wondered what the big deal was.
Afterall, what is so conceptually tough about not
eating meat?

And you were right!

The distinctions between these sub-categories of
vegetarian are actually small, but each is very important
to members who belong to the groups. For them, these
distinctions aren't arbitrary lines; they are important
dietary or ethical decisions.

Let's take a look at some of these groups:

VEGETARIAN:

Vegetarian is a blanket term used to describe a person
who does not consume meat, poultry, fish, or seafood.
This grouping includes vegans and the various sub-
categories of vegetarian; however, it generally implies
someone who has less dietary restrictions than a vegan.

SEMI-VEGETARIAN:

The term semi-vegetarian is usually used to describe
someone who is not actually a vegetarian. Semi-vegetarian
generally implies someone who only eats meat occasionally
or doesn't eat meat, but eats poultry and fish.

OVO-LACTO-VEGETARIAN:

Ovo-lacto vegetarians are vegetarians who do not consume
meat, poultry, fish, and seafood, but do consume eggs and
milk. This is the largest group of vegetarians.

OVO-VEGETARIAN:

Ovo-vegetarian is a term used to describe someone who
would be a vegan if they did not consume eggs.

LACTO-VEGETARIAN:

Lacto-vegetarian is a term used to describe someone
who would be a vegan if they did not consume milk.

VEGAN:

Vegan is the strictest sub-category of vegetarians.
Vegans do not consume any animal products or byproducts.
Some even go as far as not consuming honey and yeast.
Others do not wear any clothing made from animal
products.

Take some time to figure out what group you will belong
to when you become a vegetarian. You will want to consider
both dietary and ethical reasons for choosing this
lifestyle.


==========

Even when we try to eat well, we're disadvantaged. The nutritional content of most food has been compromised over the years, not only by deficient soils and modern production, transportation, storage and processing methods, but also by the enormous amounts of chemical and artificial substances added to promote growth, storage life, taste and appearance.

It's for this reason that more and more medical authorities are advocating the use of vitamin and mineral supplements. However, finding them in the right combination can be both confusing and costly.
The nutrition products I am going to recommend you make use of knowledge gained from the botanical world's 6,000 year history. They incorporated health building nutritional herbs with the best modern technology to help our bodies cleanse and detoxify so that the cells - the tiniest living units - can be as fully nourished as possible.
This allows the cells to grow, repair and to perform their functions with the best possible efficiency so that we feel and look better and are more able to prevent and fight disease. Once the body begins to clear itself of toxins it can more efficiently absorb nutrition.

Further reading through our articles on health issues will give you a body of information that will help you decide what options you have to deal with the underlying causes of your problem through giving your body the nutrition products that will assist you body to heal from the inside out.




We wish you well in your search for solutions to this problem and your movement towards better health in all areas.






BACK TO "Your Health Online"
the A to Z directory of dealing with Health Problems & Self Care Strategies for natural remedies to your health issues.

Back to Top of your health online page
Subscribe to "Your Health Success" newsletter
Terms of Use | Privacy Policy |Disclaimer | Free Health Book